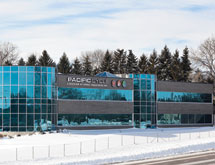 The Schwinn and Mongoose brand-names typically evoke thoughts of bicycles – a natural reaction, considering they are two of the most recognizable names in the two-wheel realm.
The company behind both brands hopes to take these names beyond their traditional realm on the road and into the home. "The biggest thing we are looking at is how to expand our brands' footprint and take them into new categories where they make sense," says Danna Dueck, licensing manager for Pacific Cycle Inc. "We want people to have a positive association with our brands long-term and bring them into other areas of their life year-round."
The Madison, Wis.-based company markets the Schwinn and Mongoose brands, as well as the Iron Horse, Dyno, Roadmaster, Powerlite and Pacific bicycle brands. It also manages other product brands, including InSTEP jogging strollers and bicycle trailers and Kid Trax, a line of children's 6- and 12-volt electric ride-on vehicles.
The company is the top seller of bicycles in North America and one of the biggest sellers in the world. Its major U.S. distribution channels include mass-market retailers such as Walmart, Kmart, Toys R Us and specialty stores such as Dick's Sporting Goods.
"Pacific Cycle has achieved its success by combining its powerful brand portfolio with cost-efficient manufacturing, cutting-edge supply chain management, trailblazing product design and its multi-channel retail distribution program," the company says. "Our brands address the full spectrum of demographics, price preferences, image and usage that are critical to targeting key consumer segments within each distribution channel around the world."
Pacific Cycle has 21 licenses across its brands, a few of which have been active for nearly 10 years. Dueck says the company is fortunate to have such long-term partners and believes in supporting all of its licensees. "We are constantly working with our long-term licensees to continue to build that business," she says. "You can't just sit back on your laurels and expect those licensees to keep rolling."
Outward Bound
The company recently retained the services of Culver City, Calif.-based firm Brand Sense Partners to expand its outbound marketing efforts and find new licensees. The bulk of Pacific Cycle's outbound licensees are related to the Schwinn and Mongoose brands, as those are its oldest and most broadly distributed lines. Several of those licensees are for lifestyle products and sporting goods, such as bicycle automotive racks and bicycle trainers manufactured by Saris Cycling Group. The Saris license is one of Pacific Cycle's longest-standing relationships, and is one that is greatly aided by the two companies sharing the same home base.
"We have a vibrant cycling community in Madison, and Saris just happens to be located down the road from us," Dueck says. "We consider them to be a very strong partner and we're very close knit to them."
Other licensees include JNJ International, which produces Mongoose and Schwinn-branded inline skates available in major retailers across the United States. Horizon Impex produces a Mongoose boys casual apparel line and FGX International manufactures a sunglass line. "These licensees have been able to take both the Mongoose and Schwinn brands and build great business year-round," she adds.
'Market-Leading Licensors'
Pacific Cycle's outbound licensing is aided by its experience with inbound licensing. "We have an interesting perspective where we can understand the position of our licensees, because we are one ourselves," Dueck says. "We've been fortunate to work with several market-leading licensors."
They include Nickelodeon, for whom Pacific Cycle distributes Dora the Explorer and Diego-branded children's bicycles. Pacific Cycle's Kidtrax brand of electric ride-on toys is a licensee of Chrysler and BMW, who lend their names to miniaturized versions of their models including the Ram truck, Dodge Charger and Mini Cooper. "The automotive company licenses help us make products that will not only attract children but their parents, as well, because of how realistic the ride-ons are," Dueck adds.
Dueck attributes her company's success to the strength and longevity of its brands. She also credits the ability of Pacific Cycle's staff to establish and maintain relationships with clients.
"Everybody is extremely passionate about the industry, our products and our brands," she adds. "We're working together toward a common goal and having fun, and hopefully our customers see that and get as excited about as we are."