Pamida Stores Operating Co.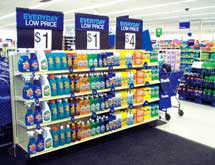 In the past year, Pamida Stores Operating Co Inc. restructured, rebranded, and refocused its attentions based on three basic tenets: easy, reliable, and affordable. Getting all 204 of the discount retailer's stores aligned from top to bottom took a lot of work, and is still in progress, but Ken Seipel said the company is already seeing results.
"In the majority of our categories, we've returned to steady comp increases," said the president, chief merchandising officer, and chief marketing officer. "Just in the past year, we're approaching double-digit growth. In select categories, we realigned to serve our customer's lifestyles. There's nothing better than the customers voting with their pocketbooks."
Defining demographics
In 2009, things weren't so sunny. To survive the economic downturn, Pamida decentralized its strategies, and purchasing, design, and layout strategies in individual stores and across the company were incongruous.
Seipel said it was clear that the company had made some tough strategic decisions to survive. As a result, Pamida lost touch with its core customer, and its business model weakened. "The company had done a nice job of catering to varying consumer product needs, but the definition of a local Pamida as a convenience retailer in the small communities we're in wasn't there."
The first step in Pamida's transformation was to define its consumer by defining its demographics. Rather than relying on what had been a mostly anecdotal consumer model, the company did extensive consumer research, diving into communities to provide exact profiles of who was shopping in its stores. "It was the first time we'd done this in a factual, scientific way," said Seipel.
From that data emerged two primary consumer groups: a young mother with children who is generally lower income and works to stretch her budget and make ends meet. She makes up about 45% of Pamida's customer base. The other group is about 30% and comprises the pharmacy consumer, the grandmother of the family, so to speak.
"We figured out the shopping patterns of these two ladies and began to understand exactly what their needs were in the Pamida store," said Seipel.
Revamped retail presence
Pamida took that information and began changing its retail presence to target those primary customers. Step one was getting all primary stakeholders to do their jobs with these core customers in mind by providing all of its buyers and employees with a clear profile of who those consumers are.
"We tried to take everyone's anecdotal model and move it into a common, focused one," said Seipel. "It was a critical unlock for us because getting our buyers focused on those core customers meant our merchandising assortments were also moving in the right direction."
Step two was helping each store change its service model to meet all of the needs of these two consumer personalities. In a small rural community—Pamida's core market—customers want familiarity. And although many retailers talk about a need to be focused on friendly customer service, for Pamida, it's critical for success.
The store teams repositioned their labor to make sure employees are available to interact with customers, rather than being overloaded with tasks, at critical times of the day. By reapportioning the workloads to be more in tune with customer traffic, the friendly chats between customers and employees were no longer impossible. "The stores are now correctly aligned for the consumer demand and for getting the job done," said Seipel. "Bill Young, SVP of stores, was instrumental in executing the change."
Destination or convenience?
Another piece of addressing that core customer was redefining Pamida's desire to be a true convenience retailer. Seipel said this step was another major breakthrough because it helps structure stores on how to merchandise everyday convenience needs, recognizing that customers expect Pamida to be easy, reliable, and affordable.
"We asked ourselves if the shopping experience was easy for her," he said. "Is the signing clear? Are we reliable? Are our in-stocks at a level she expects? And do we fit into her daily budget restrictions?"
This led Pamida into a major rebranding through looking at the store environment, marketing techniques, and product assortments to make sure they're all connected—essentially developing a new Pamida brand. The first agenda item was to define the product assortment using a filter to define whether items were part of a destination category or a convenience category.
In its destination categories, research indicated that there needed to be broad and full-line assortments similar to what consumers would find in a big city. In convenience categories like hardware, analysis pointed to the complete opposite.
"In a small town," said Seipel, "if you need a new lightbulb, you don't care what brand it is as long as the price is right. So in our convenience categories, we narrowed our assortments, which gave us more room to focus."
Pinpoint focus
After the product strategy was in place, Pamida put in a pricing strategy. It tiered its pricing to be more competitive with prices customers would find in a big city. One tier includes everyday value items. The next includes moderately priced items, such as products in the dry grocery area that are fairly priced but exceptional deals when they go on sale.
"We then have more specific categories like apparel, mirroring what you'd find in a department store where the prices are higher but are great programs when they go on sale," Seipel said. "By redefining our pricing structures to support that mindset, we gained more clarity around the product offering and how it's priced, which helped us build our marketing
strategy."
Seipel said Pamida's marketing strategy, which was primarily based on its circulars, was dated, tired, and repetitive. The company started by updating the formatting, changing the size of the circular to be more contemporary, and improved the grade of the paper. From there, the company used the same demographic approach it did to understand its target demographics and mapped out a distribution strategy based on where the circulars would provide the greatest return.
"For the first time, we figured out which age group lived where and who they were," said Seipel. "We took that information, downloaded our transaction data, and matched it all up to ensure we're not sending out thousands of circulars to the wrong households."
We have continuity
Pamida then branded its in-store experience, starting with building a color palette based on its signature blue that had been there for years but never branded. Seipel said decidedly signaling to the community that blue stands for Pamida was one of the most important pieces in the rebranding strategy.
The company then built a color-based method to highlight its pricing strategy. Using blue, red, and yellow, Pamida now illustrates what Seipel calls its "degrees of sale" in its circulars and in-store signage. In addition, it upgraded the signage in its destination categories, showing people using products from sporting goods, for example, to get consumers' attention.
"The signing piece was critical because it connected the product strategy to the external marketing," said Seipel. "Now you see the exact same images when you come into the store that you saw in the circular. We have continuity."
All told, the changes Pamida put into place strengthened the company, but Seipel is quick to point out the work included more than the executive team. Although employees are excited, "there is a lot of work associated with this, so they're also a little tired," he said. "They've worked long hours to pull this off with no additional help."
And the work is still not done. Over the next year, Pamida will roll out an automated mechanized pricing system, which will enable it to be more reactionary to pricing trends throughout the year. This and other investments, including expanding its health services departments, all point to Pamida's overarching goal.
"We're trying to provide a level of science around our actions now and be more deliberate about where we're going," Seipel said. "We've got good results, it's working, and we can spring forward. It's no longer about theory; it's now about practice."