Pantone Announces 2014 Color Inspiration and Direction for Home Furnishings and Interior Design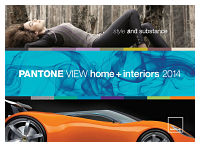 March 4, 2013 – Pantone, an X-Rite company and the global authority on color and provider of professional color standards for the design industries, today announced Pantone View home + interiors 2014, a trend forecast containing the nine key color and design themes for home furnishings and interior design for 2014.
"Consumers are becoming increasingly color savvy and color aware," said Leatrice Eiseman, executive director of the Pantone Color Institute. "With consumers seeking distinctive styling and considerable substance more than ever before, it is critical that retailers and designers be aware of future color trends. To successfully entice consumers, colors and color combinations must be appealing, evocative, transformative and most importantly, on-target."
Pantone View home + interiors 2014 is a forecasting book that provides color and trend direction for home furnishings or interior spaces.
Pantone View home + interiors 2014 contains visual inspiration, suggested color harmonies, individual tear-out palette cards for each of the nine forecasted palettes, swatches of the 74 forecasted colors, and images from the forecast for use in presentations and storyboards. Highlighting additional insight and direction, a summary page concludes the forecast with a comprehensive color overview and a look at other factors influencing the world of home furnishings and interior environments. To enable digital design, Pantone View home + interiors 2014 also includes Pantone Color Manager for direct download of all Pantone Color Libraries into design software.
The nine palettes for 2014 are: Techno Color, Physicality, Sculpted Simplicity, Fluidity, Collage, Intimacy, Moda, Tribal Threads and Eccentricities.