November 04, 2013 – Sixty percent of global holiday shoppers will pay more for a positive customer experience, according to a new consumer retail behavior study from SDL. This new holiday study finds that consumers are willing to pay more for a positive customer experience. The research from SDL examines customer experiences on preferred media, shopping times and buying behavior to assist brands this upcoming holiday season.
This finding highlights SDL's annual Holiday Shopping Preferences 2013 Study, a broader examination of shopping preferences and behaviors for businesses to leverage this holiday season. With organizations such as the National Retail Federation and Verdict predicting consumer spending to increase this year in both the U.S. and the U.K., it's especially important for organizations to understand these trends, in order to deliver a consistently compelling and engaging customer experience.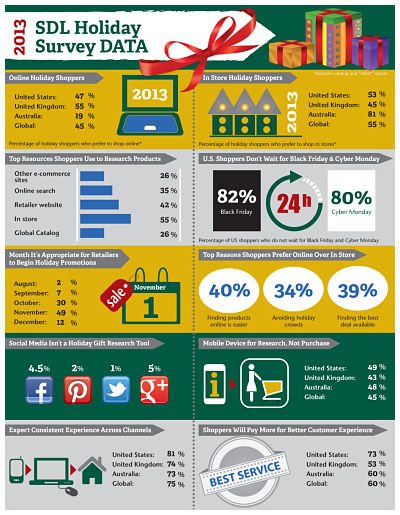 The study surveyed over 4000 consumers across the United States, United Kingdom and Australia. An in-depth analysis of the results will be released via webinar on Wednesday, November 20 at 11:00 a.m. EST / 4:00 p.m. GMT. A summary of key findings includes:

• Key dates continue to lose relevance: Key shopping dates matter less to consumers worldwide, as the vast majority of shoppers in the United States confirm that they're not waiting for Black Friday (82 percent) or Cyber Monday (80 percent) to begin their holiday spending. This sentiment was echoed globally, as consumers in the United Kingdom (63 percent) and Australia (73 percent) do not plan their holiday shopping around a specific day.
• Brick & Mortar standing strong: Despite the growth in online sales volume, consumer preferences of online against traditional "brick and mortar" stores continue to experience slight growth, compared to 2012. In the U.S., the preference towards brick and mortar stores increased from 51 percent to 53 percent; in the U.K., the preference increased from 43 percent to 45 percent.

• Mobile right for research, but purchases stagnate: While mobile commerce technology continues to evolve, the majority of consumers in the U.S. (64 percent), U.K. (68 percent) and Australia (67 percent) are not using a tablet or smartphone more this year to purchase gifts. Mobile is a valuable research tool, however, as 45 percent of all respondents use mobile devices to conduct research.

• "Showrooming" remains relevant: More than half of the holiday respondents this year are researching products they want to buy directly in the store (55 percent). This is a more common research option than the use of online tools such as retailer websites (42 percent) and other ecommerce sites (26 percent).
• Product research diversifies, but social lags behind: Despite the growing popularity of social channels, only 5 percent of respondents learn about products on Facebook and Google+; less than 2 percent on Pinterest and Twitter.
• The myth of workplace shopping: 71 percent of global shoppers shop during personal time – and not during work time – challenging the belief that online holiday shopping drains workplace productivity. The study also found that more than 40 percent of U.S. shoppers prefer to shop in the evening while consumers in the UK and Australia prefer to shop in the morning.
• A positive customer experience is essential: 60 percent of global consumers are willing to pay more for a product if the brand delivered a positive customer experience. For consumers in the U.S., that total expands to nearly three-quarters (73 percent).
"The holiday shopping season is a critical time for brands to provide a positive customer experience," said Mark Lancaster, CEO of SDL. "Our study shows that consumers' preferences and behaviors can shift considerably from year to year, from country to country. Organizations that are able to consistently deliver compelling and engaging experiences, across media and geographies, are those that are poised to be successful this holiday season."