Philips Sonicare Launches New Philips Sonicare For Kids Power Toothbrush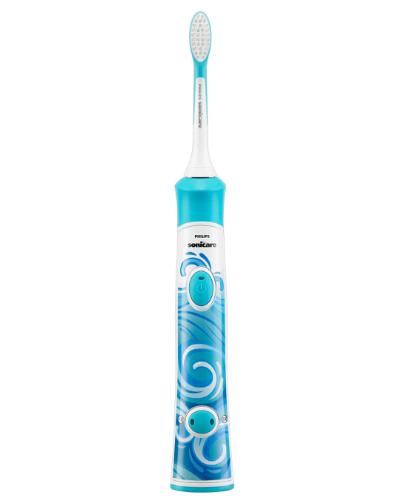 March 10, 2014 – Philips Sonicare, the #1 dental professional-recommended power toothbrush brand in the U.S., is introducing the new Philips Sonicare for Kids, a rechargeable power toothbrush for kids ages 4+. The company cites a recent ORC International CARAVAN survey that found more than half (53 percent) of kids are adamant about brushing their teeth independently. The company feels its new product will help alleviate many parents' concerns that their child will miss key steps without supervision, and thatthe new Philips Sonicare for Kids will be a toothbrush that both parent and child can feel confident about.
Asserting a level of independence in various daily tasks is a natural and important part of growing up, however letting kids do things on their own, especially toothbrushing, can make parents a bit uneasy. With concerns that their child will not brush thoroughly enough, it's not surprising that nearly three-fourths (72 percent) of parents say that they still supervise this task. Why? When the child brushes solo, only one in three (30 percent) parents say that they are very satisfied with the results. To address these challenges, Philips Sonicare For Kids is equipped with kid-friendly features to encourage the development of healthy oral care habits and to deliver outstanding results – even when the child is brushing on his or her own.
"Parents want to make sure they are setting their child up for a lifetime of good oral health, and Philips Sonicare For Kids gives parents peace of mind that their child's teeth and gums are getting the best care," said Boon Lai, vice president & marketing director for Philips Consumer Lifestyle. "91 percent of dental professional parents prefer Philips Sonicare For Kids for use as their children's primary toothbrush, so parents can feel good that they're giving their child the best with Philips Sonicare."
Philips is challenging parents to capture their child's quest for independence by participating in the #PowerToKids Contest on Instagram through April 11, where parents across the country can share comical and heartwarming moments of their children taking on new power in their daily routines (e.g., tying their shoelaces or picking out their clothes) using the hashtag #PowerToKids for the chance to win a new Philips Sonicare For Kids for their child.