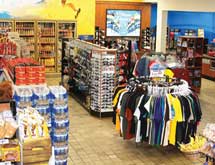 On July 1, Pilot Travel Centers acquired Flying J to form the largest single operator of travel centers in the US. The public announcement, which came after months of planning, was followed by months of changes to both companies' locations, equalling a capital investment of more than $150 million. Ken Parent, SVP of operations for Pilot Flying J, said that although both companies knew of the pending merger for many months, there was an embargo on the announcement until after the FTC reviewed the agreement. But when the news hit the public airwaves, those in charge had to hit the ground running to make sure the necessary changes were put in place in a timely manner without disrupting the business at any of Pilot Flying J's 550 travel centers.
"Almost immediately, we had to spend time looking at the data of our operations, retail and product partnerships, and technologies to find best practices between the two companies," he said. "So in addition to figuring out what the right direction was to go, we had to make sure it was business as usual at each location."
Best of the best
The new company now operates in 43 states and six Canadian provinces. However, to the public, Pilot and Flying J have retained their brand identities because, said Parent, each brought its own competitive advantage to the table.
Flying J brand facilities are large, have more parking, and have more amenities. Pilot facilities are smaller but are known for being a quick in and out for customers on the go.
"We feel it's important to maintain those differences to reach out to a broader audience," Parent said. "Since July, we've focused on leveraging those differences and incorporating each brand's best practices."
Using retail as an example, Pilot has a strong offering in its deli, coffee, cold beverage, grill, candy, and snacks offerings. Flying J's strength comes from its general merchandising categories such as novelty items and apparel, cold sandwiches, and hot foods like pizza.
"Pilot modified Flying J's layout a little and put the pizza offering in a five-foot table inserted into the checkout to encourage more impulse purchases," said Parent. "We're in the process of constructing that same layout and putting the pizza offering in some Pilot locations."
Pilot locations offer a 36-fountainhead selection of cold beverages, while Flying J had a smaller selection. Pilot Flying J incorporated the 36-head machine into Flying J locations, so now both chains offer frozen beverages and iced tea. In addition, the company took Pilot's grill offering and now offers it at Flying J.
But not all offerings are equal at both companies. Flying J units offer 10 new coffee flavors such as Brazilian and Ethiopian. Pilot also offers 10 flavors, but Brazilian and Ethiopian, which have become two customer favorites, are only offered at Flying J.
"We've tried to step back and look at what each player does well and, from a best-practice perspective, look at how we marry them together to leverage and enhance the gross profit dollars of these brands," Parent said. "We feel it's important to keep some differences between the brands."
Good fit
The merger of Pilot and Flying J was a good decision for a couple of reasons. For one, geographically, each had broad coverage across the US, but there were gaps. The merger filled in some of those holes. For two, from an interstate perspective, the combined strategies of each brand have given diesel and gas customers more coverage.
"Flying J is a great brand, and we're hoping to enhance it because very little money had been spent on its facilities over the last five years," said Parent. "From technology to exterior and interior upgrades, including new gas diesel pumps, we're making important changes to all of our facilities."
By the end of 2010, except for a few Canadian locations, all Flying J locations will have brighter interior lighting, upgraded restrooms and showers, and a larger cooler offering with an expansion of three new cooler doors. In addition, Pilot moved some of the centers' walls and offices to make room for an additional 400 square feet of retail space in each location. On the technology front, the company elected to use Pilot's Retalix POS system, and by the end of January, all locations, including those in Canada, were on the same system.
But some of the changes made after the merger weren't quite as apparent to customers. Behind the scenes, Pilot Flying J made a few changes to its executive team. Flying J's previous owner, Crystal Maggelet, is now a board member of Pilot Flying J, and she and her family own part of the new company.
In the operations department, some key field division directors from Flying J were incorporated into the new company, as well as some category and assistant category managers. "Pilot's supply, distribution, and finance divisions have incorporated a few key people as well," said Parent.
"Flying J's headquarters were in Ogden, Utah, and some key players have transferred to Knoxville," he continued, "but we have a real limited presence in the Ogden office. It wasn't a 50/50 blend of the executive teams, though."
Winning the war
For the employees and managers of Pilot and Flying J, the changes were positive but also challenging. Handling new technology, new retail sections, and in some cases new managers is difficult enough, but coupled with the understanding that business had to continue as normal, all 20,000 of the company's employees found themselves in uncharted water.
However, a corporate mandate to keep all lines of communication open enabled the company to weather the storm, and Parent said he sees a unified culture starting to develop. "We're hands-on, aggressive, and focused in retail, both on sales and gross profit dollar growth," he said. "From a communications standpoint, we're open to the stores in terms of how we're doing, what we're doing, and what we need to improve."
Pilot Flying J's vendors have been very supportive as the two companies merged because the change equals sales and profit growth. Parent used Frito Lay to illustrate his point.
Because of the space Pilot Flying J allocated to its products, and then restructuring to maximize plan-o-grams and leverage best sellers within the Frito line up, Flying J's Frito Lay sales have grown more than 40% since July 1. "The goal is to get them to be at least equal to Pilot's or greater," said Parent.
"Vendors are excited because they see partnering with us as an opportunity to grow their sales, particularly in a tough economic environment. It's also a win-win for everyone in terms seeing additional volumes, and customers will win because we can pass on some of the efficiencies we've gained."
Pilot Flying J has taken the opportunity to restructure its locations' restaurant offering by removing Flying J's Country Cooker full-service restaurants and replacing them with Denny's restaurants. By the end of 2010, all but 42 locations had been upgraded.
"We've also taken the opportunity to build on our Subway relationship," Parent said. Pilot is the largest Subway franchisee in the world, with the most units and the highest per-sale store averages. Pilot Flying J added 12 Subways to the Flying J locations, and Pilot centers will be incorporating some of Flying J's best food practices by bringing in chicken tenders, chicken wings, and cold sandwiches.
Looking ahead, Parent said there is still a lot of work to do. "We still have a tremendous amount to do from a people development standpoint because as a much larger company, there are many new opportunities," he said. "A lot of effort will go into a new loyalty program we'll be rolling out the beginning of the year to make sure we make changes that work for our customers as well."