Pop Culture Inspires Halloween Trends According to Value Village's Annual Halloween Shopping Survey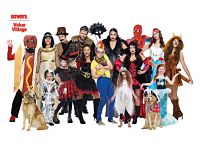 Sept. 17, 2013 – For the fourth year in a row, pop culture reigns supreme for Halloween costume inspiration with top trends pointing to Duck Dynasty camo and bushy beards and The Walking Dead zombies, according to the annual Halloween Shopping Survey released today by thrift retailer Value Village.
Similar to years past, nearly 50 percent of respondents think movies and TV shows are the best costume inspiration, and almost 40 percent said they put in more effort to wear something different every year because they know pictures of them in costume will be posted on social media channels like Facebook and Pinterest. And with the popularity of the hit song "Thrift Shop" by Macklemore, more people are thrift shopping and Halloween is no exception. Survey respondents aren't afraid to pop some tags, noting they'll spend just as much money—if not more—on their costume this year.
Trends for Halloween 2013
Get Your Camo Ready. Duck Dynasty Rules: "Duck Dynasty" is costume royalty this Halloween as nearly one in two costume wearers plan to deck themselves out in camo and big beards as a group look. That's more than those who would select the Royal family or the newest Kardashian brood: Kim, Kanye and North West.
Social Networking through Halloween: Nearly 70 percent of typical costume wearers admit social media platforms like Facebook and Pinterest influence their costume choices, while nearly half of them say they get inspiration from looking at photos of what others wore in their social media newsfeeds. Once the perfect costume has been chosen, people dressing up will on average post 10 pictures of themselves in their ensemble to a social media channel!
Popping Halloween Tags at the Thrift Store: After topping nearly every music chart around the world, hip-hop artist Macklemore has been an inspiration to many, including those seeking Halloween costume ideas. Almost one in two people who plan to dress up this year and have heard the artist's "Thrift Shop" anthem say they would consider finding a costume in a thrift store because of the song. Whether shoppers are looking for flannel zebra print jammies, house slippers or a velour jumpsuit, close to fifty percent of respondents admit the song has made shopping at secondhand stores cool.
Creativity Wins: Careful costume consideration is key as nearly a quarter of survey respondents think you can tell a lot about someone's personality based on the type of costume they wear. To stand out from the crowd, 41 percent of people planning to wear a costume will get creative and create their own instead of buying a pre-packaged look, and only 4 percent will wear the same costume every year.
The Tricks of Online Costume Shopping: When shopping online, nearly half of people say their shipment took longer than expected, while almost 40 percent said their order didn't fit or it looked different than what they expected. In contrast, shopping at Value Village for a Halloween look offers a more fun and personal experience, and allows customers to create a unique costume without the hassles and issues that can come with ordering online.
Screen Magic: For the third consecutive year, survey respondents chose The Walking Dead as the TV show that most inspires their costume. And more than 30 percent of respondents will draw inspiration from superhero movies this year, with Wolverine, Iron Man and Superman as top picks. Similarly, 31 percent will draw inspiration from cartoons like Monsters University and Despicable Me.
Trick or Treat: Four in ten of those who typically dress up for Halloween opt for a funny costume with the rest of the costume-wearing nation split between scary and sexy costumes. More men than women (43 percent versus 18 percent) go for scary costumes while 42 percent of women choose costumes that make them look attractive.
Fun for the Whole Family – And Fido Too: Ninety-two percent of parents typically dress up their children and 78 percent join in the fun and also wear a costume. More than one in two respondents will decorate their homes with Halloween decor this year, and pets will get in the spirit of Halloween this year too, as four in ten say they'll dress up their pet.
"Halloween is one of the most celebrated holidays of the year and we continue to hear from our customers that shopping at Value Village is one of their favorite Halloween traditions," said Ken Alterman, President and CEO of Value Village. "Only at Value Village will you find a huge selection of affordable brand new and gently used costumes and accessories for the whole family, combined with knowledgeable Costume Consultants dedicated to helping shoppers easily create one-of-a-kind looks that will set them apart from the crowd."