PriceGrabber Announces Winners of First Annual "Highest Rated Merchant Awards", Honoring Merchants for Excellent Customer Feedback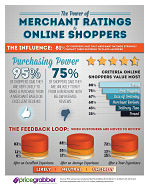 May 8, 2013 – Leading online shopping site PriceGrabber today announced the winners of its first annual "Highest Rated Merchant Awards", honoring retailers that consistently receive outstanding ratings and reviews on the site. Award categories include Highest Rated in Checkout, Shipping and Delivery, BottomLine Price, and Overall Shopping Experience. PriceGrabber also released results of its Merchant Reviews and Ratings survey, revealing that 81 percent of shoppers said that merchant ratings strongly impact their decision to place an order. Conducted from March 15 to March 26, 2013, the survey includes responses from 3,616 U.S. online shopping consumers.
"According to our survey, merchant ratings and reviews are key factors that greatly influence where consumers decide to shop," said James Brown, senior director of merchant accounts at PriceGrabber. "We're proud to congratulate these top-rated merchants for providing excellent shopping experiences on a consistent basis, and we encourage users to continue to share feedback valuable to other online shoppers."
Winners of PriceGrabber's Highest Rated Merchant Awards:
2012 Highest Rated in Checkout – B&H Photo-Video
2012 Highest Rated in Shipping and Delivery – Crutchfield
2012 Highest Rated in BottomLine Price – 6pm.com
2012 Highest Rated in Overall Shopping Experience – Diapers.com
Price and free shipping important to online shoppers
When PriceGrabber respondents were asked to select the criteria they value most when shopping online, 80 percent selected price, followed by 75 percent who selected free shipping. Ease of ordering came in third with 67 percent, followed by 60 percent who said they value merchant reviews and reliability. Forty-three percent chose delivery time and another 35 percent selected brand.
Merchant ratings and reviews strongly affect online orders
When shoppers were asked how likely they are to buy a product from a merchant with excellent reviews, 95 percent said they are very likely to do so. When it comes to purchasing from retailers with average reviews, 43 percent of shoppers indicated they are neutral, and 32 percent stated they are somewhat likely to make a purchase. Seventy-five percent of consumers said they are unlikely to buy a product from a merchant with below average reviews.
Shoppers reluctant to purchase from below 3-star merchants
Consumers are hesitant to purchase from sellers who don't have above average ratings. When asked, almost half of shoppers said that 3 stars is the lowest rating a merchant could have that they would still be willing to make a purchase from. This was followed by 35 percent who want 4 stars as the minimum rating and 8 percent who only purchase from top sellers with 5 stars. Seven percent said they would buy from a retailer with only 2 stars, and only 2 percent are willing to do business with a 1-star merchant.
Consumers moved to review after an excellent or poor shopping experience
When online shoppers were asked if they would leave a review after an above average shopping experience, 83 percent indicated they are likely to do so while 11 percent are neutral on the topic, and only 6 percent said they are unlikely to do so. On the other hand, 72 percent of respondents said they are likely to leave a review after a poor shopping experience while 13 percent of shoppers are neutral, and 15 percent are unlikely. After an average shopping experience, 48 percent said they are likely to leave a review, followed by 35 percent who indicated they felt impartial about the topic, and 17 percent who are unlikely.