PriceGrabber: Back-to-School Shoppers Are Changing Their Strategies for Finding the Best Deals

August 19, 2013 – PriceGrabber just released its second 2013 Back-to-School shopping survey, which offers additional insight into the ever-changing back-to-school shopper. The survey found that nearly 80 percent of respondents find the majority of information on back-to-school products and promotions from online retailer emails, websites and blog announcements. This fall, consumers will be taking advantage of some nontraditional online methods to find the hottest deals. Conducted on PriceGrabber.com from June 16 to August 5, 2013, this survey includes responses from 1,937 U.S. online shopping consumers.
"Back-to-school consumers are innovative and resourceful shoppers who are helping to shape the way retailers market their products," said Sharon Banfield, director of public relations of PriceGrabber. "Like clockwork every fall, parents prepare for back-to-school and savvy consumers can easily identify the best deals through online resources like PriceGrabber."
Consumers are Changing Their Shopping Strategies from Last Year
Consumers are determined to think frugally when shopping for back-to-school this year. When PriceGrabber respondents were asked to select all the ways their back-to-school shopping behavior will change compared to last year, 57 percent said they will attempt to buy more items that are "on sale," while 42 percent say they will comparison shop for the best price. Shoppers are looking for deals online, as 39 percent said they will shop online more than in prior years. Another 39 percent plan to buy only the necessities; 26 percent will use more store coupons; while 19 percent said they will shop at less expensive stores. Back-to-school shoppers plan to cash in on store loyalty programs with 16 percent planning to increase their use of store or credit cards offering rewards points. Only 11 percent of consumers said they would maintain their 2012 shopping habits from last fall, leaving a majority of shoppers looking for the best budget buys.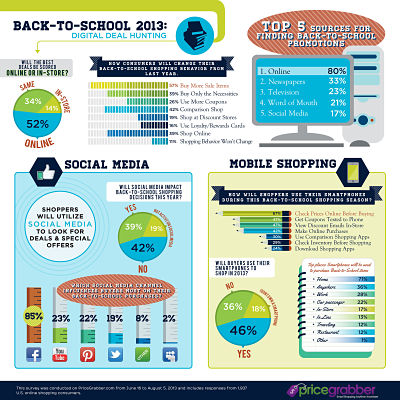 Mobile Shopping: Consumers are Looking for Convenience
As the world of mobile shopping continues to grow, 46 percent of back-to-school shoppers said they would use their smartphone to find deals this year. When mobile shoppers were asked to select all the ways they plan to use their smartphone to save money on back-to-school items, 67 percent noted they will check prices online before making offline purchases; 47 percent will read retailer discount emails while in the store; another 47 percent will have retailer coupons directly texted to their phone; 42 percent plan to make purchases online from their mobile phone; 30 percent will use mobile apps and bar code scanners; and 29 percent will check store inventory online before shopping in-store.
The trend of convenience and accessibility continues when using a mobile device to shop. When smartphone shoppers were asked to select all the locations they are most likely to shop from via their mobile phone, 71 percent said they would shop right from home, while 36 percent indicated they are likely to shop anywhere they can. The third most popular choice for mobile shopping is at work, with 28 percent of the vote, followed by 22 percent who said they are most likely to shop from the passenger seat of a car. "Showrooming" is still a popular trend with 17 percent of respondents saying they are likely to shop from their mobile phone while in brick-and-mortar stores and 13 percent are likely to shop while standing in line. Some consumers like to shop while they dine, as 12 percent said they will browse for products while they're at a restaurant; and another 12 percent are likely to shop via their smartphone while traveling.
Social Media will Influence Back-to-School Shopping
In this digital age, consumers are not only using social media as a way to interact with friends, they are following their favorite companies and brands online. As consumers are getting accustomed to receiving updates from their favorite companies via social media channels, they are aware of the potential influence it will have on their shopping behavior. When consumers were asked if social media will impact their back-to-school shopping decisions this year, it was divided with 42 percent saying it wouldn't impact their shopping decisions and 39 percent indicating it would. The remaining shoppers were not active on social media.
It is noteworthy to mention that of the consumers who indicated that social media will impact their back-to-school shopping decisions, 85 percent said that Facebook would influence them most. YouTube ranked second at 23 percent, and Pinterest ranked a close third at 22 percent. In fourth place, 19 percent said that Twitter would influence their back-to-school shopping decisions this year, while 8 percent indicated "other" social media channels. MySpace ranked the least popular among social media channels that would influence back-to-school shoppers, receiving only 2 percent of the consumer vote.