Pro Merch, NFL Players Inc. Apparel Unveiled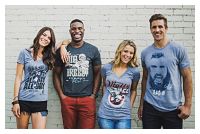 Pro Merch has unveiled its Fall 2014 line of NFL player-inspired fashion tees designed and sold exclusively at Target. The unveiling serves as the official launch of the brand's exclusive partnership with NFL Players Inc. (NFLPI), the marketing and licensing arm of the NFL Players Association. The collection is available at more than 1,000 stores nationwide and at Target.com. Pro Merch will also offer the apparel on its website at MyProMerch.com.
As part of the partnership, Pro Merch will create and develop exclusive designs that celebrate and focus on the unique characteristics of athletes, their signature moves and personalities. The designs features some of the most popular and recognizable players in the NFL along with legends of the game, including Peyton Manning (Denver Broncos), Aaron Rodgers (Green Bay Packers), Drew Brees (New Orleans Saints), Adrian Peterson (Minnesota Vikings), J.J. Watt (Houston Texans) and John Elway (Pro Football Hall of Fame), among other pro football stars.
"Coming from a football family gave me unique perspective," said Luke Rodgers, Co-Founder of Pro Merch. "Our apparel line is all about the player. In a new media world, superstar personalities are larger than life characters. Pro Merch allows fans to support their favorite players and wear their pride for the game's greatest athletes."
"We believe sports connect people," said Austin Casselman, Co-Founder of Pro Merch. "Our partnership with NFL Players Inc. provides Pro Merch with the unique opportunity to create craftsmen apparel inspired by the athlete for the real fan."
Designed by the industry's best and most passionate artists, the Pro Merch line is fashion forward, innovative, and inspired by the players for their fans. The exclusive collection, featuring a variety of men's and women's t-shirts, can be found in Fan Central sections at Target stores.
"Pro Merch, in partnership with NFL Players Inc., has done a great job opening new opportunities for NFL players to reach fans in Target stores," said Steve Scebelo, Vice President, Licensing and Business Development, NFLPI. "The design team is developing some really creative imagery for fans that celebrate our players' distinct personalities and skills in new and exciting ways."