Professional Bull Riders LLC
The Pueblo, Colo.-based league is the world's premier bull-riding organization featuring the sport's top athletes. John Sohigian, the vice president of consumer products for PBR, says it began as the dream of 20 bull riders who broke away from the rodeo 25 years ago and believed the sport could stand on its own. "They understood that their grit, determination and cowboy values would resonate with fans," he explains. "That, together with colorful cowboys, a culture that celebrated God and country, and epic man vs. beast showdowns all night long provided the foundation."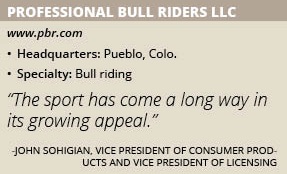 Today, PBR operates in five countries with televised and live events. It is available on TV in more than 130 territories, and recently set an all-time attendance record of more than 46,000 fans for an event at AT&T Stadium in Arlington, Texas. More than 20 million people tuned into 15 PBR broadcasts on CBS in 2018. In the past few years, it has been the No. 2 sports property on several Sundays on television, falling only behind the NFL in viewership. But the sport's reach does not end there. "Professional bull riding on these days actually drew more viewers than MLB, US Open Tennis, PGA Golf and other major sports," he says.
"World-class production values both at the live event and on the broadcasts make it a show that today's fans embrace – short bursts of mayhem with spectacular rides and bone-crushing wrecks packaged in a high-energy rock show-like environment," he describes, adding that social media engagement is at a high for the company, with 5.8 million followers across all platforms, including Facebook and Twitter.
He adds that PBR's cowboys are true athletes, great people and strong spokesmen for the sport. "More and more, people crave authenticity," he says. "They're embracing the cowboys of the PBR."
Sohigian adds that the current popularity of bull riding would have been considered inconceivable 15 years ago. "The sport has come a long way in its growing appeal," he says.
The support of its parent company, Endeavor, also has helped PBR thrive. Sohigian, who is the vice president of licensing for the talent agency, says it "provides a range of resources and door-opening access, helping the sport continue to grow and enter the mainstream."
Ensuring Success
PBR is underway on multiple projects, including the first U.S.-based Global Cup, which presents a team-based competition in a traditionally individual sport. After the league had Cup events in Canada and Australia, it will hold the Global Cup in Arlington in February, its first U.S. stop.
But it will feature a twist. "We will have two U.S. teams, one being comprised of only Native American riders – a first for a major sport," Sohigian explains.
PBR also plans to expand RidePass, its digital streaming service that has brought fans more than 500 hours of western sports programming. On the licensing side, the company is celebrating the release of its first console video game, "8 to Glory."
Three Gates released the game, which can be played on Playstation 4 and Xbox One. "We are working hard to ensure its success," Sohigian says. "And our slot machine partner, VGT, is in full distribution mode with its first series of class 2 PBR releases – Blazing Bulls, Fearless, VS and Ryan Dirteater."
Celebrating with Licensees
PBR recently signed several licensees in celebration of its 25th anniversary, including Mechanical Bull Sales (MBS) Inc., which manufactures mechanical bulls and mats in the United States. "MBS has been strong out of the gate, targeting independent operators, trampoline parks, carnival companies and bars/restaurants," Sohigian says.
He also praises Intex, which won global distribution for its PBR Inflata-bull pool toy. "[It is] a ride-on that is making bull riding a home-based sport and has been the most successful new licensed product launch in PBR history," he says.
He adds that PBR's bar/restaurant partners, FINE Management and ECI, have celebrated the league's anniversary all year long. "Fine's RockBar and Grill has undergone a major renovation, serves as our home away from home on the strip in Las Vegas, and served as the official late-night host for our recent 25th World Finals," he says.
Meanwhile, ECI's PBR Cowboy Bar has continued growing with the opening of its ninth and largest location at Texas Live in Arlington. "That venue will be the host for the parties surrounding February's spectacular Global Cup and Fan Zone at AT&T Stadium," Sohigian says.
Some other vendors commemorating the occasion include Outdoor Cap Inc., which launched a line of 25th Anniversary Hats; Sidran, which created 25th Anniversary and 25th World Finals jackets, and GameTime, which added a 25th anniversary watch to its line of PBR watches. "And one of the real highlights of the year was provided by TruFragrance, who added a line of body sprays to their successful PBR colognes and perfumes," he adds.
New Partners
PBR continues to look at more licensing areas, including remote control toys. "We have a new toy partner, Toy-o-Rama, which is debuting the first ever remote-control bull riding cowboy in 2019, which we hope will be in all major retailers by mid-year," Sohigian reports. Garments are an area of focus as well. While PBR has had success with high-end belt buckles from Montana Silversmiths, "Our partner Aminco will follow their lead with a new line of mass target buckles, buckle pins and key chains," he says.
The kitchen also has not passed PBR by. "We have a new, licensed BBQ sauce, Buckin' BBQ, a line of collectible knives from Rex Industries, sports shaker bottles from Perfect Shaker, blankets and throws from Duke Imports, and some new bobble heads from our partner Bobble Boss," he adds.
PBR Power
Retail acceptance is PBR's No. 1 priority as it moves into 2019, Sohigian says. It will continue proving to retailers that it is an evergreen property with a passionate fanbase that support retailers that support PBR. "Endeavor has provided us some great new research to tell this story," he says, noting that a 2018 Fan Affinity study showed PBR's fanbase is one of the most avid and sponsor-loyal in sports. "We are beginning to make good progress in showing retailers the power of the sport, most notably with FYE and Walmart."