PZI Jeans, Voted Best Jeans for Curvy Women Presents their Fall 2013 Collection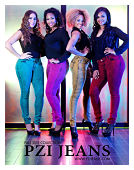 July 23, 2013 – PZI Jeans presents its 2013 Fall Collection and its filled with bold colors, fun laser prints, and great new flare, straight leg, studded and distressed denim. The Fall 2013 Collection features the season's denim wardrobe trends and staples with the PZI Jeans perfect fit.
This collection's boldest features are the Acid Wash Colored Skinny Jeans, Laser Printed Jeans and Studded Denim. The Acid Wash colors are bold and offer a pop of color to the pallet for Fall. Available in Jade, Chestnut, Bright Red and Fuchsia, these jeans are comfortable and bright enough for a day party but stylish enough for a sassy night look. These fun and vibrant colored jeans have the perfect combination of fit, style and comfort.
The Fall 2013 Collection also features 4 striking laser prints. Prints such as snake, ornate and floral gives curvy girls bold prints and subtle patterns with the look of two-tone denim. These styles are sure to be PZI Jeans' customer favorites. The Ornate and Exotic Flare Leg Jeans and the Charmer and Blossom Skinny Jeans not only come in different leg openings but in various shades of Indigo. There's a laser print for every stylish curvy girl in this collection. All of the Laser Print styles fit like a glove and feature PZI Jeans super flattering Flex Fabric.
The entire collection features denim with premium details, fabrics and washes. With 19 fashion Styles in this collection; the Icon Studded Skinny Jean is in a league of its own. This jean in PZI Jeans premium Stax Fabric features two rows of studs on the side seams of the jean. The Icon Studded Skinny Jean is the ultimate show stopper.
PZI Jeans is a ground breaker, providing the denim solution for curvy women. Having mastered its perfect fit designed especially for women with smaller waists and curvy hips, rear and thighs, they have been able to offer fashionable jeans for women with curves for the past 10 years.