"Best of the Best" Named by 2013 Housewares Design Awards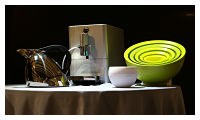 Jan. 30, 2013 – Celebrating the creative combination of design flair and functionality that defines the most outstanding housewares products, the 2013 Housewares Design Awards has announced the winners of this year's competition, including three "Best of the Best" Awards, the "Green House" Design Award, and 12 "Best in Category" Award. Inspiring innovation for a decade, the Housewares Design Awards celebrates its 10th anniversary this year.
Winning "Best of the Best – Gold" is the Nambe Chirp Kettle. Designed by Steve Cozzolino, its sleek artistic design makes it a stunning sculpture for the stovetop. A luscious harmonic tone signals when water is boiling, bringing an elegant touch to the kitchen.
The "Best of the Best – Silver" was presented to the Jura ENA Micro 9 One Touch. It is the world's smallest one-touch automatic cappuccino machine, offering cappuccino, latte macchiato, crema coffee or espresso at the touch of one button, without moving the cup, and Jura's fine foam technology for feather-like froth or foam.
Rounding out the top winners is the Swizz Style Jasmine Aroma Diffuser. Awarded the "Best of the Best – Bronze," it uses ultrasonic technology to create an extra fine mist from water blended with essential oils, for up to four hours.
Honoring eco-responsible design that embodies green living principles, the "Green House" Design Award was presented to the Simple Wave Calibowl Non-Spill 5-Piece Iconic Mixing Bowl Set. Featuring Calibowl's patented non-spill design, each bowl is designed with a curved undercut lip and pushes the food onto the utensil, preventing it from spilling over the edge. Made in the USA of 100% BPA-free recycled polypropylene, each bowl has a wide base with a silicone grip to prevent slipping or tipping.