"Shark Tank" book launched, special reception tonight in NYC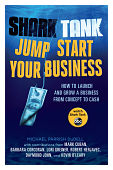 Nov. 15, 2013 – What do a line of kids' clothing that grows with its wearers, a sponge whose texture changes with water temperature, and a food truck that sells fresh Maine lobster have in common? Viewers of ABC's critically acclaimed, business-themed reality show "Shark Tank" know: these are just a few of the creative business ideas that have gone on to wild success after appearing before the show's panel of tycoon investors—the Sharks—who are on the hunt for the brightest entrepreneurs, the best businesses, and the most promising products America has to offer. Now, in conjunction with the hit show, Disney Book Group publishes Shark Tank — Jump Start Your Business: How to Launch and Grow a Business From Concept to Cash, a collection of the Sharks' best, time-honored business advice.
The book features tips and tales from the show, collected and amplified by author, Michael Parrish DuDell. Digital innovator, featured speaker at TEDx, and marketing guru to both startups and Fortune 500s, DuDell lets the Sharks' wisdom shine as he offers his own fresh, Millennial take on business-as-usual.
"The age of entrepreneurship is upon us," writes DuDell. "As technology advances and creates an abundance of new and exciting opportunities, more and more people are mustering the courage to abandon careers that feel conventional and embrace opportunities that are deeply meaningful."
DuDell goes on to say that the modern entrepreneur's biggest barrier is rarely lack of money or connections. "The greatest hurdle standing in the way of the first-time small business owner is a general lack of knowledge and know-how—tangible information and experience about how to create, maintain, and grow a company."
On Friday, November 15th, WeWork (an innovative community of entrepreneurs, startups, and successful small businesses) and ABC, in partnership with Disney Publishing Worldwide, will present a special reception launching Shark Tank — Jump Start Your Business. The evening will include an in depth preview of the new book, an appearance by celebrity Shark Barbara Corcoran, a special Q&A with entrepreneurs from the show and author Michael DuDell, and a book signing. The evening will begin with cocktails and hors d'oeuvres at 5:30 PM at Digital Sandbox, 55 Broad Street, 4th Floor, New York.