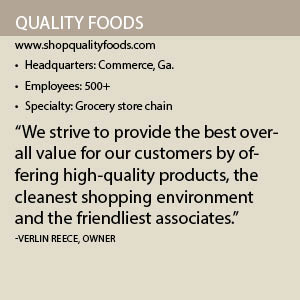 The company's meat department specializes in fresh chicken that is sold at a competitive price, a key differentiator from the competition, Reece adds.
"We pride ourselves on having competitive-priced meats and produce," he says. "We really aim to provide exemplary customer service as well. So we try to provide all of our customers with the recognition they deserve, and take care of them to the best of our ability. For example, if they'd like, we'll carry their groceries to their car."
Quality Foods is also active in the communities where it is located. "We try to participate in as many local events as we can to provide support to the community as a whole," Reece explains. "So we participate in Easter egg hunts, fundraisers, partner with Boys & Girls Clubs and veteran's associations, and help provide food to the local food banks."
Key To Success
Quality Foods has employees among its 500-strong workforce who have worked with the company since it was founded in 1982.
"We have two employees who have been with us since we opened our first location," Reece says, adding that its company culture has been a key factor in that dedicated tenure.
"We recognize, show and demonstrate to our employees their value," he says. "We appreciate all of their contributions to our company and make them feel a sense of acceptance and belonging, which is key to our success.
"We also not only provide them with reasonable pay and good benefits, but also with opportunities to move up in the company," he adds.
Quality Foods' suppliers have also been critical to its success. "We maintain our vendor relationships by making it a partnership," Reece explains. "We recognize that not only do we need them, but they also need us. So we know that we have to work together and find ways to promote, merchandise and give cost-effective offerings to our customer base.
"With that in mind, we expect good service and that all of our products will be delivered on time so that we can stock our shelves, and they are available to the customer when they come in the store to shop," he continues.
The company also makes it a point to meet with its suppliers face-to-face as much as possible. "We have various employees who work with different vendors in the stores, for example, that would include our meat, grocery and produce categories," Reece says. "They work with the vendors who are directly related to their jobs as much as possible to stay up-to-date with any information or training they need to know.
"With our vendors, we're utilizing all of the technology we can to remain efficient and streamline our processes," he continues. "However, it's even better to have that face-to-face interaction to build relationships, which is very valuable. I think by our emphasis of that, our partners feel valued and it has certainly contributed to our success, but theirs as well."
Looking Ahead
Some of the associates with Quality Foods are in the process of retiring and reducing their hours of work. "That is why I have brought on Warren Brown and Clark Stephens, both serve as vice presidnet of operations, to assist with moving the company forward for years," he explains.
Reece notes that Quality Foods will open new locations only if they fit its model. "For example, it would have to be a viable opportunity that we feel we can meet the needs of that market," he explains. "So it has to be the right opportunity at the right place."
In the mean time, Quality Foods is renovating its stores with a fresh, modern look.
"We have installed equipment that is fairly brand new, including cash registers, produce and market equipment, and refrigeration cases," Reece says. "We are also changing the color scheme for our stores, and re-merchandising some of our stores.
"As of right now, we have five stores that are undergoing some form of those renovations currently," he adds. "We want our stores to be more energy efficient with LED lighting, which will help reduce costs as well."
Reflecting on the company's 35-year anniversary, Reece noes that he is both "overwhelmed and excited."
"I really appreciate the opportunity we have had here with Quality Foods," he says. "I hope that we can continue to be successful and provide the opportunity for people to shop with us in the future.
"It's been a tremendous ride and our industry is constantly in the state of change," he continues. "As an independent company, we wear a lot of hats and still have to put all of the pieces of the puzzle together to make this work and be a good operating company."
Reece notes that he is most proud that the company has maintained its success in the communities it serves.
"We're very proud to supply the grocery needs of customers in those markets and provide jobs for our employees so that they can be successful as well," he says.