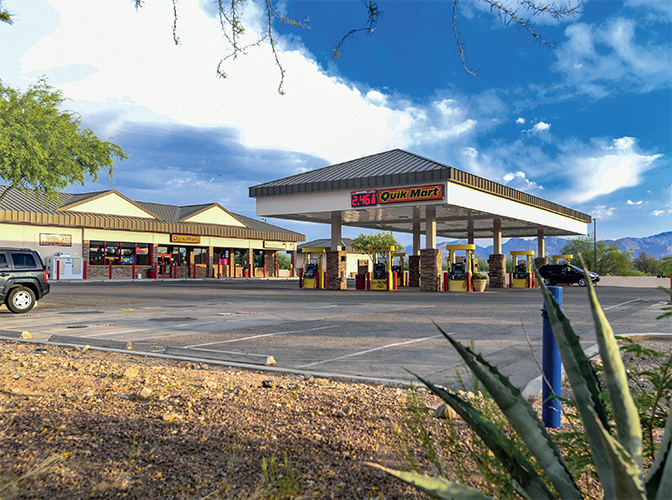 Convenience for all
A one-stop-shop for everything from groceries to Hot Stuff Pizza, Quik Mart thrives in its place at the heart of the Tucson community
Family-owned convenience store chain Quik Mart opened the doors to its first three stores in the Tucson area of Arizona, during January of 1965. The creation of one Wesley (Wes) Little, who acted as the company's Chief Executive Officer until his passing in December 2014, the chain has been proudly run by the Little family now for nearly 60 years. Operating under the strong belief that if you are able to offer a combination of great customer service, clean and well stocked stores, and competitive pricing then you will inevitably succeed, the chain is now
overseen by Wes' son Troy Little – President of Quik Mart – and Troy's sister and Vice President, Shelly Little Gibbons.
Quik Mart is known for providing local areas with all the convenience store essentials. From beer, wine and tobacco, to candy, coffee, pastries and an extensive grocery section, its stores aim to cover all bases. "We are a little heavier when it comes to grocery items. We began life as a neighborhood store and we believe this is one of the things that sets us apart from our competitors," explains Quik Mart's General Manager, Mark Redding. "We have also diversified in recent years to operate three Hot Stuff Pizza stores and four deli locations. The latter offer fresh sandwiches, wraps and salads, and trade under our proprietary Hungry's brand."
Since its formation, Quik Mart has been committed to serving its local market of Tucson. "Most of our stores are based in local neighborhoods, where they have been a fixture for many, many years," Mark continues. "We have an extremely loyal customer base, which is a feature that is consistent with each of our store, with people regularly visiting their local Quik Mart, often on a daily basis."
In the eyes of Mark, Troy, Shelly, and Wes before them, it is the people who make up Quik Mart's team of employees who truly help to set the company apart and who have contributed most to its success. "The people side of things is far and away the most important element of the business, after all, we depend upon our employees to run Quik Mart, and we could never be successful without them," Mark affirms.
Indeed, said people's contribution has arguably never been more important than during the Covid-19 pandemic that has continued to spread over the last 18-plus months. "From a management perspective, we have done everything possible to keep our employees safe, and to reassure them that their health is our most important concern," Mark declares. "At the same time, the culture of our company has always been based on family and family values. As such, we constantly strive to do our very best to remind our employees that they are part of the wider Quik Mart family, and that the successes that they have individually contributes to the overall success of the company!"
On the subject of the pandemic, Mark goes on to detail how the company responded to what has been a global health crisis. "As an essential business, we had to stay open and for the most part, maintaining operations as usual. As it turns out, I do not believe that our operations changed too dramatically as a result of Covid-19," he says. "As far as changes that we made to certain individual services, early on we took the decision to suspend our self-service food programs, including our roller grill program. We also suspended our fountain and coffee refill activities. Meanwhile, as far as health and safety protocols are concerned, we enforced mask mandates for our employees, vendors, and our customers as best as we could, we placed hand sanitizer stations in each store for customer use, and we worked diligently to train our employees to carry out thorough cleaning and sanitizing activities on a regular basis."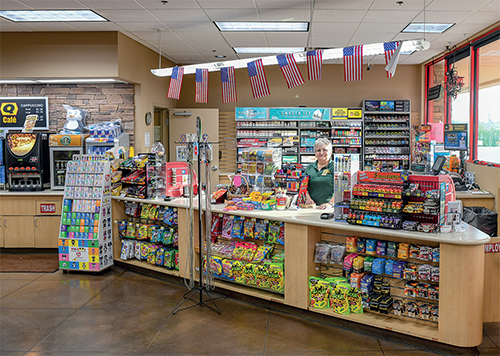 Another facet of Quik Mart's operations that would have come into sharp focus in recent times will have been its relationships with its suppliers, and the importance of maintaining strong working partnerships with these entities. "Clearly, in order to succeed we depend on our suppliers massively, and we have worked extremely hard over the years to build great relationships with all of them, from our grocery suppliers to our DSD suppliers," Mark adds. "Personally, I believe that our suppliers recognize that we want to be their partner, and have grown to appreciate that when we say that we are going to do something with them, we do it. One of the things this mentality has resulted in is Quik Mart doing business with many of its suppliers for five decades or more. Throughout that time, we have treated each one with respect and honesty, and by being a smaller, local business, we have the ability to make quick decisions in order to get products to market faster, which is something I think they appreciate about us as well."
The enduring success of Quik Mart is not just down to company culture and strong relationships; the business also makes ongoing efforts toward streamlining and restructuring, in order to run stores as efficiently as possible. "In the past two years, we have made strategic decisions to sell five of our stores," Mark details. "Where this has helped us to become a more efficient company is by allowing our management teams to focus on fewer stores that may have been underperforming for various reasons, or that did not meet our vision for the future. Ultimately, it is all about making Quik Mart a business that is altogether stronger, from top to bottom."
In the right environment, Quik Mart is a company always looking for opportunities in which to grow, however as of the summer of 2021, its focus is very much on securing its position within the market and with the products that it carries across its estate. "As most people will be aware, we currently find ourselves in something of a state of uncertainty with an uptick in Covid-19 cases. As a result, trying to determine a path forward and make plans is providing more difficult than it would under normal circumstances," Mark notes. "At this time, we plan on just charging ahead, being aggressive in categories that we excel in, and doing all of the things that have helped to make us successful."
Mark adds: "I think we will continue along the path of becoming a leaner, meaner company, re-focusing our energy and resources on our current assets. I have hopes that, coming out of the Covid-19 era, we will be able to consider further growth opportunities, as I can foresee possibilities to grow our food service, to continue to develop what is an ever-changing tobacco category, and use greater innovation to pull customers into our stores."
Quik Mart has earned its place in the market by offering a broad range of products, competitive pricing, clean, well-merchandized stores, and superior customer service. "We will never be able to compete with the financial resources of the national and regional chains, but what we can compete with is everything else that we can control," Mark points out. "This past 18 months has brought us challenges that we have not faced before, but we have been able to thrive and even grow our business."
Founded on family and a hometown heart, Quik Mart clearly understands the needs of its communities, and can rightly be confident of its ability to move out of today's uncertainty, safe in the knowledge that great relationships do not end at the checkout.