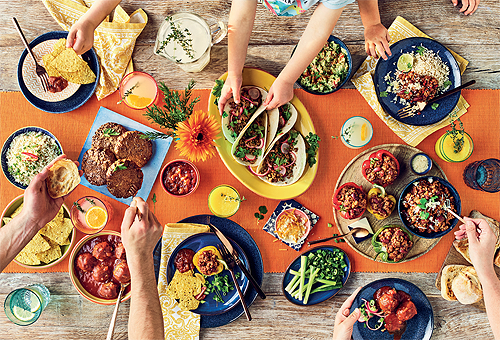 The choice of change
Famous for its delicious, market-leading range of meat-free ingredients and dishes, Quorn Foods is committing to some bold sustainability goals for the decade ahead
As a leading meat alternative brand in the world, Quorn has always believed that the planet needs a more sustainable diet; one that is healthier for its people and kinder to the Earth.
In 2020, the company reaffirmed its commitment to this belief through the announcement that it would be introducing a new 'Director of People & Planet' role, created to accelerate Quorn's status as a business of the future with an environmental mission at its core. Tongwen Zhao, a former Director for The Dairy Farm Group in Hong Kong, was chosen by the company to be the first person to tackle the role. Alongside a Master's degree in Environment, Politics, and Society, Tongwen brings nearly 20 years of HR experience to the business.
"I am super excited to welcome Tongwen to the Quorn team as she brings such a wealth of global experience and passion for our sustainability purpose," Quorn CEO Marco Bertacca declared at the time of Tongwen's appointment. "The products we make at Quorn are all made with the clear purpose to provide healthy food for people and the planet, and our purpose must run through everything we do. We have created this new role to build an integrated culture, across our global operations and within our people, that will drive progress towards Quorn's goals across the next decade and beyond."
Understandably, Tongwen was delighted about the appointment and excited about her new company's potential to bring about lasting change. "It is an honor to join Quorn Foods and become the first person to undertake this new role," she remarked. "Living in Asia for much of my life, I have seen the damaging impacts of the climate crisis first-hand and, by encouraging more people to eat sustainable protein, we can help improve their lives." "My HR experience has taught me that people are inspired by a shared purpose, and to achieve true, sustainable progress we must prioritize the engagement of our team. The Covid-19 pandemic poses serious challenges to the Quorn family, but the way our people are tackling the situation with bravery and dedication has shown me that I have arrived at a special company that is well set to make a difference to the future of our planet."
At the same time as announcing the new role, Quorn set itself a number of targets against which it will measure its future progress in HR and sustainability. These included:
To become a net positive company by 2030

To achieve net zero emissions within its own operations by 2030

To achieve net zero emissions across its whole supply chain by 2050

To serve eight billion meals a year worldwide by 2030 – one for every person on the planet
Carbon footprint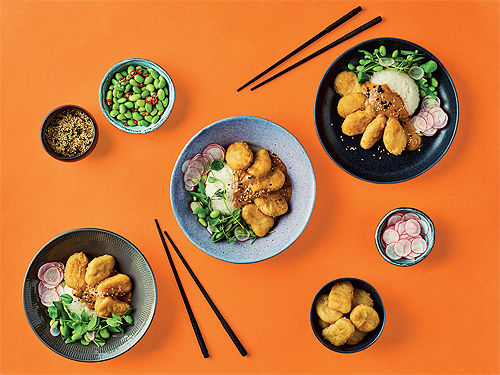 The targets aim to help Quorn build on its history of sustainability achievements. Over a six-year period, the company has reduced its carbon emissions by 38 per cent and its water usage by 16 per cent. Additionally, all electricity used at the company's Stokesley and Methwold factories is 100 per cent renewable and as much as 80 per cent of Quorn packaging is recyclable. In 2018 alone, Quorn products enabled savings of 200,000 tons of CO2e compared to meat equivalents, with the greenhouse gas impact of mycoprotein, the unique protein in all Quorn products, being 90 per cent lower than beef.
Always looking for ways to increase customer awareness surrounding the environmental impact of the foods they buy – and what the company is doing to help – Quorn recently introduced carbon footprint data on packaging for 60 per cent of its product offering. The 'Farm to Shop' data, certified by the Carbon Trust, marked the start of a trailblazing new campaign concentrating on how food choices can impact our climate. With a focus on how products such as Quorn Mince are a 'step in the right direction' when it comes to climate change, due to its low carbon footprint, the campaign arrived in a year when studies have suggested that more than 50 per cent of consumers have stated that they eat meat free for environmental reasons.
Peter Harrison, CCO of Quorn Foods, commented on the pioneering development as the company became the first meat free food manufacturer to introduce third party carbon footprint accreditation via the Carbon Trust. "For over 30 years, we have been proudly delivering Healthy Protein for a Healthy Planet. Quorn is proven to provide significant health and environmental benefits and today we're delighted to offer carbon footprint data to our customers, whom we know are actively trying to find ways to reduce their impact on the planet.
"This is about giving people the information needed to make informed decisions about the food they eat and the effect it has on our planet's climate – in the same way that nutrition information is clearly labelled to help inform decisions on health – and we're asking other brands to get on board with us. Currently no RDAs exist for carbon emissions, but we hope that if other food brands follow suit, we will be able to make better comparisons in our shopping baskets."
Following successful collaboration with Greggs on its sell-out vegan sausage rolls, and KFC on its popular vegan burger, Quorn turned its attentions to football in June, announcing a global partnership with Liverpool FC. The multi-year deal will see Quorn become the club's Official Sustainable Protein Partner, helping Liverpool contribute to greater food sustainability as part of its Reds Go Green initiative.
During the last two seasons, the Reds Go Green program has had a significant effect on improving the club's environmental impact, with positive steps made to eliminate the use of single-use plastics and reduce the club's carbon footprint through sustainable waste management. Quorn will now work in collaboration with the club to provide new opportunities for supporters to choose from vegetarian and vegan foods on matchdays, while also working with the club's nutrition team to extend the range of healthy protein choices available to its playing staff.
"Our partnership with Liverpool FC is very important to our Quorn vision, which is to provide food that is healthy for our families and the planet," explained Quorn's Marketing Director Gill Riley as the deal was confirmed. "We also want to understand the positive impact Quorn's super-protein can have on elite sports performers, so working with LFC and its world-renowned nutritional experts will be fundamental in the next phase of our sports science research."
Health benefits
Not only is Quorn leading the way on sustainability, but the brand continues to discover new health benefits offered by its products. Most recently, data published in the British Journal of Nutrition (BJN) has shown that Quorn protein can lower cholesterol levels in healthy adults. The data was drawn from a study at the University of Exeter, which found that mycoprotein, the protein-rich food source that is unique to Quorn products, lowers the post absorptive levels of low-density lipoproteins (LDL) – commonly known as 'bad' cholesterol – more than meat and fish.
Funded by Quorn, the week-long study was conducted with 20 healthy adults, each given a fully controlled diet containing twice daily meals with either meat and fish or mycoprotein as the main dietary protein. Participants' glucose levels were monitored continuously, and blood plasma samples were taken before and after the diets, in order to track the effects of the different protein sources.
Diet choices
The results showed that there was no significant change in blood sugar levels when eating meat and fish or mycoprotein, suggesting that a diet based on mycoprotein does not increase the risk of diabetes compared to animal proteins. The beneficial effects of consuming mycoprotein came as a result of an increased fiber intake against the meals containing meat or fish. Providing 6g per 100g, mycoprotein provides more fibre than baked beans and brown bread. Previous research has found that the inclusion of fiber-rich foods in a healthy balanced diet can contribute to better health and a reduced risk of cardiovascular disease.
The landmark study builds on the University of Exeter's body of research into the wider health benefits of mycoprotein, after earlier this year finding that the ingredient stimulated post-exercise muscle building to a greater extent than milk protein. This expanding knowledge provides vital support for mycoprotein as a healthy and sustainable alternative protein and encouragement to people looking to incorporate Quorn products into their diets. As an ingredient high in protein, a complete source of amino acids, high in fiber, low in total and saturated fat, and containing no cholesterol, mycoprotein represents a meat free option that can improve the health of both people and our planet.
"We're excited to see further scientific evidence of mycoprotein as a healthy alternative protein, and proud that this research has been published in the British Journal of Nutrition," said Tim Finnigan – Chief Scientific Adviser for Quorn Foods – on hearing the news. "At a time when more people are considering their diet choices, for environmental or health reasons, Quorn is proud to offer a nutritious, meat-free protein that gives people the choice of change."
www.quorn.co.uk