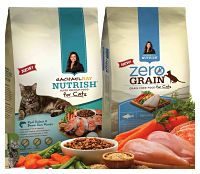 Launched in 2014, Nutrish for Cats joins the Rachael Ray Nutrish line of super-premium food and treats for dogs, and Ray's personal proceeds from the new cat food line will also fund organizations that help animals in need. Nutrish for Cats is available in both dry and wet recipes, all of which feature premium natural ingredients that deliver great taste that cats instinctively love.
Ainsworth Pet Nutrition, Ray's partner in Nutrish for Dogs, is also responsible for the creation of Nutrish for Cats. Ray's personal proceeds from the sale of Rachael Ray Nutrish products support animal organizations, resulting in more than $7.2 million in donations to date.
"It was important to expand the Nutrish brand to include cats because dogs aren't the only animals in shelters that need a voice or the only animals in loving homes that have a picky appetite," Ray says. "By expanding Nutrish to include cats, I can help in a few different ways and ultimately improve the lives of more animals. As part of the launch of Nutrish for Cats, we've benefitted facilities for these animals and that's makes me very proud. I'm a dog owner but my mother is a big time cat lover, so she was also excited to see this expansion. Animals are very special, they have the ability to bring happiness to anyone. I can't imagine a world without them. It's important to me that I help support these animals and fight for them to have a chance to bring joy to someone else."
Nutrish dry cat food recipes include Real Chicken & Brown Rice and Real Salmon & Brown Rice, which feature real meat or fish as the first ingredient and do not contain any fillers, meat by-product meals, or artificial preservatives. Nutrish also just launched a Zero Grain Whitefish recipe, which is grain and gluten free. Bags are available in 3, 6, 12 or 14 pound sizes and can be found where consumers shop for their groceries.
Nutrish wet cat food recipes include Tuna Purrfection, Ocean Fish & Chicken Catch-iatore, Chicken Purrcata, Paw Lickin' Chicken & Liver, Ocean Fish-a-licious, Smackin' Sardine & Mackerel, Chicken & Shrimp Pawtenesca, and Chicken & Salmon Catterole. All wet recipes are grain free and do not contain any artificial flavors or meat by-product meals. They are available in 2.8-ounce tubs and 12-count variety packs and are also available where groceries are sold.
To launch Nutrish for Cats, the brand embarked on a 16-city tour as part of its "Shelter Cats are Beautiful" campaign. Nutrish partnered with GreaterGood.org and One Picture Saves a Life to bring grooming and professional photography skills to shelters nationwide in an effort to better capture the cats' personalities and help increase the rate of adoptions. The national tour kicked off with an event in New York City on July 11, 2014, and continued throughout the summer stopping in cities like Los Angeles, Miami, Nashville, Orlando and Houston. The brand has donated about a half-million dollars worth of wet food in a variety of cities through these and other programs.