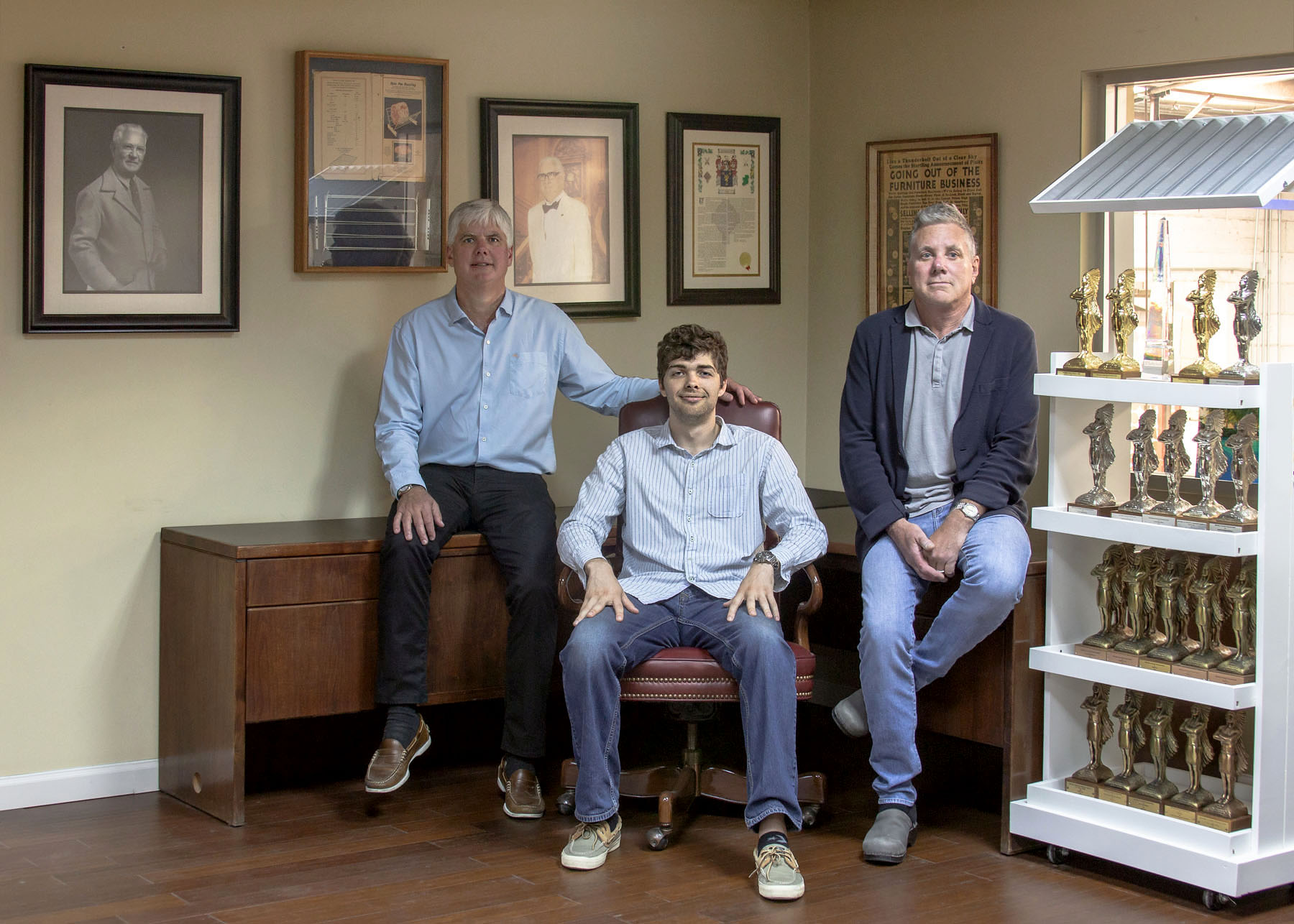 Racks Inc.'s vertically integrated manufacturing capabilities give it the ability
to quickly respond to its customers' point-of-sale display needs.
Racks Inc.'s ability to meet its customers' needs has made the point-of-purchase display manufacturer successful for more than 80 years.
"Our philosophy is basically to try to keep things as simple as we can while being responsive to our customers," CEO Doug Wall says. "We are in the business of helping our customers sell their product, and our customers' businesses need to be responsive to the demands of retailers.
"For us, the key is being responsive, flexible and having the resources and staffing to respond with short lead times," he adds. "So when a customer calls and says they just got a late OK from an additional chain and asks us for an additional 327 units delivered in five weeks, we can says 'yes.' If there is a last-minute change in the graphics design, because we are vertically integrated we can change the graphics and still meet the retailer's in-store date."
The company manufactures custom metal, wood and acrylic displays. "We are truly a custom job shop," says Don Wall, Racks' CFO and Doug's brother. "Our customers tell us every day what they want, and we respond to their needs."
The Right Solution
One example of Racks' flexibility was its work with a well-known snack company that was seeking a display that would effectively self-face and keep its products organized and neat through the day. Working alongside their customer's merchandising and category management teams, Racks devised a gravity feeding shelf that would vary in size from 36 to 48 inches wide and from 14 to 30 inches deep. The customer employed external broker and store teams to determine the shelving needs of each store in which the display was placed. Once that data was available, custom orders were placed.

"Revising our internal production routine allowed us to buy large quantities of cartons upfront that could be cut to size based on shelf dimensions, saving time and money. Our production lines were equipped with multiple jigs in various sizes to expedite orders reducing our typical production lead times from six to seven weeks to four to five weeks on average," Vice President of Sales Tim Schroeder says. "We also developed effective ways to palletize the program as each store generally would receive four to five shelves. The program could triple stack on trucks for transport and doing so saved thousands of dollars in transit costs alone.
"In the end, the customer, along with effective merchandising and promotions, has experienced anywhere from eight to 30 percent increases in same store sales," he adds. "This was a simple solution that required flexibility and cooperation between us and the client alike."
Decades of Growth
Harry Wall, Doug and Don's grandfather, started the company in the 1930s in Pasadena, Calif., to sell his patented oven roasting rack as well as pie coolers and other items to retailers. "Our business name originally referred to roasting racks, not display racks," Doug Wall says. "[Harry Wall] claimed to have sold millions of the roasting racks, but he did not market them on point-of-sale display racks. We sometimes joke about how many he might have sold if he did."
In the 1940s, Harry Wall bought a small foot weld and put his wife to work welding together the two wire wings for the roasting racks because he could not find anyone to produce them during World War II. This decision planted the seeds for the current business, the company says.
From 1950 through the mid-1990s, Harry Wall's son Dick ran the business, transitioning it from consumer goods such as the roasting rack to becoming a custom display manufacturer. In the 1960s and 1970s, Racks' main customer bases were the hobby and oil additives industry. "The designs of the day were simple wire structures designed more to hold product rather than display it," Doug Wall says.
"By the 1980s, this started changing, and the artistic nature of the displays changed from holding the product to showcasing it," he adds. "Creativity, colors, branding and graphics became the emphasis. Our current displays are truly a piece of art customized to not just hold the product but be fully integrated into a customer's marketing, branding and packaging."
Racks' customer base also changed substantially during the 1980s, as it shifted much of its business to the wine, beer and spirits industry, the company notes.
Dick Wall retired from the company in the mid-1990s. Doug Wall today oversees the manufacturing operations, and Don Wall overseas administrative operations. "We are proud of the fact that we are one of the very few business to survive into a third generation," Doug Wall says. "We now have the opportunity to make it to a fourth, since Don's son Corey joined the company after graduating from college [in 2016].
Expanding Production
The shifts in the company's customer base over the years led it to make two notable facility relocations. The first, in 1974, saw the company move from its first manufacturing shop in Pasadena to a 30,000-square-foot facility in Los Angeles. The L.A. facility was the first wire shop in southern California to install its own powder coating line, Doug Wall notes.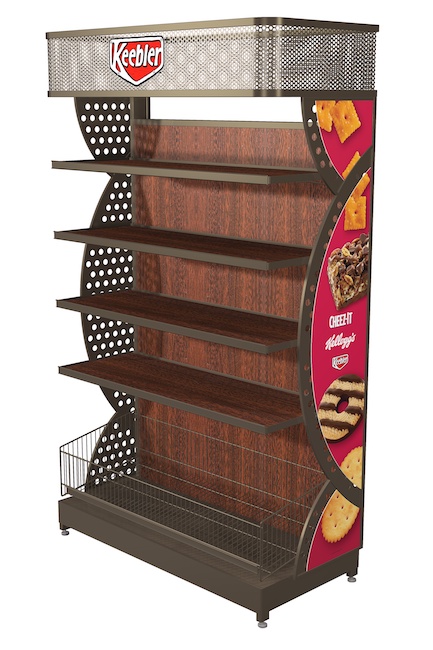 In 1994, Racks outgrew the facility and decided to set up a maquiladora operation in Tijuana, Mexico. Today, Racks' maquiladora operates a 130,000-square-foot production facility and a 50,000-square foot design, sampling and raw material warehousing facility in Tijuana. Across the border in San Diego, Racks operates two buildings for shipping and receiving.
The Tijuana facilities gave the company additional opportunities. "A main goal of ours had always been vertical integration, and this started almost immediately when we acquired the main plant in Mexico," Doug Wall says.
The first addition to the facility was a graphics department, where the company began four-color process silk screening. As technology changed, Racks added a full digital printing operation with two flatbed Canon printers. "Almost all of the graphics incorporated into our displays are produced in-house," he adds.
The additional space in the Tijuana facility also gave the company the ability to expand its product line to include wood, plastics and acrylics. "We started small, mostly making component parts for our own displays, but over the course of 10 years, we started producing cabinet-quality wood and acrylic displays," Don Wall says.
New technology also brought changes to Racks' design and sampling processes. "Not that many years ago, the sampling process meant laying out the customers' product, figuring the spacing, and bending and welding a prototype to present the customer," he adds. "Now, most projects start with a creative rendering sent to the customer via e-mail for approval long before any actual prototyping."
Racks' integrated production capabilities give it a leg up on competitors. "Just 20 years ago, there were more than a dozen shops similar to Racks spread out all over Los Angeles, and now barely any still exist," Doug Wall says. "Of those former companies, those that survived have done so by turning into display brokers, mostly selling items produced in China."
Serving Customers
In addition to shipping, the San Diego facilities also house customer service, accounting and warehousing operations. "On the administrative side, it seems most of our customers don't have a warehouse anymore, so we now have two," the company says. "Many, if not most, don't have a shipping department or negotiated contracts and discounts with carriers, so we now have a three-person shipping department."
The company credits its employees for its ability to maintain longstanding customer relationships. "Most of our accounts are with companies that we have done business with for more than 20 years, including King's Hawaiian Bakery," it notes. "We also have a long relationship with [advertising agency] Andrea Martin & Associates and Gallo Winery going back to the 1980s, and Kellogg's for 15 years.
"Our customers also provide us with the invaluable service of telling us their needs every day through their design requests and purchase orders," Racks adds. "We do not have to drive the market, but we do need to respond to the market every day."