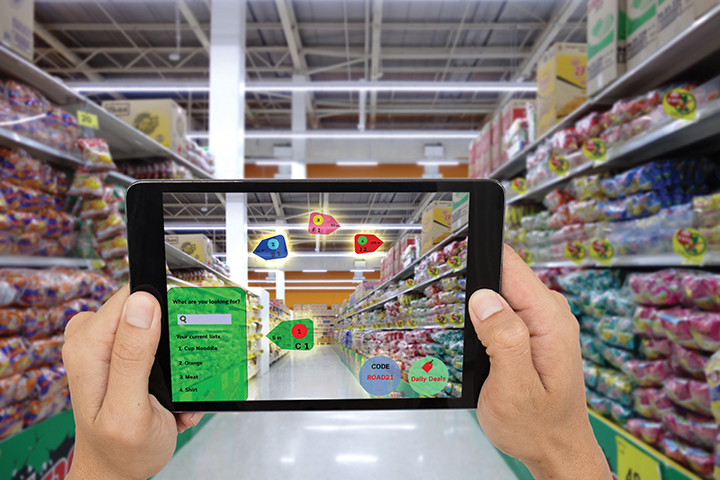 Data and technology can help ensure retailers' kitchen and retail spaces are looking and performing their best during the busiest times of the week. By Jim English
Consumer grocery shopping peaks on weekends between 11 a.m. and 1 p.m., and weekdays between 4 p.m. and 5 p.m. While these hours have changed little in the last decade, retailers have found new ways to prepare for the rush and alleviate many of the issues that arise along with it, including inventory management and customer service.
Technology has emerged as one of the most powerful tools retailers can use to operate more efficiently during peak hours. E-commerce, in-store tech and behind-the-scenes innovations are all expected to play a large role in the future of supermarkets. However, retailers shouldn't forget what drives customers to the store in the first place: delicious food.
E-commerce
Online grocery shopping is gaining popularity among consumers and retailers alike. Many merchants – including Amazon with its recent purchase of Whole Foods – are capitalizing on this movement, and it is one way brick-and-mortar stores can combat the challenges that intensify during peak hours.
One-third of shoppers used "click and collect" programs in 2016. Convenient for customers, online shopping helps them avoid crowds, reduce (or eliminate) the time needed for individual supermarket trips, and facilitate a more budget-friendly approach to household grocery procurement.
While online shopping options can help retailers better manage inventory and predict shopper behavior, as well as reduce labor costs, it can decrease sales per basket, based on the store's inability to inspire impulse buys. Therefore, the in-store experience must offer consumers more than they can get sitting behind a computer screen or smartphone.
In-store Technology
Many grocers situate self-order kiosks near entrances so customers can place deli orders upon arrival, making their trips more efficient. And that's where many consumers' high-tech shopping experience ends – but it doesn't have to.
In 2016, Italy's largest supermarket chain, Coop Italia, launched the Supermarket of the Future, which provides consumers with a high-tech, engaging experience. Shoppers can access detailed information about a product, such as nutrition facts and store promotions, via an interactive screen with a simple hand motion and a little assistance from Microsoft Kinect sensors.
While this kind of innovative technology is certainly an investment, it ensures shoppers have their questions answered quickly, increasing customer satisfaction and decreasing labor costs. The novelty of this experience, if reproduced in the United States, could drive more in-store shoppers.
Cloud-based technology and other hardworking tools can help grocers ensure they have enough stock once those shoppers arrive.
Behind-the-Scenes Innovations
ChefSheet assists stores in continually monitoring inventory and food prices from any device, including laptops, tablets and smartphones, for free. Other solutions require a little more investment. These include smart appliances and robotics that can save labor, energy and processing time, among other efficiencies as well.
Many of the latest commercial kitchen innovations are hidden from public view, though not always. As transparency becomes more prevalent in the food industry, restaurants and retailers are amplifying their efforts to give patrons a peek into food preparation. While consumers do not enter the kitchens, these spaces still need to be clean and aesthetically pleasing, even during the rush.
Keeping kitchens tidy during peak hours can be particularly challenging with messy cooking processes such as frying, as traditional fryers need consistent maintenance and cleanup. Automated oil management systems eliminate the unsafe handling and filtering of hot cooking oil, and enhance cleanliness, as there is no unsightly mess from oil spills in the kitchen or oil-collection bins behind the store. The improved oil filtration also enhances the taste and quality of the food. And, let's face it, finding delicious food is the No. 1 priority of most grocery patrons.
Fresh-Prepared Meals
Innovations don't always come in the form of advanced technology; they can present themselves in new ways to cater to shifting consumer needs and desires. Americans are busier than ever and are widening their search for quick and easy mealtime solutions. Grocer deli's and mass retailers need to respond to this demand by offering a variety of fresh and ready-meal solutions, especially during the peak shopping hours on weekdays.
Total dollar sales for perishables and deli prepared foods in the United States have climbed 7.5 percent in the last four years, and the category's popularity is likely to only rise as more stores offer prepackaged heat-and-eat meals, chef-prepared foods and self-serve food bars.
It's important to have a variety of selections on hand and enough stock available during the dinner rush. Supermarkets are going to find this preparedness to be worth their while, since trips for fresh-prepared foods correlate highly to additional dollar spend in-store.
The supermarkets that are able to survive and thrive in the changing retail landscape are likely to be the ones that invest in technology and other solutions to decrease costs, increase sales and enhance the consumer experience, whether there is one shopper in the store at midnight on a Tuesday or thousands during the weekend rush.
Jim English is the vice president of national accounts for Restaurant Technologies.