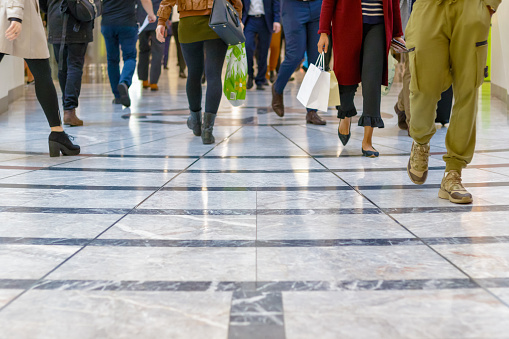 Learn how to create a unique customer experience that will boost business
and make you an industry leader.
By Matt Mullen
There's a saying that "the only constant is change." Retailers know this all too well. Years ago, the retail industry consisted only of brick-and-mortar stores. Then came online platforms, and now it's omnichannel delivery services that enable customers to receive their orders anytime and anywhere. What's next?
Much of the evolution in retail is in response to changes in customer needs and wants, particularly in the area of fulfillment. This constant change is not easy. It requires retailers to be one step ahead of the competition, while always delivering a great experience to customers of all ages. No other retailer has been able to accomplish these goals as successfully as Amazon.
Amazon is continually introducing new services, products and features that set the bar for customer experience and drive the dramatic growth that has made the company the largest e-commerce retailer in the United States. From Fulfilment by Amazon Onsight to Shipping with Amazon (SWA), this retail giant doesn't follow the leader, it is the leader. Amazon stays ahead of its competitors by transforming the business to match what customer's want, and it does it quickly and successfully.
While some of Amazon's innovative ideas for enhancing fulfillment might at first seem too big for the average retailer to tackle, they are in fact absolutely attainable. Creative fulfillment options not only keep customers happy, they also drive increased purchases. According to SalesForce, 50 percent of consumers say they're likely to switch brands if a company doesn't anticipate their needs. That's a lot of customers you can lose by not offering new and unique fulfillment options. So, instead of trying to compete with Amazon, use their approach to create your own customer experience and one that boosts your business.
Meet your Customers' Needs
Everyone knows "customer obsession" is Amazon's No. 1 value and the reason it has quickly become a top leader in retail. Amazon knows that the customer experience goes beyond the box and they make sure to perfect this every chance they get.
Amazon has pushed the retail-industry envelope and continues to develop new ways to ensure customers receive their orders in two ways that matters most: fast and free. The result is a loyal customer base and rapidly growing sales.
One aspect of the customer experience that sets Amazon apart from other retailers is its fast shipping service, Amazon Prime. But quick shipping isn't valuable to Amazon because it saves money or gets orders to their destinations, it is valuable because it's what their customers want. As a result, the popular Prime shipping method has become a competitive advantage in both service and experience. Customers don't just use Amazon Prime to save money, although it actually has a fairly expensive annual fee, they use it for convenience. They get what they ordered when and where they want it.
Most retailers see Amazon Prime as free two-day shipping that will cost them money. However, if you think of Amazon Prime as a competitive advantage in service, you see it as a way to win customers and increase sales. In fact, did you know Amazon Prime members spend almost twice as much each year compared to non-Prime customers?
Look Beyond the Box
While many retailers don't have a massive distribution profile like Amazon, they do have options. Here are some great opportunities for you to look beyond the box and create an experience your customers will like and appreciate:
If you have high volume and want to get orders out the door quickly, utilize zone skipping. This is a logistics technique where a retailer organizes customer orders by location and only ships once the quantity of orders for that region reaches a full truckload. This can save you thousands while still meeting customer shipping demands.
If you are already swamped with shipping customer orders, add last mile carriers to your network. This can be especially advantageous in improving speed of delivery and giving your customers more shipping options to choose from.
If you need help during peak shipping season, use advanced date shopping to utilize seasonal carrier offers and conditions. You'll be able to move more product, reduce shipping costs and delight your customers with on-time delivery.
There are many more ways to improve the customer experience and meet changing demands. But in order to be successful, be sure you are choosing the right options for your business, and those that put your customers first. Choose the features that build a loyal customer base and soon you, too, can be a retail leader.
Matt Mullen is senior vice president and managing director at ProShip Inc., a Neopost company, and a global provider of logistics software and product solutions, including enterprise-wide, multi-carrier shipping and manifesting software, automated packing solutions and intelligent parcel lockers.