Retail Innovation Shines at Sears Startup + Developer Challenge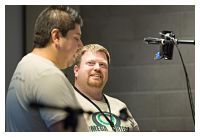 Aug. 27, 2013 – Sears announced the winners of its Startup + Developer Challenge, the retailer's latest code-a-thon designed to foster digital innovations that further enhance the Shop Your Way member experience and strengthen the company's long-standing relationships and develop new ones in the technology community of Silicon Valley. More than 150 participants competed over three days for the chance to see their application brought to life by Sears. Team Omega Ortega developed the grand prize winning app, The Chore Score, and received a test budget from Sears.
"Part of our transformation into the world's greatest integrated retailer is our ongoing commitment to drive industry-leading innovation, fueled by world-class talent," said Imran Jooma, executive vice president and president, Marketing, Online, Pricing, and Financial Services, Sears Holdings. "The Sears Startup + Developer Challenge showcased to some of the brightest minds in Silicon Valley how we've used technology to make the shopping experience convenient and rewarding for our Shop Your Way members to drive the business. We're thrilled and inspired not only by the enthusiasm the participants brought to the challenge but by their creativity around our APIs and data that we make available to developers and partners."
Throughout the weekend developers and startup companies created web and mobile commerce, mapping, gaming and CRM solutions, among others. A total of 41 teams submitted entries for a chance to win more than $50,000 in awards from Sears and participating sponsors. Each team presented their app solution to a panel of nine judges, including George Goley, CIO of online business at Sears Holdings, Andy Chu, divisional vice president and general manager at Sears Holdings, Doug Chavez, senior vice president of emerging media at Universal McCann Worldwide, and Robert Scoble, startup liaison officer for Rackspace. Judges evaluated apps based on four criteria; use of Sears APIs, ability to drive traffic to mobile site, ability to drive traffic to store, and the user experience.
Omega Ortega's grand prize winning entry was inspired by personal childhood memories at Sears and Kmart stores. Anthony Tanaka, Rance Patterson and founder, Tom Ortega, developed The Chore Score app as a fun way to incentivize children to do their chores. With their parents' guidance, kids can set up a chore list, track their progress and earn rewards for doing their chores that can be redeemed easily within the app either online or in-store.
"We came to the Sears Startup + Developer Challenge with a desire to build something that successfully drives engagement and sales for Sears," said Ortega. "After hearing from the Sears team on Friday evening, we came up with the app idea on Saturday morning. Our small team was then able to execute on this idea in under 36 hours. Building mobile apps quickly is what we do, and I'm thrilled to have the opportunity to work with a great brand like Sears."
Additional developer award categories and winning entries included:
Best use of three or more APIs: Buy with Friends by Cam Urban
Most holiday-inspired: Instagift by Brian Clark
Most out-of-the-box: Sears180 by Rauhmel Fox and Jacy Bryla