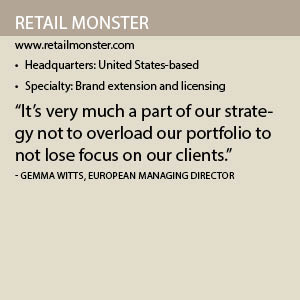 European Managing Director Gemma Witts says that Retail Monster U.S, has "very strong relationships" with retailers in North America. "Retail Monster U.K. has those same strong retail relationships," Witts says. "We have high-end relationships with key decision makers from buying to marketing across all major U.K retailers."
She notes that as a licensee consultant, Retail Monster U.K. works with manufacturers to negotiate licensing deals with major brands on their behalf. "We're getting a lot of interest from United States licensees who are established there, but want to expand into the United Kingdom and European markets," she explains.
When it comes to IP development and franchise management, Retail Monster U.K. works closely with content creators – such as animation studios or publishers – to monetize their brands from inception to delivering their brands to retail.
"We work alongside our partners to understand the best strategy for their brand based on research, then develop this strategy through content to consumer products plan," Witts says. "We also are able to negotiate, secure and manage deals with networks, including film and TV studios, for our partners. From script to shelf, we're able to offer end-to-end brand building."
Expanded Portfolio
Witts expects 2018 to be a busy year for Retail Monster U.K. She and Connolly plan to start building in the U.K. in the same manner Connolly did with Kelli Corbett & Colin McLaughlin when they launched Retail Monster two years ago in the United States.
"We are establishing our office in central London and will continue to build our brand portfolio in a very balanced way," Witts says. "We know from feedback from a number of brands we've spoken to that a licensing agency's focus needs to be on its brands. It's very much a part of our strategy not to overload our portfolio to not lose focus on our clients."
The London-based office has teamed up with Sony Consumer Products. "We're supporting Sony's retail sales and marketing efforts with their consumer products division across Europe," Witts explains. "They're a great brand, and we couldn't have wished for a better partner to work with as our first client. Sony's support from the gate has been fantastic.
"We've also just partnered with a major animation studio to manage their global licensing business for a much-loved heritage brand," Witts notes.
Witts plans to recruit three to four team members, including retail, product development and category specialists. "As our portfolio grows, so will our team to ensure we can successfully and efficiently manage it," Witts says, noting that the London-based office's No. 1 goal is maintaining focus on its clients' brands.
Key Advantages
Witts attributes the success of Retail Monster's U.K. expansion to a few key things, including its model. "We are not a licensing agent; we are a brand extension company," Witts explains. "The four services we offer are unique in the marketplace, which means we are able to work with companies involved with licensing across the board.
She adds that although there are "key stakeholders" within licensing – such as brand owners, output partners, manufacturers and retailers – oftentimes a licensing agent or company only works in one of the areas Retail Monster specializes in. "With our United States team and the experience we all have, we can connect the dots in all four areas," Witts says. "We've found that many of our clients really love that."
Having worked with some of the biggest brands such as DreamWorks, Nickelodeon, Disney and VIACOM, coupled with retail relationships in the United States and around the world with Walmart, Toys "R" Us, and Tesco, the Retail Monster team has more than 70 years of combined licensing, retail, sales and marketing experience.
"When we first started this expansion, Retail Monster as an agency might not have been known, but the people behind it were," Witts says. "Mike has a fabulous reputation within the U.S. and Europe. I have experience working with a number of big studios and an agency, and have strong industry relationships as well."
Witts adds that their experience and reputations allowed Retail Monster to "hit the ground running" in the United Kingdom, just like Retail Monster had in the United States. "We have an intimate knowledge into how the entire machine works instead of one element of it," Witts continues. "When we explain this to clients, and prospective clients, it gives them solace and great confidence that we're the right company to drive their brand forward.
"Setting up anything from scratch is hard work, but it's the industry I love and there are great people in it," she continues. "The industry as a whole has been very supportive about the establishment of Retail Monster in the United Kingdom. We've been lucky and have great partner relationships."
As Retail Monster looks ahead, its No. 1 focus is its clients. "We are aware that our success is built on the brands we are partnering with," Witts says. "We are all about making those brands as successful as possible. We also want to establish our United Kingdom office and then expand with partnerships throughout Europe."
Retail Monster aims to be the most successful brand extension agent internationally. "We want to be the go-to partner for any brand looking to commercialize their IP, and build their licensing program in the United Kingdom, Europe and the United States," Witts concludes. "Since we are now based in the United States and the United Kingdom, we can really help brands in two of the world's biggest licensing territories. The most important foundational pillar will be to ensure each brand receives excellent service and results, and we will be careful not to over-extend ourselves like many competitors."