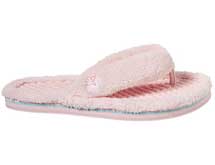 This accessory footwear provider knows that comfort alone won't build a successful business, but it doesn't hurt, either. The start of RG Barry Corporation was not so much the result of thinking outside of the box but rather thinking outside of the sole. In the late 1940s, as the War wound down, companies that manufactured for war use only began looking for other ways to commercialize their products.
One such company was Firestone Tire & Rubber Co. Mrs. Florence Zacks Melton, who founded RG Barry Corporation with her husband, looked at what her company was doing with women's removable shoulder pads and realized the foam rubber Firestone was looking to outsource could be a perfect fit, not only for shoulder pads but for footwear, too.
"The story goes that on the ride back from Firestone with her husband, she kept thinking about the foam rubber and said 'That would really be great to walk on,'" said Roy Youst, RG Barry's communications director.
One visit and an entrepreneurial spirit placed RG Barry on the map as the first company to make a washable slipper using component foam rubber rather than felt or cotton batting to cushion the sole. For the next 60-plus years, the company developed its manufacturing acumen and opened plants in the Midwest, Southwest, Mexico, and eventually China.
By 2004, however, RG Barry knew it needed to go another direction. Most American manufacturers had already sent their production to third-party manufacturers offshore, and the company found it difficult to remain cost competitive. "As a manufacturer, you have to run plants 365 days a year to be profitable," said Youst. "With the changes taking place in retail, buyers wanted to place orders later in the buying cycle."
RG Barry began forecasting demand, opening up the chance for miscalculation and unwanted inventory. Finding it more and more difficult to remain cost competitive, the company moved the manufacturing side of its business offshore. "We had a make and sell model as opposed to a sell and make model," said Youst. "It created cash flow problems."
At the beginning of 2004, RG Barry hired the Meridian Group out of Pittsburgh to help it change its business model and turn the company around. Through the process, the company began sourcing its product out of China and closed down its manufacturing and distributing facilities. Within nine months, the company went from losing $20 million to turning a profit.
Bringing in brand
One year later, as the company settled into its new approach, RG Barry brought in Greg Tunney as president and CEO. With experience helping two other major manufacturers transition out of manufacturing, Tunney was well equipped to help the company evolve its manufacturing culture into one of design and marketing.
"Changing company balance sheets and assets is the easy part, but, if you really want to change the culture of a company, it takes a lot longer, and it's a lot more viable to the business," Tunney said. "In the time I've been here, we've transformed the company from being manufacturing based to product and marketing based."
The company approached the task at hand with several initiatives, one of which was coupling the product development team with a design team led by Lee Smith. RG Barry also staffed up its marketing team, expanding it from two individuals to eight, and brought in an expert in consumer packaged goods and marketing.
"He's familiar with consumer trends and data, so we're now able to make decisions based on consumer needs and trends in the marketplace rather than how we approached it from a manufacturing standpoint, which was doing whatever was easiest for the plant to make," Tunney said.
Growth strategy
With its back office set-up in place, RG Barry developed a twofold strategy to its growth. One piece focuses on organic growth with marketing initiatives to dust off its tried and true brands, such as Dearfoams, and renew their images in the marketplace. The company then took a closer look at the role it plays in its customers' businesses.
"We represent anywhere from 75% to 100% of what they buy," said Tunney. "We see ourselves growing in the future through diversification of our products' distribution channels."
In 2007, RG Barry licensed NCAA college logos and moved into sports enthusiast and sporting goods channels of distribution. It also signed up for the Nautica license, which opened the door to the men's side of the slipper business. "Our women's line is about 80% of our business, so we wanted to increase our penetration in the men's sector," Tunney said.
The company then acquired the Superga license, which focuses on the spring and summer canvas business, moves RG Barry into higher channels of distribution, and balances out the company's slipper seasonality. In 2008, the company began designing and producing slippers for Kohl's under the Vera Wang license. Long term, Tunney sees the company continuing to diversify its licensing to further balance its portfolio.
"We are looking for opportunities in the sandal business and hope to acquire a sandal company or a sandal license," he said. "It would further balance out our seasonality."
True partnerships
Outside of its walls, RG Barry is recognized by many of its business partners through awards and special designations. In December, Walmart named RG Barry Shoe Department Supplier of the Quarter. "It's a competitive market, and it's the first time our company has received that recognition from Walmart," said Tunney. "It's a very big deal to us."
Tunney listed a few reasons why RG Barry received such recognition. Because of the company's diversification and distribution channels, Walmart views RG Barry as a category leader. The company sells to the upper-, middle- and lower-tiered consumer levels and brings market intelligence about slippers—something Walmart can't get from other slipper companies. "We are the only company I know of with quantitative data on slipper purchases," said Tunney.
RG Barry also shares data on what's happening through all channels of distribution in regard to trends, colors, etc. "We have a dedicated team in Bentonville, Ark. that works daily on the systems with the Walmart folks," said Tunney. "We plan out all of Walmart's replenishment on a weekly basis, fill SKUs and models, and raise and lower our order numbers based on the business. Walmart looks to us to run that business, so it truly is a partnership."
As retail consolidates on the front lines, the vendor matrix follows suit. Consequently, retailers only want to deal with big players that can deliver results. So although RG Barry is far from the days of Mrs. Melton and her foam rubber discovery, the company is still succeeding by focusing on improving the way it services its customers.
"We provide our own quantitative information from exit surveys and bring that to the party to let our business partners know what people are interested in or if certain materials are trending," Tunney said. "We have that data and the ability to interpret it, helping our partners take advantage and improve their businesses."