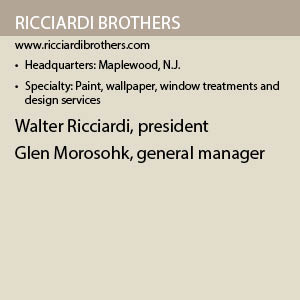 Ricciardi Brothers today owns and operates 39 stores, all but 14 of which are located in New Jersey. Eleven of the remaining locations are in Pennsylvania, and three are in Delaware. The Delaware locations were formally owned and operated by other proprietors. "There are a number of paint stores in the areas in which we operate where the owners are getting older and are looking to retire, and that is what happened here," Walter Ricciardi says. In addition to the new Delaware locations, the company also recently took over another store in Pennsylvania.
Main Offerings
Ricciardi Brothers' stores offer indoor and outdoor paints, painting supplies, wallpaper, window treatments and design services. Ricciardi Brothers' customers include homeowners as well as commercial and public sector customers. All locations include showrooms featuring paint and painting supplies; 15 of the company's stores also feature decorating centers.
Ricciardi Brothers offers products in its stores as well as online. The company's Décor Elements lines of fashion blinds and window treatment is available exclusively on its website.
In addition to its retail and online businesses, the company also employs an eight-person outside sales staff that directly approaches prospective customers such as schools, apartment management companies and state and county agencies. "This is a tremendous help to our industrial and commercial business," Ricciardi adds.
All of Ricciardi Brothers' stores share a common culture. "When we purchase a store and meet its employees for the first time, we say 'welcome to the family," General Manager Glen Morosohk says. "Even as large as we've become, we have never lost touch with our family origins."
Building on Strengths
Ricciardi Brothers' employees are continuously trained on the best use of the products they sell. Training is provided by the company as well as by the manufacturers whose products it carries. Most notably, this includes Benjamin Moore, which trains the stores' managers. Allpro, the company's buying group, also offers training.
Ricciardi Brothers' managers and executive staff take a coaching approach to management. "With the amount of employees we have, it is very difficult to hire people who possess every single attitude and aptitude we want in an associate," he adds. "When we find someone who is good, we will supplement any weaknesses they may have and help them to improve their skills. We recognize the strengths of our people and try to build on those strengths."
The company's positive reputation among employees attracts many prospective workers. "Our employees find us. We have had a period of rapid growth during the past six to seven years. It has become common knowledge that we treat people well, and that is why we have longevity," Morosohk says. "We have more prospects than jobs available."
Longtime Partners
More than 80 percent of Ricciardi Brothers' sales can be attributed to its long-lived relationship with Benjamin Moore. "We go back to the early 1950s with them, and over the years we've grown to become one of their largest dealers in the United States," Walter Ricciardi says. "We try to take advantage of every promotion they have."
Many of the training programs Benjamin Moore offers to Ricciardi Brothers are exclusive to the company's employees. "One advantage we have over other dealers is when training sessions are offered to a specific geographic region of dealers, because of our size, we can fill an entire class with our associates," Morosohk says. "This lets us tailor the time and the place for training."
Ricciardi Brothers' ongoing store renovation efforts are also driven by its status as a prominent Benjamin Moore dealer. All of the company's stores are being upgraded in accordance with Benjamin Moore's "Store of The Future" campaign. Renovations are expected to take roughly one year to complete.
New store features will include new signage, an improved color selection area, LED lighting and new flooring. "This will give our stores a new, very clean look inside and out," Ricciardi says.
Ricciardi Brothers supplements the Benjamin Moore line with high-end specialty paints including the Fine Paints of Europe and Farrow and Ball lines. The company also carries Rustoleum industrial products.
'Breadth and Depth'
Each Ricciardi Brothers store is organized around a central service counter where an employee can apply tints and colors to paints. Employees also share their knowledge of paint-related products, such as different brush or roller types.
"A lot of the time, when people say they have good customer service, it's just lip service," Morosohk says. "We are problem-solvers. Our people are highly trained and have a better interface with customers than you would get at a big-box store, where you are just taking something off the shelf and not really seeing or talking to someone."
The company ensures that its customers can find whatever they need at its stores. Stores use end cap displays to spotlight new products and promotions.
"Our philosophy is to have a wide breadth and depth of product," he adds. "Quite often, businesses today are run on a shoestring – we want to make sure every customer who comes into one of our stores walks out with whatever they need."
Ricciardi Brothers' central purchasing department orders products, which are then stocked in three warehouses. Products from these warehouses are made available to each location. The company distributes products to each of its locations.
"We have a core product offering, and each store's customer base creates a demand for the balance," Morosohk says. "Each store might be a little different – there is not a single planogram we use for all of our stores. We are flexible enough to fulfill the needs of each store."