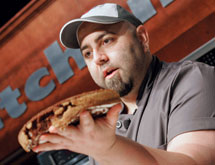 The International Home + Housewares Show is the world's largest marketplace of housewares and home goods. With more than 2,100 suppliers from around the globe, the event is home to unique and distinctive products that can help businesses be more successful.
The 2013 International Home + Housewares Show is being held from March 2 to 5 at McCormick Place in Chicago. Along with various expos and seminars, it will include many new features and enhancements.
Some new features are focused on innovation. The new Hall of Global Innovation will feature the Pantone ColorWatch, Going Green sustainability display, Global Innovation Awards (GIA), the International Housewares Association (IHA) Student Design Competition and the second annual IHA Innovation Awards.
The IHA Innovation Awards are given out based on exhibitors' latest creations and cutting-edge innovations. Finalists will be spotlighted in the new product showcases, located in the Buyers Club in each building and featuring more than 300 new products. A panel of expert judges, including seasoned designers, retailers and industry experts, will select five submissions to represent the best in each of 12 product categories.
Another change is renaming the Housewares Design Theater. Now known as the Innovation Theater, these presentations will share in-depth knowledge of important issues in the industry, such as the crucial role of design, social media, bridal trends and other industry metrics. Other new and enhanced highlights for this year's show are the 2013 attendee reception, Inventors Corner and the IH+HS 2013 app.
The IH+HS 2013 app is the show's mobile application. The free app allows users to search for exhibitors by name, categories or products; link from an exhibitor's profile to their location on the show floor; view product images; personalize notes for any exhibitor; learn about show events; scroll through the sessions in the Innovation Theater; or obtain a list of celebrity chefs who will be appearing in the cooking theater.
The Inventors Corner will feature the Inventors Revue, where upstart marketers present their creations to a panel of experts and seasoned inventors offer presentations on how to succeed as an inventor.
Additional show enhancements include Housewares Connect 365, Discover Design and specialty retailer programs and consulting. Housewares Connect 365 allows buyers to search, plan and communicate to make their visit as productive, profitable and manageable as possible. Buyers can search the show for exhibitors and products; save the searches in their personal briefcase; and communicate with exhibitors directly through Housewares Connect 365.
Discover Design, which is the show's newest category, will feature more than 100 exhibitors of the latest in high design from Europe and around the world. Each product in the gallery is competing for the GIA award for product innovation. Among the companies exhibiting are Alessi, ASA USA, Joseph Joseph, Koziol GmbH, Maxwell & Williams – Designer Homewares, Nambe, Reisenthel Accessories, Robert Welch Designs and Sagaform Inc.
The specialty retailer program is meant to help specialty and independent retailers find suppliers easily. The show features a "Welcome Specialty Retailer" program to assist exhibitors in identifying independent retailers. Specialty and independent retailers also can sign up for consulting sessions that will focus on individual advice on an array of important business topics, such as leveraging video, branding social media campaigns and buying and selling on the iPad and iPhone.
Complete information on the show and badge registration can be obtained at www.housewares.org.