RM EXCLUSIVE Augmenting the Real World: Cypher Entertainment's augmented reality technology aims to change retail, to be showcased at Licensing Expo 2013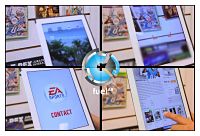 May 24, 2013 – There is little argument over whether or not smartphones and tablets are changing the way people shop. The challenge has been for brick and mortar retailers to find ways to make smartphones and tablets work for their benefit, instead of simply driving more and more commerce online. The answer may well be augmented reality technology, and Cypher Entertainment's augmented reality technology and applications are pushing the limits of how what we see, feel and experience can be enhanced.
Cypher Entertainment has developed a proprietary augmented reality engine that allows users to embed large amounts of information in small and manageable apps. Users download a free Cypher app to their mobile device, point their device at a trigger that is integrated into a product's merchandising setup, and then instantly experience customized content.
"A few years back we came across the technology after meeting with professors from Virginia Tech who had been working on augmented reality and done some work with the military," says David Elmekies, CEO of Cypher Entertainment. "We felt this open source technology could be explored. By taking the knowledge our team has from the video game world and embedding it into retail infrastructure, we can provide tremendous platforms that can offer a whole new way of communication between marketers and consumers."
Considering the demand for instant information from today's consumers, it is easy to see just how much potential there is for augmented reality technology. Consumers don't have to wait for salespeople to help them out, nor do they have to go through the process of using their mobile device to search for information on a product. They simply aim their device at a product and BOOM! Up comes customized information that can help a consumer decide if the product and purchase is right for them.
"This is great for brick and mortar retail because it allows for immediate interactivity with consumers," Elmekies says. "People go online because they want more information and they want products to be easy to order. This platform can be game changing for brick and mortar retailers."
The key is to make sure the augmented reality is more than eye candy and one-way interaction. Users must be able to manipulate and interact with the technology. Two-way interaction is what the consumer wants, and Cypher can provide that.
Another critical part of the process is making sure it allows advertisers and marketers to get their message across without being obtrusive. The way the consumer interacts with must allow them the choice to increase or decrease the length of interaction.
"Consumers can click the solution's features to get as much as they want," Elmekies says. "We don't want to pump out everything at once or it will be overwhelming."
The system also has to be easy for retailers and brands to integrate into their merchandising plans. Cypher's system doesn't require its customers to change anything about their products or the layout of a store.
"We utilize what they already have in place, as well as their existing digital footprint, to create the experience so we can seamlessly simplify the solution without the vendor, retailer or consumer needing to do anything," Elmekies says. "They get a turnkey solution from us that can easily work on all platforms for all products."
Attendees at Licensing Expo 2013 in Las Vegas next month will get to see first hand just what Cypher's augmented reality solution is all about.
In collaboration with D3M Licensing Group, Cypher will showcase how the system can help create unique experiences at retail for the Flo Rida brand (artist Flo Rida will be the special guest co-host at the Licensing Expo Opening Night Party on June 18). For example, hold your device up to the image of Flo Rida's CD cover and his music video will pop up, or a picture of Flo Rida will pop up and you can take a photo of yourself with the superstar.
This is just one example of how augmented reality can help brands accentuate their message in stores, and how retailers can turn browsers into buyers. And for Cypher, this is just the beginning.
"We are looking to create solutions that can be used in multiple settings," Elmekies says. "In stores, on TV and in video games, we think augmented reality can give great experiences to user."