RM Exclusive: Webtrends Makes Major Enhancements to Webtrends Streams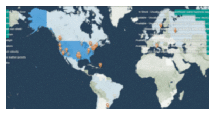 Jan 29, 2013 – The ability to connect with the right customer at the right time and in the right way is the dream of any retailer. But the world of online commerce makes it difficult to do so in truly real time. In the "old days," an engaged shopkeeper could saunter over to a customer, ask the right questions and help nudge them in a direction that wound wind up in a sale. Today's retail environment is much more complex, but Webtrends is trying to make it easier for online retailers to find success through recently announced enhancements to its Webtrends Streams solution. Last week, I got a chance to take a look at the functionality of the Webtrends enhancements. Suffice it say, the data I was looking at was truly real-time.
What Webtrends has devised is a real-time analytics solution that will help marketers determine what is happening across their digital properties, instead of using information that is minutes or hours old. This combination of big data insights and dynamic, cinematic visualizations with action systems should help retailers harness and optimize rich, customer-level data and drive ROI through increased actions.
"The idea behind the visualizations is to get a sense for the ongoing activity and start to make it make sense for your business," said Eric Butler, Webtrends' senior director, emerging products. "You can visually get a sense for the data immediately as it is happening on your site, and then you can use the stream to connect with your retargeting system, or your back end system, or your advertising system. The opportunity is there to connect with other systems and influence the visit while the visitor is till there."
One of the additions to the Webtrends Streams is Session Streams, which provides users with instant access to visitor session details about what an online shopper is doing as they do it and while they are still onsite. It provides session summary information, such as the number of product views, events, purchases and abandonment status. This information allows the users to optimize offer relevance and product recommendations.
Other aspects of the enhancements include Full-Session Scoring and Responsys Integration. Full-Session Scoring utilizes the power of Session Streams data and Webtrends Optimize so users can better understand the value of a visitor while they are onsite. Responsys allows for immediate or time-sensitive remarketing campaigns based on purchase behavior, browse or cart abandonment, or other behavior as it occurs.
"We can now capture information from a whole session about an individual user, send that information to the targeting platform, and provide content that is relative to them," said Steve Earl, Webtrends' director of product marketing, analytics. "Based on that session level information, the targeting application can take an action and provide a product recommendation or some sort of content that is most relevant in the moment."
These tools mean online retailers won't have to rely on information analysis done after visitors leave a site. They can instantly target special offers at online visitors based on actionable date points before they leave without making a purchase, or without purchasing other items they could be interested in. They can respond more rapidly using email, mobile or social channels, offers and promotions. The idea is to use faster acquisition and analysis of data to allow online retailers to improve engagement with customers as they are onsite, and to foster higher conversion rates and optimized ROI.
"We offer this through a software-as-a-service model, so we can make it easy for customers to get up and running, and we will provide the support they need to manage it," Earl says.