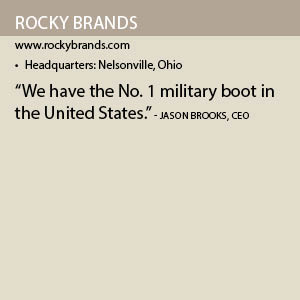 A Family Legacy
Jason Brooks is the third generation of his family to lead Rocky Brands, and the fourth generation involved with the company.
Rocky Brands traces its origins back to 1932, when brothers William and F.M. Brooks – Jason's great-grandfather – started the William Brooks Shoe Co. in Nelsonville, Ohio. Over the next few decades, the company supplied shoes and boots for the U.S. military and built relationships with leading footwear retailers such as Sears Roebuck and Co., JCPenney, Kinney Shoe and Thom McCann.
F.M. Brooks left the company in 1946, but his son, John, stayed in Nelsonville. William Brooks sold the company in 1962. John Brooks remained, and bought the company in 1975. Mike Brooks, John's son, joined the company soon afterward.
During the next few years, Mike Brooks convinced his father of the need for the company to make its own brand. Mike Brooks chose the name Rocky after the best-selling leather made by the tannery where he had previously worked. The company changed its name to reflect the new brand in 1979.
Over the years, the company would acquire the Lehigh, Durango and Georgia brands. Rocky Brands became publically traded in 1993. In addition to its headquarters in Nelsonville, the company operates factories in Puerto Rico and the Dominican Republic.
Stepping Up
Jason Brooks assumed leadership of the company during a challenging time. Instead of focusing on its core legacy brands, the company had invested capital and resources on launching and acquiring new brands.
"The board was not excited about the direction of the company," he says. "We were all over the board strategically, and had drifted from our core mission."
At the time of his promotion, Brooks served as president of core market groups for Rocky Brands. His past positions included being senior vice president of U.S. wholesales and vice president of sales. "We were all asked to step up," Brooks adds. "For us, 2017 was about running the company on adrenaline; we were happy to have the opportunity to be managed in a different way."
The company under Brooks concentrated on its core brands, a process that included selling a casual sneaker brand it had acquired in 2013. "We focused on how to be successful and how we could be a better partner to our customers, vendors, retail partners and factories," he says. "We used to say that we were easy to do business with, but there were a lot of people who would say that we were not."
Strategic Initiatives
With its executive positions mostly settled and with a new vision and mission statement in place, the company in 2018 is working on two strategic initiatives. The first of these is to increase its topline sales, while the second initiative is focused on operational excellence.
Rocky Brands is emphasizing the heritage of its brands in an effort to increase sales. The company recently hired a marketing consultant to help it implement a go-to-market plan that includes evaluating distribution channels and consumers. The plan will be rolled out this fall.
"We have the No. 1 military boot in the United States: the Rocky S2V, which we sell at commercial military retail," Brooks says of one of the company's marketing plans. "We haven't really touted that or done any marketing around that, so we want to spend time sharing that story and having the people who wear the boots share their stories."
Rocky Brands is also adding inside sales people to increase market share of the Lehigh brand, which sells safety footwear through business-to-business channels.
In addition, the company is examining its distribution channels, which include dealer stores as well as selling through its own website and Amazon.com. "We 100 percent agree with everyone that we have to find our part of Internet sales or be left behind, but at the same time we want to protect our brands," he adds.
For the company, operational excellence includes finding ways to be more efficient in its warehouse, sales and manufacturing operations. The company recently upgraded its warehouse management system and built a new fireproof and windproof data center. Rocky Brands could potentially add space to its main warehouse in early 2017, Brooks says.
Brooks says the company's future looks bright because of the efforts of its staff. "Though we're publicly traded, I think we're still run like a family business," Brooks says. "I believe the people who are here today who have been around for a long time have a passion for the brand and want it to be successful, and that's a big reason we are where we are."