"You could say your name is Mary Sue and he would make it on the spot," Executive Vice President Michael Scheser says. "As he started working more with wire, he came up with different design for pendants held with wire and bracelets. They really started catching on."
Needham's next step was to find stores that would sell his work. He traveled and persuaded stores in Indiana and Kentucky to sell his jewelry. To fulfill that increased demand, he began hiring and training others to create the jewelry.
"They got so busy they, they had to buy a property with a barn on it and convert the barn to an arts studio," Scheser says.
Needham began attending retail trade shows and would visit small stores in between. Retailers in Mississippi, Tennessee and New Orleans began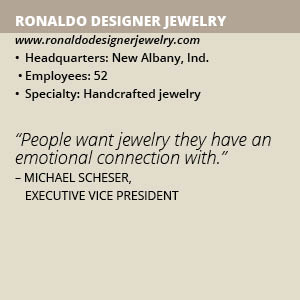 to sell Ronaldo Designer Jewelry. "It got larger and larger," Scheser says. "As his fame grew, he had to hire a sales team to go on the road for him while he would design and conduct personal appearances."
Today, more than 800 stores in 37 states carry Ronaldo Designer Jewelry. "It is considered fine jewelry with 14-carat artist wire," Scheser says. "We also work with solid gold and solid platinum and the finest-quality gemstones."
Needham is semi-retired although he still creates new designs. The company creates 24 to 28 new designs a year and offers 200 standard or production pieces along with custom jewelry. Ronaldo Jewelry Designs sells more than 250,000 pieces per year.
Many of the production pieces come with stories. "People want jewelry they have an emotional connection with," Scheser explains.
Some pieces come with a story about Needham's mother and father. A "Guardian Angel" bracelet has a story about a friend of Needham's who died. The "Waverly Bracelet" is dedicated to a girl in Mississippi who has Spinal Bifida. The company's No. 1 seller is the "Power of Prayer" bracelet. "Our slogan is, 'It's your story,'" Scheser says. "We put in collectible cards that tell the name of the piece and the story. Some people wear five or six or seven bracelets at a time."
Person for Person
When Ronaldo Designer Jewelry was founded, there was little competition, Scheser says. That's changed but Ronaldo Designer Jewelry has stayed ahead with high quality designs and gemstones, durability and handcrafting. "Our competitors might have machines," Scheser says. "We have one person making jewelry for one customer out there. From our hands to their hearts. We're not just attaching a medallion to jewelry and calling it handcrafted."
While it is said that imitation is the sincerest form of flattery, Ronaldo Designer Jewelry would rather not be flattered in that manner. "We have brought several lawsuits against people who have copied our products," Scheser says. "I deal with that on a continual basis, watching for copyright infringements. We found one last week, a jewelry designer who uses our designs. We are stringent on making sure people are not infringing on our intellectual properties."
Ronaldo Designer Jewelry makes clever use of its website, offering educational information about different gemstones and precious metals and a shop-by-price option. "We realized that because we are in the Southeast, much of our clientele is blue collar," Scheser says. "Not everyone can afford $184 bracelet, Why not have options that are $65 for $100? We get comments: 'I wish I could afford this.' We comment back: 'Why not try these?'"
The company also uses Instagram and Facebook to reach out to potential clients and has created marketing videos. "People want to see they are getting handcrafted pieces," Scheser says.
The company's biggest challenge is hiring artists. "Not everyone can do this," Scheser says. "I've been around this for 30 years and I can't make a piece of jewelry. Training them is expensive for us. It takes six months to see if a person is going to work out for us. Once they are in, it is not problem to retain them."
To recruit, Ronaldo Designer Jewelry asks people if they sew or knit or paint "to see if they are good with their hands," Scheser says. "We bring them in, sit them down and let them play with wire and tool sets. We let them shadow an artist and duplicate some of the things they are doing."
Going West
Ronaldo Designer Jewelry is doing well. Over the last eight years, the company has received national recognition and continues to expand. "We are headed to the Midwest and doing well," Scheser says. "We are not big west of the Mississippi. We are starting operations on the west coast and moving toward the middle. We might start a new facility on the west coast. The only thing that kind of holds us back is that the jewelry is handcrafted [and the time that takes]. We refuse to buy from overseas."
That success is due to a combination of price – much is in the $65 to $125 range – and quality. "When we had the recession, we didn't slow down," Scheser says. "Rather, we really started picking up. It maintains its value. That's why we have repeat customers. We just want to continue to expand our fan base."