Rovio Entertainment Corp.
The Espoo, Finland-based company has since expanded into a full-fledged entertainment company, producing game applications, animation, full-length movies, consumer products, books and educational products, and other entertainment products such as activity parks and live shows. Rovio's portfolio includes 20 games that have been successful worldwide on different platforms, such as Angry Birds Evolution, Angry Birds Match and Battle Bay, as well as older games such as Angry Birds Star Wars and Angry Birds Transformers.
"We have had great success with a movie under our belt, over 400 episodes of animation and hundreds of millions of consumer products sold," says Simo Hämäläinen, senior vice president of brand licensing at Rovio.
The Angry Birds franchise has been the root of the company's success, he adds. The franchise has more than 2 million subscribers on its YouTube channel with more than 3.4 billion views, and over 25 million followers on Facebook.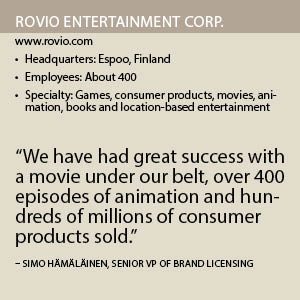 "The strength and popularity of the Angry Birds brand has been tremendous," Hämäläinen says. "It's a very flexible brand with a very wide target audience, and the Angry Birds brand partners with a variety of brands quite naturally. In addition, the technologically advanced nature of today's world has contributed to our success as well."
Rovio also credits its success to its strong partnerships in licensing and retail. The company currently has more than 300 active licensees, many of whom have worked with Rovio from the beginning. "We have a very strong, collaborative relationship with our partnerships," Hämäläinen notes.
Being a medium-sized entertainment company, Rovio relies in massive global network of 23 agents. Rovio employs around 400 people globally in Finland, Sweden, China, United Kingdom and the United States.
"We have licensing agents all around the world to really provide a local experience and connection to our licensees and consumers," Hämäläinen explains. "We are a very flexible company, so we really do our best to support our partners. We receive great feedback about our agility in the licensing industry, as our partners truly appreciate it."
Building On Success
Although its distribution channel ToonsTV and Rovio Stars, a third-party publishing program, are no longer active, Rovio has changed its strategy in terms of content distribution by partnering with YouTube. Its content is still "very much alive," Hämäläinen notes. "Viewership in our YouTube channel has more than doubled since the change in our strategy to focus our content in YouTube," he notes. "We have one of the biggest branded channels in YouTube and have a great collaborative partnership with YouTube, and they help us massively to be relevant to our core licensing audience, kids."
Rovio has two new short animated shows. The first is "Angry Birds Blues." Released last fall, the computer-animated TV series is based on the Blues and the Hatchlings that appeared in The Angry Birds Movie.
"The show chronicles the cute hatchlings and blue birds going about their daily activities and while they are in their adventures, they get in all sort of problems," Hämäläinen explains. "We also recently launched a new series called 'Piggy Street,' which is about Bad Piggies and their goofy adventures. These are the most-watched content on our channel because they are specifically designed for YouTube. They're very short, funny and a form of entertainment you can watch on the go via mobile, laptop, iPad and more."
The company's licensing division is in a "really good place," Hämäläinen says, noting Rovio's current licensing roadmap is the strongest it has ever been. "We will release the Angry Birds Movie 2 in September 2019," he says. "The first movie was a big success for us and strengthened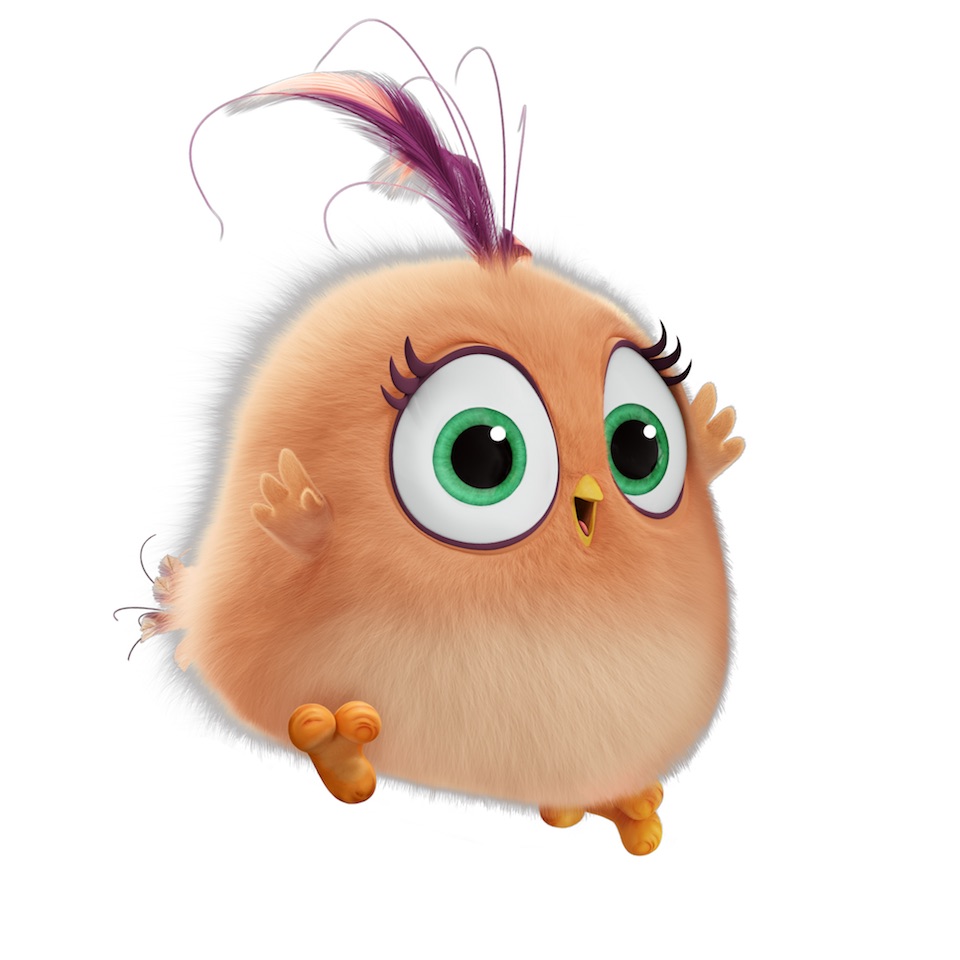 our brand further by introducing it to new audiences and telling the story of Angry Birds. We can't share details of the of the sequel, but we believe it will be very exciting for the fans. Typically animation movie sequels are bigger than the originals, so our expectations are high."
After its movie launch, Rovio plans to introduce the first long-form animated series and a couple of live shows. "We also have many games in development," he says. "It's a really exciting time for not only Angry Birds, but also Rovio in the future."
Rovio prides itself on not only its long-term partnerships, but also its long-term planning. "We were born in a digital space, and our core business is still in a digital space, so we are more than a movie brand," Hämäläinen says. "Our innovation stems from the great minds that work for Rovio – and we have a lot of creative people. A lot of ideas come from our team, the studios, product development and marketing, as well as our licensing partnerships."
He cites the company's collaboration with the heavy metal band Iron Maiden last fall as an example. Angry Birds paid tribute to band with a Halloween collaboration in Angry Birds Evolution. In addition, Eddie, the iconic mascot of Iron Maiden, was a special playable character as "Eddie the Bird."
"Who would have thought of pairing the band with Angry Birds," Hämäläinen asks. "No one, but we contacted them and they loved the idea. It turned out to be a very successful collaboration that included a new playable character, an in-game event, licensing and even some content."
Looking Ahead
As Rovio moves forward, it is focusing on building its licensing program for the Angry Birds Movie 2. "We are now about to sign some really interesting partners for promotions, toys and apparel," Hämäläinen notes. "We can't announce anything right now, but we will at the Licensing Expo in May in Las Vegas."
In addition, Rovio is focused on improving as well as growing the audience for its existing games. "We are working with strategic partners and building effective events to further enhance the games," he explains. "For example, we recently collaborated with the NFL for the Super Bowl in February."
Rovio and the NFL partnered to create an exciting, limited-time Super Bowl game integration. Millions of fans were able to play the popular Angry Birds 2 and Angry Birds Evolution games with a Super Bowl LII twist. In Angry Birds 2, mobile gamers could outfit their flocks with a choice of the 32 official NFL jerseys and helmets. The Angry Birds Evolution Super Bowl LII game incorporated 32 NFL characters into the game, and unveiled an exclusive new bird character called the "Quarterback."
"Moving forward, consumers can expect to see us partner with various brands and host big events in our games," Hämäläinen says. "We believe these new exciting partnerships will provide opportunities for even better partnerships in licensing and marketing. We're looking for high-quality partners that value long-term relationships."
Hämäläinen has been with Rovio for five years and says that he is most proud of Rovio's agility and fast-moving capacity as a company. "I feel like I've achieved things that would've taken me 25 years in only five," he concludes. "I'm really proud of the first Angry Birds movie and the licensing that we've built around it. We have built a great platform between the physical licensing product and our digital Angry Birds universe. Our goal is to enhance it even further, and The Angry Birds Movie 2 will see a very interesting digital link in licensed products & promotions."
LICENSING AGENCY SIDEBAR: Evolution
Evolution's role as Rovio Entertainment Corp.'s North American licensing agent goes far beyond getting products on shelves in time for a film release. Although many of the firm's ongoing licensing plans revolve around building Rovio's merchandise program in advance of the theatrical release of Angry Birds Movie 2 in September 2019, its relationship with the brand owner goes deeper.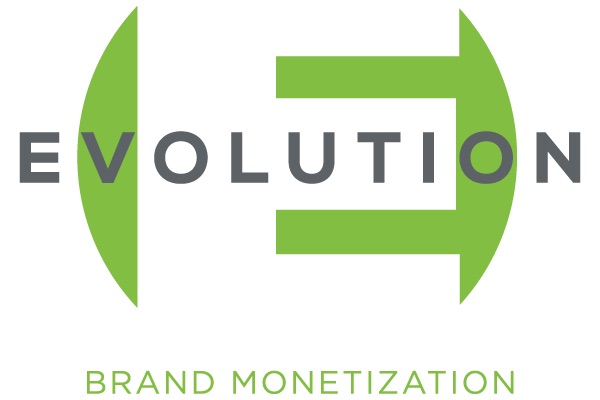 "We are an organization that provides [Rovio] with sound local knowledge and advice in this marketplace," says Travis J. Rutherford, partner and chief revenue officer for Evolution. "We are going back to the core of the brand and delivering high-quality products people will want to buy, and supporting those with promotional opportunities at retail. We see longevity in [the Angry Birds] brand well beyond the movie window."
Rovio brought Evolution on board as its North American licensing agency in 2017 after previously handling its licensing in-house. Evolution is a full-service firm that handles licensing across all product categories as well as brand management, marketing, product development and operations. The company is fully integrated with Rovio's operations, which allows it to quickly coordinate product approvals and brand assurance with Rovio.
Evolution's ability to integrate its systems and processes with clients earned it an operational excellence award during Rovio's global agent summit in Helsinki in March. "We are one of a few agencies in the world that has the expertise to offer a fully end-to-end solution and operate in such a streamlined manner with a brand owner," Rutherford says.
In addition to its work with Rovio, Evolution represents many other clients in new media, entertainment, gaming and animation, including Gaumont Television, the Ella Fitzgerald Foundation, Viz Media and OLO Industries' Smooshy Mushy collectible toy brand. "We have Tier I relationships with the best licensees in the industry," Rutherford says.