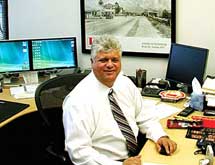 This national organization bridges the gap between retailers and manufacturers to maximize sales and profitability while minimizing cost. For the past five years, Royal Buying Group, Inc. has dominated the supplier industry by providing a comprehensive assortment of services catered to helping vendors and retailers find more efficient ways to operate. Started 15 years ago as Royal Buying Group, the company diversified, breaking out into three divisions that each serves a specific purpose in the retail industry.
Royal Buying Group focuses on procurement, rebates, and promotional activities for the convenience industry. Royal Merchandising Services works with manufacturers and retailers on product resets, compliance checks, fixtures, signage, audits, and more. Royal Performance Group provides sales, marketing, and fulfillment services for top retailers' stored value products that are used in b-to-b and b-to-c industries to support incentive-based initiatives.
"As far as we know, there is no other company out there that handles all of those services under one roof," said Michael Zielinski, president and CEO of RBG, Inc. "Brokers typically represent product lines and brands and sometimes provide merchandising activities out of a store, but they don't do as much tracking of purchases and rebates, setting up of promotional calendars, and providing the variety of logistical services that we do for retail marketers."
Competing buying clubs or groups may process rebates and negotiate programs, but they typically don't provide services at the store level. In addition, Zielinski said there is no company that does as much as RBG, Inc. in gift cards on top of providing those other services. "If the industry has a problem, we develop the solution," he said. "That's how we've built this comprehensive suite of services."
Bridging the gap
The activities RBG, Inc. does on the field merchandising side of its business are typically those retailers don't pay for. The sources or funding come from the manufacturer/supplier side of its customer base.
"The rebates that retailers deal with are more than pieces of paper," said Zielinski. "We provide an IT and accounting function to streamline the process, but we're also helping people drive the product into the consumers' hands through merchandising."
Unlike other rebate-assistance companies, RBG, Inc. sets up teams that go into the stores, cut in new product, set up the display, reset the category, and put up signage. The company produces a monthly magazine and a weekly e-newsletter, calls each of its clients every month, and stays in constant e-mail contact to get promotional information out to them.
"Working with independent operators, you need many points of contact, and that's where we shine," Zielinski said. "It helps drive lift and gives an ROI back to the merchandisers so they are influenced and incentivized to rerun promotions with our group in the future."
Because the manufacturers/suppliers provide funding for these events, RBG, Inc. strives to save them money by collaborating on events when more than one company wants a merchandising event at a particular store. Five years ago, most manufacturers had their own merchandising teams to tackle the activities at each store. But as the economy started to tumble and companies needed to tighten their budgets, the need for a new solution became obvious.
Rather than having each merchandiser send a representative, which often results in more than $100 per stop by the time all expenses are tallied, RBG, Inc. sends one person to set up the event according to the specs of each merchandiser. By splitting that per-stop cost between all merchandisers, RBG, Inc. not only makes it more affordable for manufacturers to do their business, it also opens the door for expansion into areas that would otherwise be deemed unprofitable.
This ability to work in the best interests of both merchandisers and retailers is what make the company's business model unique. "We're right in the middle, and we can help both sides at the same time," said Zielinski. "We're also flexible enough that as the convenience industry changes, we will change with it."
Keeping it balanced
Because of the diversity of its service platform, the role of e-commerce for RBG, Inc. varies. For Royal Performance Group's business, e-com plays a major role as both corporate customers and consumers can go to the division's Web site and order gift cards for gifting, rewards, and incentives.
Royal Buying Group, in contrast, is just beginning to incorporate more items that retailers can purchase online. For the upcoming holiday season, one such item is a holiday CD collection of Charlie Brown music. The company is already getting orders for that product and plans to add more music in the future.
"We've had a lot of inquiries from the music industry and the entertainment industry to have a way for these products to get into the convenience stores affordably," said Zielinski. "We have our own warehouse here, so we ship the products ourselves based on the orders that come in. It's very efficient."
The RBG Web site just launched in late October, so it's got a lot of room to grow. Zielinski hopes to turn it into a virtual warehouse, not only for overstocks but for regular-priced items retailers can't find through their own suppliers, whether grocery or other merchandise. It will serve as another way for RBG, Inc. to bring retailers and merchandisers together.
One of the biggest challenges facing RBG, Inc. is the lack of promotional funding available as companies continue to pull back on their spending. "We're dependent on that from all sides of our business," said Zielinski.
For Royal Buying Group's business partners, without a rebate program or offer to retailers, RBG, Inc. has no appeal. If companies aren't investing in branding or promoting their product, there are fewer projects for Royal Merchandising Services to do. And if there is no excitement being created with gifting or rewards, Royal Performance Group is left in the lurch.
However, as the industry gets harder to operate in profitably, Royal Buying Group gains members. Zielinski said the company has added between 5% and 7% more members in the last year and a half, and revenues have increased. And although merchandising and gift card purchases are down this year, the company has added other cards to make up for some of the shortfall.
"It's all based on promotional spend," said Zielinski. "Our clients are going through belt tightening like every company out there. We have to change our model a little bit and make sure we're very careful about how we deploy resources and minimize our investments while staying on the leading edge of our niche."