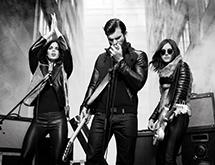 Founded in 1994, high-fashion retailer Rudsak is currently expanding, opening more stores even as its online presence strengthens.
The company operates 19 retail boutiques in Quebec and Ontario. In the next two years, it plans to open another 20 stores in Canada and to increase its retail stores presence in New York City, Chicago and Boston over the next couple of years, CEO Bruno Peloquin says. There would be flagship store in each city including retail space, a showroom and an onsite cafe just like its flagship on the chic St.-Laurent Boulevard in Montreal, which opened in 1998.
Even as the company celebrates its 20th anniversary, founder Evik Asatoorian still works with his designers. "He is as passionate about the company today as he was when he started the company 20 years ago," Peloquin says. Rudsak plans major events including the Toronto Fashion Show appearance to launch its 20th anniversary. A series of events, celebrations, products specific and celebrities are all part of the celebration.
In addition to its flagship Rudsak brand, the company also operates the RUD and Atelier Noir brands. RUD, launched in 2005, was devised as a wholesale distribution channel serving Macy's, Saks Fifth Avenue, Nordstrom and Lord & Taylor to name only a few. Atelier Noir, launched in 2010, is marketed in conjunction with its partner Costco Canada and Costco America.
This omni-channel, multi-brand approach has been key to Rudsak's success. Rudsak began franchising stores in 2011, and has corporate showrooms in New York and Montreal. In addition to manufacturing in Canada, it manufactures overseas depending on the commodity.
All Ages
"We are going after folks who have the 'spirit of cool rebel' Peloquin says. It is "Authentic, Timeless and Confident," he says. Confidence combined with personality is the story of Rudsak's style and fashion statement. In this regard, many have compared Rudsak to Harley-Davidson, whose products inspire such great loyalty. "What is our targeted segment? It could be anyone from age 16 to 70," Peloquin says. "Our customers might be in their 50s, 60s or 70s, but young at heart."
The fashion style often incorporates a liberal use of leather tinged with sleek black colors.
Tremendous Growth
The privately held company has experienced tremendous growth over the past few years. It has a significant footprint in Quebec where it is increasing its marketshare and brand equity as well as in Ontario. Opening stores in New York next is only natural for the urban brand already so popular in the big cities of Montreal and Toronto.
But even as it grows its bricks-and-mortar presence, it is expanding its online presence through its Merchandising 3.0 strategy, which applies its understanding of the retail environment to digital space. The customer and product lifecycles today are the results of the democratization of the digital space, the mobile environment, and its social media ecosystem. Customers now tells Rudsak what they want, where and when they want it. The real question it must ask is "are we listening to them?" Design, style and commercialization is a result of what customers tell Rudsak in real time. Providing access to information on products is key. No longer can Rudsak afford to simply merchandise stores according to its own internal appetite, Peloquin says. It must be proactive, leverage location based marketing, and the digital space. Never has it been more important to provide one-to-one customer experience.
It is amazing, Peloquin says, considering that when the company started 20 years it was virtually impossible to place an order online. Today, online shopping is commonplace.
"It is evolving drastically so we make sure to put a whole lot of focus on digital space," the CEO says. Rudsak achieves success online the same way it does in retail stores – with its outstanding products and customer experience, he says.
In today's online marketplace, furthermore, it is more important than ever to listen carefully to customers on social media, where one complaint might become highly visible. In the fashion industry this is even more critical than in other fields, as responsiveness to popular trends is a key driver for success. The Internet is changing Rudsak's retail business in other surprising ways, as well.
"Forty percent of our online customers who made a purchase did so before 6 a.m. and 80 percent of people who walk into our stores have been on our website that day or the day before," Peloquin explains. "They are educated about our products and already know what they want when they walk in the door."
Rudsak also is offering bundles of products. "At McDonalds, they don't just sell you one cheeseburger," Peloquin explains. "They sell an entire meal of food bundled together. We can do the same thing, selling entire outfits rather than just one piece of clothing at a time." This approach to commercialize products happens in all of its channels of distribution: eCommerce, retail and wholesale. In terms of training to support such an approach, Rudsak is listening to customers. They build their own bundles on the web which it then utilizes in all other channels. Access to products knowledge via iPad is greater than trying to know it all by heart. The information age is moving too fast.