Saban Brands and Fisher-Price Launch Strategic Partnership to Create Julius Jr. Toys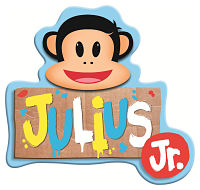 Feb. 11, 2013 – Saban Brands announced today that Fisher-Price Inc., the leading manufacturer of infant and preschool toys and a subsidiary of Mattel, will be the global master toy licensee for the company's newly announced Julius Jr. property. Julius Jr. is an animated preschool series slated to launch on Nick Jr. in 2013, and is inspired by the Paul Frank family of characters and its iconic monkey, Julius. Fisher-Price plans to produce a full range of products including playsets, plush, role play toys and more for the global marketplace.
Saban Brands' new property follows the adventures of a young version of Julius. Julius Jr. is a funky monkey with a penchant for invention. Together with his best pals, Worry Bear, Sheree, Clancy and Ping, they build a playhouse out of a simple cardboard box. But when they walk inside, to their surprise and delight, they discover that ordinary objects magically come to life and amazing adventures are just a door away. Julius Jr. proves every day that the best inventions are the ones that help your friends.
"As we introduce audiences everywhere to this new entertainment property, based on the well-known Paul Frank brand and its characters, it is exciting to partner with a true leader in the toy industry, and a company that knows preschool brands better than anyone," said Elie Dekel, President of Saban Brands. "We are confident this exciting partnership with Fisher-Price will help us take the Julius Jr. brand in innovative directions."
"We're thrilled to be a part of this exciting new platform for the Paul Frank brand of characters that will delight preschoolers and parents alike," said Susie Lecker, Senior Vice President of Marketing, Fisher-Price Friends. "When preschoolers tune into the new Julius Jr. series, they will instinctively want to expand these adventures through play. Our product offerings will ignite children's imaginations so they can create their own magical Julius Jr. adventures at home."