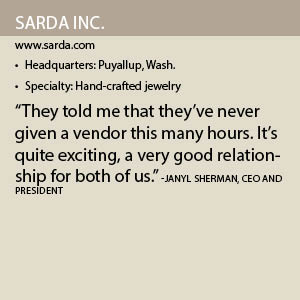 "Within three months, I maxed out my credit card and bought every single Bali bead I can get my hands on in Oregon and Washington," she says.
But it still wasn't enough. That's when Sherman bought a plane ticket to Bali. She had to find more beads. "In Bali, I went to different villages looking for beads," she says. "Then I finally found a supplier."
That was more than 20 years ago. Today, Sherman sits on top of a Balinese jewelry empire. She's the founder, CEO and president of Sarda, a Balinese jewelry manufacturer based in Puyallup, Wash.
"The beads that were my first inspiration turned into producing finished jewelry using Jawan round sphere balls and swirls of filigree wire," Sherman says. The company was named after Sherman's great-great-grandmother, Anna Sarda, who was known for her passion for jewelry.
Television Personality
Sherman is also the founder, spokeswoman and lead artisan for Artisan of Bali – Jewelry Television Network's (JTV) premier source for luxury Balinese jewelry. In the past four years, her company's business has grown by leaps and bounds. Since pairing up with JTV, Sarda does 12 times the amount of business it did prior to that.
This year, she's featured as a guest designer on 140 two-hour shows for the television network. In her first year, she had 24 shows. "We keep selling out," Sherman says. "They told me that they've never given a vendor this many hours. It's quite exciting, a very good relationship for both of us."
Sarda jewelry collections are also sold at select boutiques and fine jewelry stores throughout the United States. Looking back, Sherman credits her faith for much of her success. "I still don't know how I did it," she says. "But I got back in touch with God and found my purpose in life."
Detail and Dimension
With an unmistakable talent for creating classic, vintage and clean "heirloom and forever" designs, each of Sarda's collections tells a story through beads and gemstones. Sherman's intricate jewelry collections are reflective of the cultural and artistic heritage of Bali and are blended with contemporary and fresh designs.
"Bali beads are not just silver cast beads," Sherman says. "They have detail and dimension." Sherman designs each piece of jewelry her company produces. She personally selects the gemstones for the silver pieces handcrafted at her manufacturing plant in Bali.
"I'm involved in every aspect of my business, from design to manufacturing," she says. Using centuries-old metalworking techniques passed from generation to generation, these handcrafted designs are set in sterling silver and feature silver Balinese beads played against open, non-polished spaces.
When paired with colorful gemstones, the designs deliver an interesting dimension. They are big, bold and intricately detailed.
An Artist's Touch
Each piece of Sarda jewelry is handcrafted by a master silversmith, an artisan with more than 15 years experience in making jewelry. The amount of silver used for each piece is more than triple that of the industry standard. In addition, each piece undergoes a six-step polishing and oxidation process that prevents tarnishing. The industry standard for most jewelry is a two-step process.
The majority of gemstones are cut by hand as opposed to by a machine. Because they are not mass-produced, this makes the stones of collector quality. Sarda is also known for utilizing every inch of the jewelry. The back of a piece has the same amount of detail and workmanship as the front. That often makes the piece reversible and allows for light to shine through a gemstone, creating a vibrant sparkle of color.
"I have an established name and I am known for quality," Sherman says. "My concept is to maintain a high quality but keep the price as low as I can. I want to give quality jewelry to consumers at an affordable price."
Family Ties
Sarda's manufacturing facility operates out of the village of Celuk, Bali's major center for goldsmiths and silversmiths. The gold and silver jewelry crafted at Celuk is known for its high quality and unique and elaborate designs. Most of the households in the village are homes to jeweler families – many of which date back generations.
"That's where we create our jewelry," Sherman says. "It takes time and patience. I feel that you're born with this talent. It's not something you can teach."
Sherman has 100 silversmiths working at Sarda's manufacturing facility, 50 of whom have achieved master level. Many of them have been with her company for more than 20 years. "The Bali team is my family," she says. "I am so proud of them. Not everyone can do this work."
Sherman divides her time between Bali and Puyallup, Wash. She has a residence in Bali, as well as in the United States. Many of her silversmith employees live on-site at a shared living complex near the manufacturing facility.
Inspired by Nature
Sherman produces roughly 120 new designs each month, drawing them on paper and then working with her artisans. She hand-picks each gemstone and matches it with one of her select designs. When it comes to inspiration, Sherman doesn't have to go far.
"My inspiration comes from Bali," she says. "Look at my jewelry and you'll see a lot of flowers, leaf patterns, woven mats, swirl carvings and textures that are native to Bali. Many of these shapes and patterns are found in Bali architecture, especially in the temples."
The vibrant colors present in Bali's natural environment are often reflected in Sarda's designs, especially when it comes to gemstones. "I have stones that don't even exist in the market," Sherman says.
One such stone, mint chrysoprase mother of pearl triplet, resembles a rainbow of colors with green as the primary. "I take materials that everyone loves and I will create an even more beautiful stone," Sherman says. For the mint chrysoprase mother of pearl triplet, she blended three materials that included a "creamy mint" Chrysoprase with "mother of pearl," a smooth and shiny iridescent substance often found in the inner layer of some mollusks. She topped it with crystal quartz.
"I had my stone cutters put a crystal quartz on top and carve a beautiful pattern on top of the stone," she adds. "We create new looks from materials available in market to get stones that blow your mind. It's time and labor intensive but worth it."
Sherman also created a sapphire-colored fluorite gemstone for her JTV Artisan Collection of the Bali luxury brand. "I was challenged by the JTV buying team to come up with something with a 'wow factor' in fluorite," she says, adding that the stone is exclusive to JTV.
Sherman's only problem is keeping up with demand. "There's more demand than I can probably supply," she says. But she has a plan. It involves tweaking her manufacturing process. At the same time, she's already planning to expand her company. "There are amazing possibilities," she says. "I'm looking at India or China. It would be a new line, aside from the Bali line."