Scholastic Celebrates The 50th Anniversary Of The Original Publication Of Clifford The Big Red Dog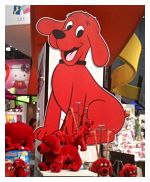 Feb. 14, 2013 – Fifty years ago this month, Scholastic published the original 'Clifford the Big Red Dog' book by Norman Bridwell. Today, Valentine's Day and Clifford's official birthday, the global children's publishing, education and media company, announced the release of new branded products, programs and promotions in conjunction with its yearlong celebration. Following September's Biggest Birthday Party Ever event that was streamed to thousands of classrooms nationwide, this month will see the publication of 'Clifford's Birthday Party'(published simultaneously in e-book and Spanish editions), the release of the DVD 'Celebrate with Clifford,' new consumer products and 'Clifford's Big Birthday App' on Google Play, a national contest launch and local events.
Scholastic also announced today the winners of the national 'Clifford's Big Birthday Sweepstakes' – who will be hosting Clifford-themed birthday parties in their hometowns all this week: Brandi Mulligan of Portsmouth, RI; Lisa Wilson of DeBary, FL; Jamie Martin of Portland, OR; John McKeel of Oklahoma City, OK and Heather Blume of Austin, MN. Teachers also had the opportunity to enter 'Clifford's BIG Birthday Classroom Sweepstakes' – and five winning teachers will be welcoming Clifford to their classrooms this week in Ithaca, NY; Princeville, IL; Denver, CO; Valley, AL and Spring Hill, FL.
"We are delighted so many children, teachers and families have chosen to participate in the big birthday celebration" said Deborah Forte, President of Scholastic Media and Executive Vice President of Scholastic Inc. "For 50 years, Clifford has earned a place as one of the most iconic and endearing characters for children, and we're so proud to congratulate Norman Bridwell on reaching this incredible milestone."
"Clifford's popularity has always surprised me" said Norman Bridwell – author, illustrator and creator of Clifford The Big Red Dog. "My family and I are amazed that Clifford has been loved by so many children for so many years."