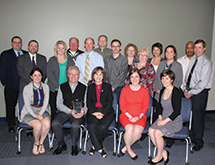 Some supermarkets limit the number of products that they sell, but not Schuette's Market, owner and President Michael Schuette says. If customers cannot find an item in its stores, they just ask, and the company will order it and add it to its shelves.
For instance, when a Hispanic family asked for Goya foods, "We got them all," Schuette recalls, noting that the store benefited from it. "Our Hispanic business just rocketed. We are beholden to our customers."
Based in St. Rose, Ill., Schuette's operates grocery stores that specialize in selling locally sourced items. Michael Schuette's great-grandfather, Peter Schuette, started the company in 1863, after emigrating from Germany to the United States.
At the time, the country was still divided by the Civil War, and people were bartering for goods, Michael Schuette explains. "If you had eggs and you wanted a hatchet, you had to find somebody who had a hatchet who was willing to part with it for eggs," he says.
Frustrated with the situation, Peter Schuette opened up his own trading post in 1863. Because of his college education, "People trusted him to know what a fair value trade was," Michael Schuette says. He opened up a general store in 1869.
His grandfather and great-uncle, Frank and Joe Schuette, expanded the business in 1898. Today, Schuette's has five locations in Illinois. As it has settled in small towns, Schuette's has designed each location to fit in well with its community.
For instance, one location is in a resort town and is designed to look like a lodge, with large logs and a green roof. Another is located in a manufacturing town and the store is designed to be a large food factory. "[That store has] a more rustic look, with plywood and metal," Michael Schuette says.
The family involvement in Schuette's continues, he adds. His oldest daughter, Sarah Goodwin, is vice president of store operations, and another, Tessa Wiegman, is vice president of administration. Goodwin's husband, Steven, is the company's CFO.
Schuette's wife, Linda, works in human resources, and his youngest daughter, Carmen, helps design the company's print advertising. His second-oldest daughter, Niki Tazelaar, works at the company on a part-time basis. "She does web design [and] paints murals for our stores," he adds.
Strength in Beef
As a modestly sized company, Schuette's does not have the financial resources of larger competitors, Michael Schuette admits. But, he asserts that those titans cannot compete with the quality of his stores' products, including beef from family owned farms.
Over a decade, the company raised and tested its Black Angus beef with customers to create the perfect beef. "Genetics make it tricky to develop the perfect beef quickly," he admits. "Consistency can only come over a period of time." It was so tricky, in fact, that Schuette's sought aid from the Illinois Beef Association and the University of Illinois' Department of Agriculture. "To their knowledge, no one had ever researched the attributes of the different genetics impact on flavor and quality of beef," he recalls.
After 10 years, Schuette's finally discovered the winning formula. "What customers wanted the most was the best taste, quality and appearance at a value price," he says. This meat comes from cattle that experiences most of its life in pasture, but in its last months is corn-fed.
Schuette notes that the company has won notoriety for its beef. Additionally, the beef helped the company stay strong when it was caught in competition between Walmart and grocer Schnucks in Highland, Ill.
When Walmart opened its store in town, "Everyone knew someone was going to close," Schuette recalls. Ultimately, Schnucks left, and when customers were polled, they commented that people stayed with Schuette's because it had the best meat of the three. "We're just lucky that Walmart's Achilles' heel is our strength," Schuette says.
The Right Direction
Schuette's is headed in the right direction as it continues providing healthy, fresh, local foods at a competitive price, Michael Schuette says. "We try to play an important role in people's lives," he says.
He adds that the next generation of management at Schuette's will mark a distinct change for the company. "We had generations of all males for four generations," he says. "The fifth generation is all female."
He believes that the company will flourish further under his daughters' leadership. "[They will relate] to the customers even better, [since] a large percentage of the customers are all female," he states.
Schuette's also will continue finding areas to improve, including prepared meals that people can warm up at home, such as baked chicken, baby-back ribs, sandwiches and salads, and mashed potatoes. These meals, he explains, allow consumers to have dinner with their families, even with often busy schedules.
"Stores like ours are getting better and better at [those products]," he says.