Science Books & Films Suggests 10 Top Summer Books for K-4 Students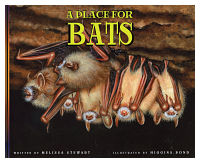 June 5, 2013 – The diversity of bats, the language of birds, "wacky" animal defenses, and the inspiring true stories of physicist Albert Einstein, oceanographer Sylvia Earle, and environmentalist Rachel Carson are all covered on a new list of 10 top summer science books for children in kindergarten through fourth grade. The summer reading list, suggested by Science Books & Films (SB&F) at the nonprofit American Association for the Advancement of Science (AAAS), promises to stimulate children's imaginations and help combat summer learning loss.
"When children's minds are engaged by reading a good book, they are learning," said AAAS Senior Project Director Maria Sosa. "Keeping younger students intellectually stimulated is especially important over the summer. That's when many students, particularly those with fewer enrichment opportunities, risk losing ground academically."
The suggested SB&F books are fun to read, too. This year's summer list from SB&F, an online guide to notable science materials, includes 60 titles across three categories of readers: Children in kindergarten through fourth grade; middle and junior high school students (grades 5-9); and older high school students / young adults.
For the complete list, see http://www.sbfonline.com/Subaru/Pages/SummerReading2013.aspx.
For younger children, SB&F's suggestions include:
A Place for Bats by Melissa Stewart
On a Beam of Light: A Story of Albert Einstein by Jennifer Berne
Bird Talk: What Birds Are Saying and Why by Lita Judge
City Fish, Country Fish by Mary M. Cerullo
Life in the Ocean: The Story of Oceanographer Sylvia Earle by Claire A. Nivola
The Long, Long Journey: The Godwit's Amazing Migration by Sandra Markle
Ocean Sunlight: How Tiny Plants Feed the Seas, by Molly Bang and Penny Chisholm
Slime, Poop, and Other Wacky Animal Defenses by Janet Riehecky
Rachel Carson and Her Book that Changed the World by Laurie Lawlor
Saving Yasha: The Incredible True Story of an Adoptive Moon Bear by Lia Kvatum