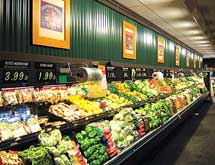 To compete with national corporations, independently owned and locally operated retail organizations often have to rely on subjective variants, like exceptional customer service and instinct-based decisionmaking, because from a strictly financial standpoint, the two don't measure up. In recent years, however, it has become increasingly more important for independent operators to focus their attention to objective factors, like pricing.
Nowhere is this shift more apparent than at Scolari's Food & Drug, a Sparks, Nev.-based grocery chain with 19 stores throughout Nevada and California. According to Ward Dunn, the instinctual management style has worked well for the family-owned organization for five decades, and although it's still a major component impacting day-to-day operations, it's not an exclusive driver.
"Our business has always been called a blend of art and science, but in the past, the science aspect played a much smaller role than it does today," said Dunn, VP of sales and marketing at Scolari's. "This is especially true given the current economic conditions we're operating under."
Dunn joined the team at Scolari's two years ago after his predecessor elected to retire. "Coming here, I had a fresh perspective on the company, and my primary goal was to figure out how I could make this organization, which was already a good one, even better," he said.
To begin, Dunn and the rest of the team at Scolari's laid out four primary objectives, which they now reference every time they're about to make a major decision. The objectives are as follows:
Create leverage through technology, partnering with organizations designed for this purpose.
Always stay in-tune with customers.
Emphasize communication with and throughout the supply chain.
Create and foster an environment of merit for associates.
Optimal pricing
One of the most influential changes Scolari's underwent in recent years involves the introduction of a price-optimization system. Dunn and his team reached out to Revionics, a California-based software company, to help them install the system, and as a result, Scolari's is now able to track its position in the market relative to a specific to a number of categories.
"It has enabled us to know where we are by category versus our competition," Dunn explained. "Within the first 12 months, we gained a full point in margin, simply because we were able to adjust our base retails with a set system. We can monitor sales, and we know what the private label margin gaps will be versus the identified national brand."
The pricing system allows the team at Scolari's to identify what the ideal prices are for all of its products, ensuring items are priced low enough to sell but high enough to capitalize on potential profits. In the near future, the organization plans to tie the system into its advertisement program, which will allow its team to gather data related to how certain sales perform.
In addition to its work on the front end, the team at Scolari's has made a conscious effort to maximize profits by reducing costs on the back end. One of the major factors influencing this part of operation is its relationship with Topco.
"Topco is one of the largest national organizations for private label products," Dunn said. "They work with us and other retailers, combining our synergies to create top-quality private label brands."
Because Topco's reach is so widespread, it has a lot more leverage than a company of Scolari's size when negotiating prices with manufacturers. "A small company like us can't go out and bargain with a manufacturer because we don't have the relative volume," Dunn explained.
Bringing it back home
Although its focus has shifted to expand outward in recent years, Scolari's is making a conscious effort to ensure its localized approach, which served as its foundation for more than 50 years, isn't lost.
In recent years, it was common for raw milk generated from cows in Nevada to be transferred to California to be processed. After it was processed, the milk was transferred back to Nevada and distributed to retailers. Earlier this year, a local dairy approached Scolari's, proposing a plan that eliminated the state-to-state transition.
"Model Dairy is a local organization, and it worked with us to create a 100% locally made Nevada milk, which we now sell in our stores," Dunn said. "The idea appealed to our owners because we saw a substantial cost savings, and it's something our customers appreciate as well. Working with a local grocer to sell products made from local cows, it ensures that the customers' money is put back into the area."
To make sure people in the community are aware of the fact that the milk is processed in the region, Scolari's developed an advertisement campaign featuring TV spots and print ads.
"Our customers appreciate this sort of thing. As an independent company, it's important to emphasize the localized aspects of operation," Dunn said. And he's not just referring to products; Scolari's efforts in this regard also emphasize top-quality customer service on the front line.
"Our stores have a smaller footprint than the big-box retail locations," Dunn said. "Many of our associates have been working at the same location for 20 or more years, so they know most of the regular customers. We have cashiers who literally know hundreds of their customers, either by name or by face."
The customer-employee relationships Scolari's has been able to develop and maintain over the years has helped it build an extremely loyal base. In today's market, where many consumers are pinched for cash and as a result are forced to shop around to find the best discounts, this has become all the more important. "Customers may be shopping multiple banners more frequently today, but for the most part, they always come back to us," Dunn said.
When all is said and done, Scolari's is an organization that's dedicated to improving the communities it operates in. Joie Scolari founded the business 50 years ago, and today, his two sons, Joey and Jerry, maintain operations.
Roughly 20 years ago, the team established The Friendship Fund in an effort to raise money for schools, churches, and other nonprofit organizations in the communities surrounding its stores. Every time a Scolari's customer uses his/her member card to make a purchase, 1% of the dollar amount spent is automatically credited to a pre-designated nonprofit group of their choice. To date, The Friendship Fund has raised more than $4.5 million for local organizations.