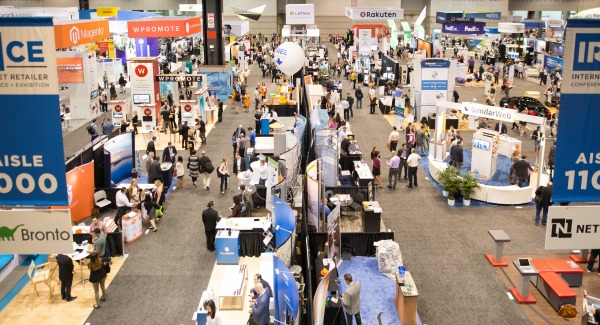 The IRCE event will provide attendees with solutions-driven educational sessions about e-commerce, including marketing trends. By Michelle Soriano
To excel in e-retail, you need to have the right strategies, technologies and connections in place to stay competitive. The Internet Retailer Conference & Exhibition (IRCE), the must-attend event for e-commerce and retail professionals, has what you need to stay ahead in your business. Taking place June 6-9,2017, at Chicago's McCormick Place West, this gathering of nearly 10,000 professionals is where experts, insights and innovation converge.
Knowledge is more than power – in e-commerce, it's profit. IRCE offers practical, relevant education sessions – in six workshops and ten tracks – that cover the topics e-retailers want to learn about, from marketing trends, B2B-specific challenges to the latest technology and more. Our experts know exactly how to translate the information you need into the results you want.
Find solutions to your most pressing challenges, and come away with actionable answers and practical tactics for building your sales and your brand. This year, the agenda has been expanded to include a dedicated track for the fashion/apparel/home furnishings industry, as well as two new workshops, focusing on direct-to-consumer and design and usability.
The adjacent expo hall boasts nearly 600 of the top technology and solution providers. Your company needs to stand out in the crowded e-commerce marketplace, and we have the technologies to keep your sales growing. Whether you're looking to build loyalty, optimize search or drive revenue across every channel, you'll find what you need here to keep you ahead of your competition.
When it comes to building your professional network, IRCE knows that there's nothing better than connecting face-to-face. That's why we've designed an unbeatable experience that brings you together with e-retail leaders, expert speakers and peers facing similar challenges. You'll have plenty of opportunities to share insights, trade experiences and solidify relationships, all in a professional environment that facilitates connections.
Don't miss our main stage speakers, including Shark Tank's Barbara Corcoran and Under Armour. For mre information, check out IRCE's educational programming and tracks agenda:
Wednesday, June 7
Track: Fashion: Try it On!
10:30-11:30 a.m. – "How to Win the Sale When Going Head to Head with Your Own Brand". Speaker: Jose Nino, Vice President of E-Commerce Digital Marketing for Perry Ellis International.
1:15-1:45 p.m. – "Knock It Off! Tactics to Combat Counterfeits". Speakers: Alan Behr, Partner and Chairman of Fashion Practice for Phillips Nizer LLP and Zach Toczynski, Director of Global Brand Enforcement for Levi Strauss & Co.
1:45-2:15 p.m. – "Preserving Brand Value on Marketplaces". Speakers: Matt Kubancik, President of Founder Street Moda and Tony Chvala, Chief Operating Officer and Chief Marketing Officer for Pricefails.com.
3:15-3:45 p.m. – "Best in Show: Apparel Innovations". Speaker: Lauren Freedman, Senior Vice President of Digital Strategy and Chief Merchant for the etailing group.
3:45-4:15 p.m. – "Fashion Apps: What's in, Hot and Not". Speaker: Lauren Kaufman Witten, Vice President of Luxury for Retail L2.
4:15-4:45 p.m. – "Live Reviews: Is Your Site On Trend or a Fashion Faux Pas?". Speaker: Scott Kincaid, Vice President of User Experience for Usability Sciences.
Thursday, June 8
Track: Marketplaces
10:30-11:00 a.m. – "The Marketplace Pioneer—What's Next at the Amazon Marketplace". Speaker: Peeyush Nahar, Vice President for Amazon Marketplace.
11-11:30 a.m. – "Where It All Began – eBay Today and Tomorrow."
1:15-1:45 p.m. – "The State of Online Marketplaces: Who Offers What to Whom". Speaker: Fareeha Ali, Senior Research Analyst for Internet Retailer.
1:45-2:15 p.m. – "How to Figure Out Which Marketplaces You Should be Selling On". Speakers: Andrew Vagenas, Chief Executive Officer for Pharmapacks and Nathan Gordon, CIO for Christmas Central.
3:15-3:45 p.m. – "Advertising on Amazon: How to Implement a Large-Scale Ad Strategy on the Amazon Marketplace". Speakers: Gavin Herbert, Manager of Digital Marketing for Mophie and Rick Backus, Chief Executive Officer for CPC Strategy.
3:45-4:15 p.m. – "Marketplace Financials: Do the Numbers Work for You?". Speakers: Ian MacDonald, Director of E-Commerce for Silver Star Brands and Jason Boyce, Chief Executive Officer and Co-Founder of Dazadi.com.
4:15-4:45 p.m. – "Make Sure Your Marketplace Sales Fit Into Your Broader Strategy". Speaker: Fahim Naim, Founder of eShopportunity.com.
Friday, June 9
Workshop: Direct to Consumer Workshop
8:15-8:45 a.m. – "Mapping the New World: How to Make the Transition to Consumer Selling". Speaker: Callie Lushina, Vice President of Marketing for BioElements.
11:15 a.m. -12 p.m. – "Getting the Right Content to Where Consumers Are". Speakers: Christian Santiago, Strategic Partner Development Lead for Google Manufacturer Center, Rob Gonzalez, Co-Founder of Salsify, and Sonesh Shah, Director of Digital for Bosch Power Tools.
12:30-1:15 p.m. – "Live Review: Does Your Site Have That Consumer Appeal". Speakers: Adam Brown, Executive Creative Director for Gorilla Group and Kevin Eichelberger, Founder & CEO of Blue Acorn.
Michelle Soriano is the director of marketing for the IRCE.