Sherwin-Williams Now NASCAR's Official Automotive Paint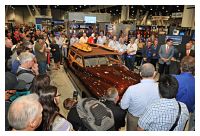 Nov. 7, 2013 – Sherwin-Williams Automotive Finishes today announced that effective January 1, 2014, Sherwin-Williams will become 'The Official Automotive Paint of NASCAR.' The announcement complements recent news that in May 2013, The Sherwin-Williams Company signed a multi-year partnership designating the nation's largest specialty retailer of paint and painting supplies as the 'Official Paint of NASCAR.'
Sherwin-Williams, a FORTUNE 500 company, is leveraging its recent designation for architectural paint and the power of NASCAR's intellectual property to activate at its more than 3,500 stores nationwide and ignite the passion of its customers – many of whom are fiercely brand-loyal fans of the sport.
By adding the 'Official Paint of NASCAR' sponsorship in the automotive coatings category, Sherwin-Williams' Automotive Finishes division further expands its visibility as one of the leading product innovators and servicers to the collision repair and original equipment industries. Sherwin-Williams is the only direct distribution automotive paint manufacturer and provides service to its collision repair and OEM customers through nearly 200 company stores in the U.S. and Canada.
In support of the announcement, Adam Chafe, Vice President Marketing, Sherwin-Williams Automotive Finishes and 15-time NASCAR Sprint Cup Series winning driver Greg Biffle, Roush/Fenway Racing, presented at the 2013 SEMA Show in Las Vegas the largest automotive OEM, aftermarket and enthusiast exhibition attended by more than 110,000 exhibitors, attendees and media.
"Since 2000, some of the biggest names in racing have trusted their race car finishes to Sherwin-Williams. We're extremely excited and honored to become the 'Official Automotive Paint of NASCAR.' In fact, more than a dozen NASCAR teams currently use Sherwin-Williams Automotive Finishes," said Chafe. "We aim to help teams cross the finish line and ensure that their cars and sponsors always look good on the track; that also holds true with every repair and repaint our customers provide."
During the announcement, Greg Biffle stated he was one of the 30+ other drivers who use Sherwin-Williams Automotive Finishes on their respective vehicles and noted that collectively they have more than 200 NASCAR Sprint Cup Series victories between them. In addition to Biffle's Roush/Fenway Racing team, other NASCAR racing teams using Sherwin-Williams products include:
Joe Gibbs Racing
Richard Childress Racing
Earnhardt Ganassi Racing
Richard Petty Motorsports
Michael Waltrip Racing
Furniture Row Racing
Wood Brothers Racing
Germain Racing
Tommy Baldwin Racing
JTG Motorsports