Shining a light on Rusty Lantern Markets – the New England fueling station giant with big ambitions
Though a lantern might seem like an antiquated instrument, once brought out as dusk settles by an oftentimes weary traveler, there is nothing about its symbolism that doesn't serve modernity. What does a lantern do? It sounds quite simple, and the answer probably is.
A lantern protects a flame, and a flame casts light out onto the road ahead – it pushes back against the darkness. It helps us see the way.
What better symbol, then, for a brand that prides itself on just that: providing a place to stop, pause, and fill up on all the essentials we need to keep on going – to travel home towards family and loved ones and safety?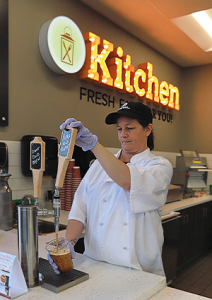 Rusty Lantern Markets (Rusty Lantern) has made it its business to help those along the road and ensure their needs are met. The first location opened in 2015 in Topsham, Maine, and since then it's safe to say the brand has been embraced by loyal locals and tired travelers alike.
People are drawn to the popular branded fueling station for numerous reasons, one of which is almost certainly its made-to-order food and beverage options (as well as, of course, its fuel offerings and convenience store products). In fact, Rusty Lantern is so confident in its merchandise that the brand contends its food and coffee services compete on quality with any food or beverage entity.
Today, there are now 25 Rusty Lantern locations across New England. Nearly all of them feature fuel pumps, a modern convenience store, and a large kitchen; branding is consistent across each site, giving customers a familiar aesthetic to recognize, regardless of the direction they are travelling across the region.
Something for everyone
To better understand the brand, we recently sat down with John Koch, who founded the business in 2015 and now leads as CEO. "I got into the industry really early, straight after college," he begins. "I needed a job, and accepted one with a major oil company, working in their retail fuel division with a range of gas station dealers.
"After nearly two decades there, I decided to join a regional wholesaler with a large network of gas stations with convenience stores," John goes on. "About ten years later, I formed Rusty Lantern – and it all took off from there."
So the story goes, when John first came up with the brand concept, he landed upon a name that was close to home. Very close. On his back porch is – you might have guessed – a rusty lantern.
Frequently, John and his friends would gather under the old, corroded lamp for a few cold ones, and plenty of good times. Capturing the friendly essence of a neighborhood gathering spot couldn't have been easier, precisely because John had brought that sense of community from his back yard to numerous stretches of road across New England.
Comfortable, local, and there when you need it. There are numerous factors that pull people in. But, in John's words: "Some customers choose us for the typical reasons: a convenient location, competitive prices, quality products, and the usual gas station offerings.
"Our most loyal customers choose us for our consistent friendliness, attention to detail, and the extra effort we put in when we serve them," he adds. "But what makes us stand out is our large menu of fresh food as well as our wide selection of local and craft products. It's this combination that helps us create that welcoming and caring atmosphere our customers have come to appreciate."
Indeed, Rusty Lantern offers a broad range of hot and cold food. "We produce fresh, made-on-site menu items for breakfast, lunch, and dinner – plus snacks for those periods in between," John tells us. "The menu includes some standard fare, but also features more unique items; for example, our breakfast bowls, biscuits and gravy, artisan and specialty sandwiches like Reubens and Cubans, and custom pizzas.
"We also sell fresh Maine lobster rolls from Memorial Day to Labor Day," he continues. "Most of the menu is available made-to-order and grab-and-go. On the drinks side of things, our coffee is roasted in Portland, Maine, and our self-serve coffee is made by bean-to-cup machines, ensuring every cup is ground fresh and served hot."
Custom hot and cold beverages, including lattes, cappuccinos, nitro and regular cold brews, as well as smoothies and refreshers, are also available. Simply put, there is something for everyone.
Connecting with community
Recently, the brand purchased several stores from Mallard Mart to bring Rusty Lantern's products to even more customers. "In August 2022, we acquired four new locations," John explains. "By November, we had added two more in Turner, bringing our total store count in Maine to 18. That worked to not only complement our current base of Rusty Lantern locations, but logistically it suppRusty Lanternorts our plans to expand westward."
Like its customers, Rusty Lantern is also on a journey. The company has big plans, but at the heart of that journey is connecting with the community. "As a business, we put a great deal of emphasis on integrating with the communities we serve," says John. "Many of our sites feature colonial-style architecture, which is popular in New England; they are large, well-lit, and well-appointed, creating a welcome and safe environment for all.
"Naturally, we encourage some deviation per store in terms of our product mix," he admits. "This is essential for us to tailor our offerings to each individual market. That being said, all our stores have a great selection of local, craft, and Maine-based products from 'mom-and-pop' suppliers. In addition, we give back by supporting Make-a-Wish Maine, Big Brothers Big Sisters, and numerous community-based organizations in Brunswick, where our headquarters is located. Many of our stores donate to local food banks, while also supporting nearby schools and youth sporting organizations."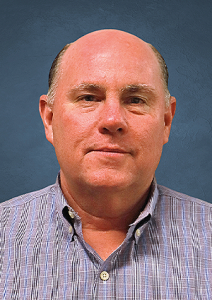 A string of businesses, in turn, supports Rusty Lantern in its mission. Supply chain relationships are, of course, integral for any organization; however, John is keen to highlight several key working partners that make a huge difference for the company: "At all but one of our sites, we feature Irving Oil products, and the team there have been so supportive.
Rusty Lantern"We are also very appreciative of other core partners such as Priority Management for real estate development; Cornerstone Bank for financing; J Polep Distribution Services/National Convenience Distributors for merchandise; Performance Food Group (PFG) for food products; Paragon Solutions, who have helped us develop our brand, interior layout, façade, and overall design strategy; and many other invaluable vendors and suppliers, such as Coffee By Design, Coke Northeast, PepsiCo, National Distributors, Data Defined, Boston Beer Company, Valley Beverage, Frito-Lay, Gaftek, Cross Insurance, Old Trapper, Wilbur's of Maine, and so on. The reality is, there are so many partners that we're grateful for and we couldn't do this without them!"
The praise-train keeps on rolling, as John swiftly turns his attention internally: "We place a lot of emphasis on our team and its development, and therefore I firmly believe that we have been successful in attracting, retaining, and motivating our teammates during recent staffing shortages.
"During Covid-19, moreover, we didn't cut working, store, or kitchen hours. Our salaries and wages are very competitive; we have a full slate of benefits and we pay a significant share of the premiums alongside monthly performance bonuses. We also offer a string of perks such as free beverages and 50 percent off food while on duty, plus a 'Teammates' card that entitles every active employee to a substantial discount, something for Thanksgiving, and access to a couple of social events each year.
"We also equip everyone to be successful with a comprehensive training program for all positions," he goes on. "This creates an environment that promotes a clear career path, performance feedback, and a hire-from-withinRusty Lantern culture. Indeed, our team shares a common passion for hard work to exceed customer expectations and, together, we enjoy that challenge."
Quality and convenience
Challenges are, unfortunately, commonplace in today's post-pandemic environment. To enjoy those challenges is, therefore, akin to a superpower in business. And like Superman, Rusty Lantern intends to take flight as it overcomes future trials.
"In terms of the year ahead, our plans are to build two new sites in New Hampshire and another in Maine," John concludes. "By expanding our current footprint in those markets, we will be able to tap into new opportunities for growth.
"Looking further ahead, I think there will be a move towards larger stores, with more overall selection; however our focus on fresh food will continue. I also believe definitions of customer service and convenience will morph to include technologies such as loyalty apps, ordering kiosks, self-service checkouts, as well as pick-up, drive-thru, and delivery options.
"Yet, at the end of the day, I believe there will always be a demand for quality and convenience at the best corner in town – and we will be there to provide it."