ShopKeep POS June Same Store Sales up 19%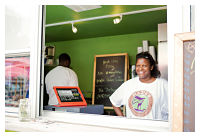 July 17, 2013 – ShopKeep POS, the leader in iPad point of sale to brick and mortar merchants nationwide, today released the ShopKeep POS Same Store Sales Index (SSSI) for June, which saw sales jump by 19.2% over June 2012 and the number of transactions increase overall by 11.9%.
The figures follow June retail sales releases from the National Retail Federation (NRF) and U.S. Department of Commerce and U.S. Census Bureau. NRF figures indicate June retail sales increased 3.0% unadjusted year-over-year (excluding automobiles, gas stations and restaurants), while the U.S. Census Bureau found total retail and food services sales increased 5.7% adjusted year-over-year.
The ShopKeep POS SSSI top vertical markets revealed:
Speciality Retail Stores like gift shops or homewares stores saw a 26.5% increase in sales revenue and a 24% increase in transactions;
Quick Serve Restaurants like cafes and bakeries saw a 23% increase in sales revenue and a 12% increase in transactions; and
Specialty Food Stores like wine or premium food stores saw a 9.4% increase in sales revenue and a 7.6% increase in transactions.
"It's encouraging to see these figures, particularly as we saw small business optimism drop in June. Retailers are hearing a lot of discussion in the media about weakened economic growth and adjustments in household spending, which appears to be impacting their outlook," said Jason Richelson, Founder and CEO of ShopKeep POS.
"The June numbers tell a more positive story of slow but steady recovery, with some ShopKeep brick and mortar sectors doing particularly well," he added. "We've seen significant growth in seasonal stores like juice bars and ice cream shops in the lead up to summer this year, with food trucks as the real stand-out, recording a 46% increase in same store sales over 2012. We're positive about the outlook for the second half of the year as same store sales for our merchants continue to increase above the national average."