ShopperTrak – Retailers See 4th Straight Annual Sales Increase During Holidays

Jan. 8, 2014 – Despite the shortened holiday season and extreme weather in many areas of the country in the weeks leading up to Christmas, retailers finished the 2013 holiday shopping season with increased sales, according to ShopperTrak, the leading global provider of insights into shopper behavior and retail analytics.
ShopperTrak estimates that, during the holiday shopping season of November and December 2013, national retail sales increased 2.7% and foot traffic decreased 14.6% when compared to the same two months last year. ShopperTrak's initial data indicates shoppers spent $265.9 billion during this period. The 2.7% increase is slightly better than ShopperTrak's early-season forecast of a 2.4% increase in sales. The 2013 holiday season marked the fourth consecutive year with positive GAFO retail sales, reflecting a growing economy.
"As we anticipated, retailers saw a gain in sales compared to last year as the economy continues to recover," said ShopperTrak Founder Bill Martin. "However, consumers took a break from shopping after Thanksgiving weekend, so retailers were pressured to offer deep discounts and promotions in the final week before Christmas to finish the holiday on a positive note. In the future, retailers who promote throughout the season will be more successful than those who take a hiatus in the week or two after Thanksgiving. Promotions in early December offer retailers an opportunity to capture sales earlier without having to offer more extensive markdowns at the end of the season."
Thanksgiving Day shopping trends continue to evolve and impact sales of other shopping days, most notably Black Friday. With more stores opening for longer hours on Thanksgiving Day, Black Friday sales fell 13% compared to Black Friday last year.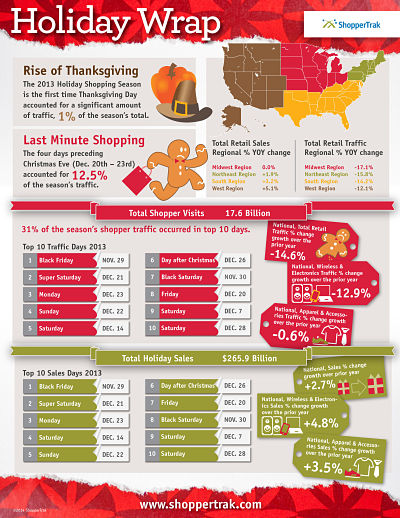 Strong Start and Finish to Shortened Season
Retailers had a reduced window of time to capture peak holiday spending, with only 25 days between Black Friday (Nov. 29) and Christmas this year, compared to 31 days in 2012. Consequently, there were only four weekends this holiday season compared to five last year. As a result, many consumers began shopping early, taking advantage of retail promotions and discounts early in November as well as during Thanksgiving and "Black Weekend." Severe weather conditions in many parts of the country during the first two weekends in December also impacted in-store shopping and pushed some consumers to purchase online during that final stretch.
"Shoppers took a longer-than-normal break from shopping in early December," said Martin. "However, once consumers started to buy again, they did so in force as retailers reduced prices. And, after Christmas, gift cards came into play as shoppers looked to round out their holiday tally before inventories were depleted."
Following the Thanksgiving boom – with Black Friday holding rank as the top sales and traffic day of the season – shoppers held out for bigger bargains closer to Christmas. This led retailers to offer more significant promotions and discounts during the final days of December.
As a result, the week ending Dec. 28 accounted for 15.5% of sales and 16% of all traffic for the holiday season. This is especially noteworthy given most stores were closed on Christmas Day, so the sales and traffic growth occurred during a six-day week. Similarly, this same week contained four of the top 10 sales and traffic days, accounting for 10.9% of holiday season sales and 11.5% of holiday season traffic. The five days before Christmas, Dec. 20 through Dec. 24, accounted for 14.2% of sales and 14.5% of holiday season traffic.
ShopperTrak estimates that the strongest sales days were Nov. 29, Dec. 21, Dec. 23, Dec. 14 and Dec. 22, in that order. Black Friday, Nov. 29, also was the top traffic day, followed successively by Dec. 21, Dec. 23, Dec. 22 and Dec. 14.
Increased Sales, Decreased Traffic Across Categories and Regions
In line with the overall trend this season, the apparel and electronics categories saw an increase in sales despite a traffic decrease. Sales in the apparel and accessories category increased 3.5%, while traffic decreased 0.6% compared to 2012. Sales at electronics and wireless stores were up 4.8%, although traffic was down 12.9% year-over-year.
Compared to the 2012 holiday season, sales in the Northeast, South and West were up 1.9%, 3.2% and 5.1%, respectively. Sales in the Midwest were flat compared to 2012. Traffic in the Midwest, Northeast, South and West was down 17.1%, 15.8%, 14.2% and 12.1% year-over-year, respectively.
Moving Forward
In Q1 2014, ShopperTrak estimates retail sales to increase 2.8% despite an estimated 9% decrease in shopper traffic.
"We will continue to see the trend of steady sales increases as consumer confidence rises and the economy progresses," said Martin. "And, while foot traffic will continue to slow due to changing consumer patterns – with more shoppers purchasing online or researching products online before heading to stores – retailers must remember an overwhelming majority of all retail sales in the U.S. will occur in brick-and-mortar stores. Retailers who deliver a seamless customer experience both in the store and across all channels will emerge ahead of the rest."