ShopRunner Survey: 81% of Online Shoppers Not Likely to Purchase Again From Retailers Who Charge for Return Shipping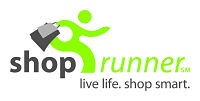 Dec. 14, 2012 – A new survey of online shoppers revealed consumers have higher expectations of online shopping than ever before. ShopRunner, which brings together a network of retailers to deliver powerful shopping services, conducted the survey to understand today's online shopping drivers and found that consumers are not concerned solely about free shipping on purchases, but free return shipping is increasingly at the forefront of their needs.
The survey, commissioned by ShopRunner and conducted online by Harris Interactive, polled 3,036 adults in the United States ages 18 or over in December 2012 (2,839 of which indicated they shop online). The results revealed negative economic consequences for retailers not offering free return shipping with 81% of online shoppers saying they are not likely to make additional purchases from websites that charge shipping on returns and 69% feeling that returning items purchased online is a complicated process.
This follows on the findings of a compelling recent September 2012 study from Washington and Lee University, which contrasted the effect of paid or free return shipping on consumer behavior. Researchers tracked actual consumer spending over the course of four years and found that retailers' return shipping policies greatly affected customer spending and loyalty. Customers paying for their own returns universally decreased their spending, between 75% and 100% at that retailer by the end of two years after the return. In contrast, customers who received free return shipping universally increased their spending with that retailer between 158% and 457%.
"These results demonstrate a huge opportunity for retailers to increase sales by meeting the increasing consumer demands for online shopping including free and easy returns, fast delivery, and streamlined checkout," said Fiona Dias, chief strategy officer of ShopRunner. "The bar has been raised by competitors, but it is challenging for most retailers to cost-effectively offer these shopping benefits on their own. With ShopRunner's unique network solution, participating retailers can offer compelling shopping services in an economically viable way and profitably grow their businesses."