ShopSavvy Reimagines App to Provide a Richer User Experience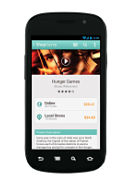 Feb. 4, 2013 – ShopSavvy, the world's leading mobile shopping platform, today announced a new release of ShopSavvy for Android and iOS that will provide its millions of users with a far richer user experience, making it easier for shoppers to get the product, pricing and other information they need to make online purchases with confidence through ShopSavvy Wallet. The reimagined app not only provides unprecedented levels of detail about products users are looking to buy, but sets the stage for greatly increased sharing among members of ShopSavvy's growing shopping community.
"Our users on both smartphones and tablets are increasingly seeking out products to purchase through keyword searches, rather than in-store barcode scans. We want to make sure we give these users the information they need – from full-screen product photos to demo videos and community reviews — to make a convenient in-app purchase through ShopSavvy Wallet," said Rylan Barnes, co-founder and chief technology officer of ShopSavvy. "As just one example of our many data enhancements to the app, we've added more than 10,000 videos of men's and women's shoes, clothing and accessories in use. This additional information helps users to feel confident making online purchases without ever leaving ShopSavvy."
This major update of ShopSavvy comes on the heels of the launch of Product Cloud 2.0, the latest iteration of ShopSavvy's proprietary big-data platform, enabling the community's millions of active users to easily find real-time pricing, inventory, reviews and other information for more than 20 million products. Field testing has shown that ShopSavvy consistently displays more in-store and online price results and lower prices than Amazon Mobile, eBay's RedLaser and other major platforms.
Notable features in the ShopSavvy update include:
Cleaner, easier-to-navigate user interface;
More product reviews that are conveniently accessible directly from the product screen;
Higher-resolution product photos to give users a thorough understanding of what they're considering for purchase;
Thousands of additional videos to view directly within the product screen;
30 percent increase in special deals and offers, a result of ShopSavvy's partnerships with additional retailers, aggregators and other deal sources such as Fancy, a popular mobile app used to discover, collect and buy from a crowd-curated catalog of goods;
The ability to identify new products of interest to the user through the "Related Products" functionality;
Enhanced option for users to flag incorrect or incomplete data and add prices for local stores that aren't already listed within the app.