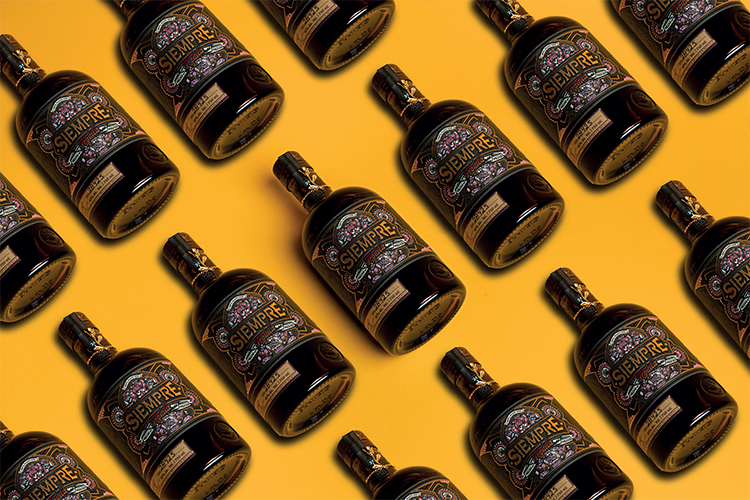 A shot of Authenticity
Born in a small Mexican town, Siempre Tequila has risen out of adversity to become a drinks brand enjoyed around the world
When questioned on how it all began for Siempre Tequila, President and Co-Founder Alex Lacroix smiles. "I was the lucky guy who fell in love with a Mexican woman," he says in answer.
The woman Alex refers to is Monica Sanita, his partner and Co-Founder. Together since the early 2010s, the pair have been orchestrating the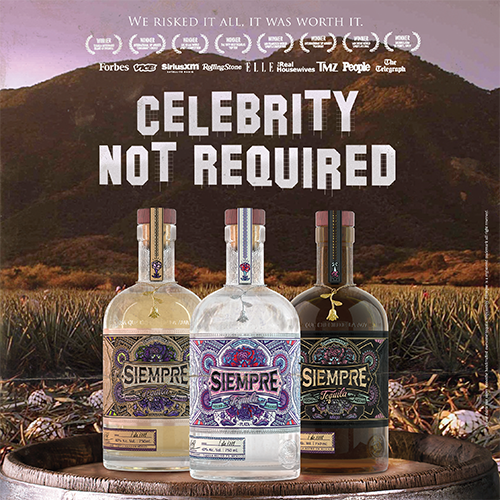 meteoric rise, against all odds, of Siempre Tequila – a modern brand shaking up the tequila scene like a well-made margarita.
"We started the company about seven years ago and it all came from a passion for Jalisco spirits," Alex reveals. "Tequila is in Monica's peppery, mineral-rich notes to create a well-balanced, deeply unique take on traditional tequila characteristics. Working with three different distilleries, the company bakes its agave in brick ovens for over 24 hours and then cools them for another 24 before the tequila production process can even begin.
"We say it's like Mom's spaghetti," Alex laughs. "The recipe isn't exactly the same every time, and it's ready when it's ready.
"After slowly baking the agave, we crush the juices using a roller mill and then begin a natural, open-air fermentation. This is followed by double distilling in pot stills that are stainless on the outside and copper on the inside, which reduces the amount of filtering you have to do."
The result of this process is a tequila that is not only loved by its creators, but that has captured international attention and attracted worldwide acclaim. As of December 2021, the range includes Siempre Plata, Siempre Reposado and Siempre Anejo.
"Siempre Plata is an unaged tequila. It is Siempre in its purest form," Alex explains. "The Reposado is aged for anywhere between four months and six months in brand new American oak barrels, which gives it a very robust vanilla and wood flavor. Finally, the Anejo is aged between 12 months and 24 months in bourbon casks and that gives you a wide range of toffee and caramel characteristics."
In early 2022, Siempre will be adding to its core line with the introduction of Siempre Supremo – a specialist offering using the highest quality agave and methods steeped in tradition, such as wild fermentation and the use of a tahona. This will be joined around the same time by Siempre Rebel Cask, which will see the Supremo product aged in a wide range of containers, from maple syrup barrels to Napa red wine casks.
"One of the things we really believe in here is making things an adventure, so our innovation process comes out of simply doing whatever our hearts desire," Alex declares. "If it's true to our beliefs and it feels good to us, then it's worth putting out there in the world and seeing what happens."
Despite all its success to date, Siempre has not lost touch with its roots and maintains strong relationships with its suppliers, distributors, and its spiritual home – Mexico. Operating with a values-based culture at its core, the notion of 'family' is never far away from the company's decision-making process.
"If we are going to do business with someone, we really try and bring them into our family, as well as us becoming a part of theirs," Alex notes. "We also operate on the premise of 'my mother would kill me'. By this, I mean we stress to our employees that we should be doing things the
way our mothers taught us. For example, if you are at a meeting in a restaurant, you offer to do the dishes. When you stay at a hotel, you leave it cleaner than when you found it. When you meet a distributor, supplier or client, you treat them with the utmost respect. This whole idea of 'my mother would kill me' is actually now one of our core values. As the company grows, we are passing it on to each new member of staff."
Looking ahead, Siempre is determined to become the go-to tequila brand in North America, as well as, eventually, the rest of the world. As it travels this road, Alex and his team aim to form deeper connections with Jalisco; there are plans for the company to obtain its own land, its own distillery, and create a huge number of jobs in the area.
Frowning upon tequila snobbery, Siempre will continue producing traditionally-made, quality tequila at an affordable price for its customers in 2022 and beyond. With so many celebrity brand owners in the space right now, the company and its products are a refreshing shot of authenticity.
"I had a rough start to life," Alex states, "but Siempre is proof that it is never too late to get an education, start a business, and turn things around. No matter who you are, you can have a positive impact on the world. Whatever your dream is, chase it – don't worry about what others think. Do what you love, and do it from the heart. Everything else will fall into place."