Simmons Launches New Digital Selling Tools, Expands ComforPedic iQ Line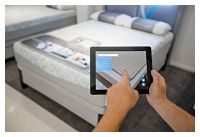 July 28, 2014 – Simmons Bedding Company announced its plan to revolutionizes the in-store sales experience by introducing digital retail sales tools aimed at simplifying the sell. The company also expanded the offering of its ComforPedic iQ line with two new plush feels and a popular introductory priced model.
Simmons has created a three-part in-store tech package dedicated to helping RSAs simplify and streamline the sell and eliminate the mystery in the mattress purchase. This kind of technology is a first in the mattress industry.
"We have made it a priority to develop resources to help RSAs simplify the mattress purchase. With breakthrough marketing campaigns, we have created a polished, high-tech product story for our recent product lines. Yet, the in-store sell remains – industry-wide – fairly low-tech. We've developed this technology package to help thread that dynamic storytelling through the in-store experience," says Jeff Willard, EVP of Marketing for Simmons.
The tools include: SIMulator, a proprietary augmented reality app that uses customized trackable POS to trigger an interactive 3-D model that breaks down the mattress layer-by-layer; Wright Global Graphics' new RetaiLive app, which instantly triggers product videos and demos to give RSAs an effective, engaging way to interact with and educate consumers on the retail floor; and Simmons is also introducing a series of short sales training videos called SIMple Facts, designed to simplify larger, more complicated component concepts.
Simmons will also be expanding its smart, self-adjusting ComforPedic iQ line with the addition of new plush feels and a model at the $1,999 introductory price point.
"Based on retailer and consumer feedback, we've expanded the line to include several competitive new products to ensure the growth and success of our ComforPedic iQ line," says ComforPedic Brand Director Anne Kozel. "With the introduction of these new feels and introductory price point, we are increasing the line's value on retail floors and broadening its mass appeal and accessibility."