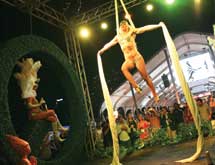 If you've ever wondered what world-famous chefs do for spring break, ask Lee Brian Schrager. The mastermind behind the Food Network's South Beach and New York City Wine and Food Festivals has hosted the likes of Emeril, Anthony Bordain, Bobby Flay and Martha Stewart at these charity-supporting food and wine events for more than a decade, and the party is just getting started.
"For Food Network personalities, these festivals are opportunities to network with their peers," says Schrager, vice president of corporate communications and national events for Southern Wine and Spirits of America Inc. "For consumers, it's a chance to sample great foods, wines and spirits while watching culinary demonstrations. It's the best of everything! Where else could you see Paula Deen on one stage across from Daniel Boulud?"
South Beach Style
Schrager's confidence in the value of these festivals is more than justified. What started out as a one-day festival at Florida International University's (FIU) Biscayne Bay Campus has grown in scope and size. The 12th annual South Beach Wine and Food Festival, held from Feb. 21 to 24, was attended by than 60,000 people, who made their way to Miami Beach to check out leading wine and spirit producers, chefs and culinary personalities.
Not only did the number of attendees break records, the festival also saw more sponsorships and a higher number of ticket sales than in years past. In addition, the festival raised $2.1 million for FIU's Chaplin School of Hospitality and Tourism Management.
"Not everyone likes tennis or bowling or goes to fashion shows, but everyone eats," Schrager says. "When they stop eating, we may have problems, but I don't think we're going to see that anytime soon."
New Events
Part of draw of the four-day festival, co-hosted by Southern Wine and Spirits and FIU, comes from Schrager's focus on introducing new, large-scale events each year. This year's celebrity golf tournament, for example, was a rousing success. "Chefs, sponsors and winemakers like to golf," Schrager says. "Turnberry Isle Resort, a partner of ours, suggested a celebrity golf tournament. We asked chef José Andrés Puerta, who just opened up a new restaurant on Miami Beach, to host the event, and we raised some new funds while engaging a new audience. It was very successful."
More than 3,000 attendees flocked to Red Hot Night, a Latin-themed event presented and produced by Target. Highlighted with salsa-filled sensations reminiscent of Old Havana and hosted by Food Network personality Ingrid Hoffman, Red Hot Night guests enjoyed cocktails, wines and Latin-inspired food.
The two-day mini-festival, Fun and Fit for Family, once again drew large crowds, with 10,000 of the 60,000 festival attendees flocking to Florida's Jungle Island for family fun. "It's wildly popular, and our only family-focused event," Schrager says. "The event focuses on healthy eating and teaches parents some culinary tricks to make healthy yet tasty foods."
For the second consecutive year, food trucks made a strong showing at the festival with its new sponsor, Diet Pepsi. The Diet Pepsi Presents Trucks on Midtown event offered attendees a chance to experience all the food truck industry has to offer while giving budding chefs a way to reach out to a new audience. Schrager says each year he's more impressed with the variety of foods offered.
"It's more than hamburgers and hot dogs – this year there was a salad truck, too," he says, adding that consumers weren't the only ones who benefitted from the event. "The owners of the food trucks got to help benefit a great cause, and they had an opportunity to be named best food truck by our panel of consumers."
Although there were no gluten-free food trucks this year, Schrager says it's only a matter of time. "There is a lot of focus on gluten-free – it's not a trend," he declares. "There are many cookbooks and personalities doing gluten-free food, and we're planning to do a gluten-free dinner in South Beach in 2014."
Grand Tasting
As the entryway into the festival's tents, the Whole Foods Market Grand Tasting Village — a staple of the festival — greeted attendees with new sponsorship installations and offerings from new partners. Because it opens two hours before the festival tents and stays open two hours longer, it's become the festival's focal point and hangout place for the weekend.
Transitions Adaptive Lenses had a large installation at the front while Barilla, a festival partner, set up a freestanding tent. "The Grand Tasting Village hosts our culinary demos and our book signings, and it's where new products are launched," Schrager explains. "It receives a lot of attention."
To close out the festival, Schrager and his team once again spiced things up with a party on Sunday night hosted by Ziggy Marley and Guy Fieri. Coupled with the festival's expansion off the beach into downtown Miami and a food truck event with Andrew Zimmer, it's easy to see how the festival has continued to grow in personality and popularity.
"We've outgrown the beach, which means we need to look at what we can offer off the beach that still fits with the goals for our celebrity chefs, our wine and spirits experts, and our consumer population," Schrager says. "We've been very successful so far, and we'll continue to use that outlook going forward."
New York, New York
For those who may have missed the South Beach festival, look north to the sixth annual Food Network New York City Wine and Food Festival Oct, 17 to 20 in New York City. As with the South Beach festival, this four-day event has grown in the years since it was launched — enough so that this year, for the first time, it's relocated to a new home.
"We've outgrown our peers and venues, and we're moving everything to midtown to Pier 92 and 94," Schrager says. He adds that the festival's growing popularity comes from its ability to offer New Yorkers a lot of what they want at one time in one place. "People are addicted to food personalities; they've become rock stars," he says. "We bring together pop culture and that white tablecloth chef in one setting."
As in years past, the charity component is an important part of the New York festival, with 100 percent of the net proceeds going to the New York Food Bank for New York City and Share our Strength — two benefit partners. The festival raises $1 million each year for the two charities, and although Schrager doesn't believe attendees buy tickets because of the charities, he believes the festival's message is loud and clear. "We spread a message about our charities in everything we do," he says.
Those who venture to the Big Apple for this year's festival can expect a new pizza event called Sunday Slices and the inaugural launch of Octoberfest with Andrew Zimmer, which will be focused on great beers and sausages. Absolut will sponsor an Absolut Bloody Mary brunch that will attempt to find the best Bloody Mary, and there will be more private dinner opportunities.
Top-of-mind for Schrager this year is the Food Network's 20th anniversary. As a result, he's developed numerous activities celebrating the festival's title sponsor. "The anniversary is important to them and to us," he says.
As part of the celebration, there will be a private event on opening night that will include Food Network personalities from the last 20 years, numerous festival sponsors and other VIPs. "We will have all of the signature events like pizza, burgers, sandwiches and barbecue because that's where we focus on the New York talent," Schrager says. "Each of our chefs, Food Network personalities and wine and spirits sponsors brings something different to the table, and we will continue to give them the opportunity to take that to the consumer."
Amanda Gaines is an Eddie award-winning writer and editor who served as editor-in-chief of "Retail Merchandiser" from 2009 to 2011.