"It was hand-to-mouth in the beginning," Miller remembers. "It was very tough. I lived on my credit cards. Our first year we did $200,000 in volume. I think I only made $9,000 that year. But I never gave up. I'm stubborn."
That stubbornness and fierce persistence paid off. Sit 'n Sleep, which will celebrate its 40th anniversary next year, has grown from a small father-son daybed and futon store into a mattress retailer with close to 40 superstore locations throughout Southern California and a 240,000-square-foot distribution center and corporate office space in Gardena, Calif.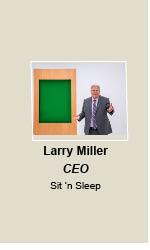 Miller – who has even become a local celebrity in Southern California due to his advertising campaigns on TV and radio – has gone from rags to riches.
"We've been in business for 40 years and we have almost 40 stores," Miller says, proudly. "I thank the people of Southern California for their business and the lifestyle that they have given me. It's an honor to be a member of this community and be a success in our business."
High Tech
Sit 'n Sleep carries all the major brands for mattresses and accessories that include King Koil, Kingsdown, Sealy, Serta, Simmons, Stearns & Foster, Technogel and Tempur-Pedic. The company also has its own Sit 'n Sleep brand, which launched a few years ago.
"We have a variety of moderate to high-end beds," Miller says. "You can buy a bed for $200 or for thousands of dollars. We want to give our customers the biggest choice for the best value."
Although Sit 'n Sleep is known for a variety of services and brands, one of the elements that makes it unique is its access to bedMATCH technology, which it has exclusive rights to in southern California.
"Not a lot of mattress stores have this technology because it's very expensive," Miller says. "But we think it's worth it."
Provided by Kingsdown, bedMATCH is a patented diagnostic system that matches a person with a mattress that best suits their body type and sleeping position.
Here's how it works. When customers visits a Sit 'n Sleep showroom, they are asked to answer a few simple questions about their sleep preferences. They then lie down on a bedMATCH test bed for three minutes.
According to Kingsdown's website, bedMATCH will utilize 18 statistical measurements and more than 1,000 scientific calculations to determine a correct level of postural support. That includes a person's height, weight distribution and pressure points.
It will then provide color-coded recommendations for proper postural support and identify every mattress on the retail floor that fits that profile. Using bedMATCH recommendations as a guide, customers then try out the recommended mattress models and choose their favorite.
"One bed is not right for all people," Miller says. "Just like one pair of shoes is not right for everyone."
When a mattress provides optimal postural support based on body type and sleeping position, the body stays properly aligned and supported during sleep – enhancing comfort and a rest.
Sit 'n Sleep, which launched a new website this year, will be launching a new digital bedMATCH website. "It will allow you to answer certain questions at home to get a recommendation for a type of bed," Miller adds. "Our website is critical in educating our guests before they come into the store."
Although the company sells mattress through its website, the majority of sales are brick and mortar. "When it comes to beds, you need to try before you buy," Miller says. "I don't think digitally is the right way to buy a mattress."
A Family Business
Sit 'n Sleep is also launching a new line of products this summer, called Hybrid Infinity mattresses. "All the advertising for it will be digital," Miller says. "It will be sold both online and in store. But we expect to have larger than normal online sales."
In addition to its new line of products, the company is also in the process of remodeling its older showrooms. "We're looking at a new look as well as some remodeling," Miller adds. "We have seven scheduled to be remodeled in the upcoming year and we're relocating some stores."
When it comes to business, Miller believes that the best is yet to come. It's been decades since he and his father opened their first store. Today, Sit 'n Sleep is still a family-owned and operated business. Nelson Bercier, Miller's brother-in-law and best friend, is the company's president.
Miller's son, Andrew Miller, is the company's advertising manager, also handling the digital direction for company. Miller's nephew, Nate Bercier, is a store manager. His other nephew, Jeremy Bercier, is an account executive that manages the company's relationship with King Koil.